Winston Peters confident Govt can be formed but could still walk away- report
Author

Publish Date

Tue, 7 Nov 2023, 8:49PM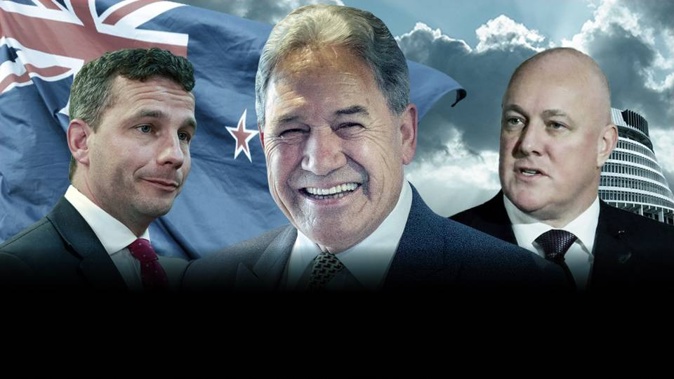 Winston Peters confident Govt can be formed but could still walk away- report
Author

Publish Date

Tue, 7 Nov 2023, 8:49PM
New Zealand First leader Winston Peters is not ruling out walking away from negotiations with National and Act if an agreement can't be reached.
However, in an interview with the National Business Review, Peters believes a deal between the three parties could potentially be finalised in "less than two weeks".
Peters arrived in Wellington yesterday afternoon and continued his strategy not to speak with journalists who waited for him, striding through the airport without saying a word.
Speaking to The Platform's Sean Plunket last week, Peters said political commentators predicting delays in forming a government after the final count was released could be proven wrong.
"I think it can be done much more quickly than people think," Peters said.
"This can be done with far greater speed if people get into the room and don't muck around."
Today, the National Business Review reported Peters' belief that coalition negotiations could conclude within the next two weeks. He also criticised National and Act for negotiating together without NZ First.
From left: Act leader David Seymour, NZ First leader Winston Peters and National leader Christopher Luxon are trying to form a government. Photo / NZME
He defended the length of time it would take to form a government.
"Remember this: countries like Germany take five months longer than us to do that job and I just wish some of the people in the mainstream media would not keep on saying that the time we're taking is long. It's ridiculously short compared to other countries."
Following election night on October 14, National leader Christopher Luxon had had several conversations with both Peters and Act Party leader David Seymour separately. It was reported this week that Seymour had attempted to contact Peters but the NZ First leader initially thought it was fake and did not respond.
In refusing to say what role he might play in the next government, Peters indicated to NBR there was the option to walk away from talks.
"Well, [you] walk into negotiations on the basis that you might lose. You might not go there in the end," he said.
"You go there with the right purpose but if you want to be true to yourself and the people who voted for you, you've got to have that view as well that this may not happen.
"We'll do the best we can to make sure it happens, if we can."
In the weeks leading up to the election, Luxon and Seymour regularly referenced their preference to form a government together without NZ First. The release of the special votes on Friday confirmed that was not possible and the two parties would need Peters.
Seymour in particular had been very critical of Peters, including calling him the "most untrustworthy politician". Seymour recently had to walk back comments that he would not sit around a Cabinet table with Peters.
Asked by NBR if that made their future working relationship difficult, Peters said it was the nature of politics.
"People expect to be forgiven for premature or perhaps undiplomatic positions they took."
He said there were clear areas of alignment between all three parties, particularly on law and order and addressing the high cost of living.
Adam Pearse is a political reporter in the NZ Herald Press Gallery team, based at Parliament. He has worked for NZME since 2018, covering sport and health for the Northern Advocate in Whangārei before moving to the NZ Herald in Auckland, covering Covid-19 and crime.
Take your Radio, Podcasts and Music with you