National to consider new leader, though Collins only one talking
Author

Publish Date

Tue, 6 Dec 2016, 5:30AM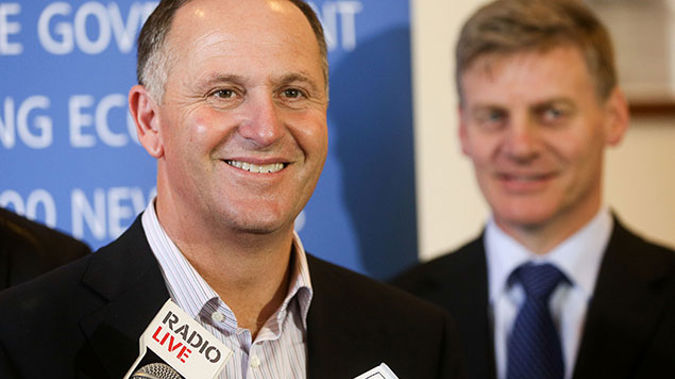 National to consider new leader, though Collins only one talking
Author

Publish Date

Tue, 6 Dec 2016, 5:30AM
UPDATED 6.25am National MPs will today confront something they never in their wildest dreams thought they'd be considering - a new leader.
John Key announced his departure yesterday saying he couldn't see himself doing a full fourth term and didn't want to have to mislead voters over his intentions at the next election
Newstalk ZB Political Editor Barry Soper said the party over the past decade has been John Key - he's been their trump card, their brand.
"National's success in office has often been put down to John Key, his self-deprecating sense of humour and his ability to mix and mingle with anyone.
Mr Soper said maintaining a rating hovering around 50 per cent since coming to office, National has been the envy of other political parties.
"Mr Key's MPs have been told Bill English is his choice to succeed him but in the end it's their choice."
Most MPs in the caucus weren't there when Mr English took National to its biggest ever defeat 14 years ago, said Mr Soper.
"But since then the Finance Minister has learnt a lot under the tutelage of John Key but winning a fourth term in office without him is so much harder."
Potential challengers for the top job include Judith Collins, Steven Joyce and Paula Bennett.
It's thought Mr Joyce would be an almost automatic choice for Finance Minister, if Mr English becomes Prime Minister.
Ms Bennett is also keeping quiet, and there's speculation either she or Justice Minister Amy Adams could be in the running for Deputy Prime Minister.
Ms Collins is the only one who's talking, saying she isn't ruling out putting her hand up for the top job.
She said in terms of making a decision her view is "the sooner the better." as the party doesn't want to end up with three or four years of in-fighting.
Mr Soper said others like Ms Collins are known to be interested but Mr Key carries a lot of sway and it's likely his choice will win the day when he hands over the mantle next Monday.
Meanwhile, Green Party co-leader James Shaw is taking the Prime Minister's word for why he's resigning from the country's top job.
Mr Shaw said he was just as surprised as everyone else at the news and says it clearly changes things for next year.
He said the National Party is entering a period of uncertainty with Mr Key's absence.
"I think that obviously the National Party are entering a period of risk now because so much of their standing and their reputation has been built around John Key's personal brand.
"I guess were just going to have to wait and see who they choose to be their next leader and therefore our Prime Minister."
Mr Shaw said he sees parallels in Mr Key's departure with that of his predecessor, Russel Norman.
"You've gotta take both of them at their word. They wanted to spend more time with their families. They both knew the cost that it was having on their families."
Former Prime Minister Helen Clark said she respects Mr Key's decision to spend more time his family 
Key worked tirelessly to promote New Zealand over his eight years as Prime Minister, she said.
And she's highly appreciative of the support he provided her as a New Zealander in the international system, and she wishes him all the best for whatever the future holds.
Maori Party founder and former leader Dame Tariana Turia said she was surprised to hear of the Prime Minister's resignation, but says she understands his decision.
"You give so much of yourself in politics to the public and your family do miss out, and I certainly have experienced that."
Dame Tariana said she and Mr Key had a close, professional and respectful relationship.
"We achieved more for Maori people, during that period that we were in coalition with John Key than we ever had throughout all our political lives, so it was great."
The Maori Party went into coalition with National to help form a minority government at the 2008 election - the same year John Key became Prime Minister.
National's caucus will choose a leader next Monday.