National, ACT, NZ First meeting could happen today - Seymour
Author

Publish Date

Tue, 14 Nov 2023, 10:32AM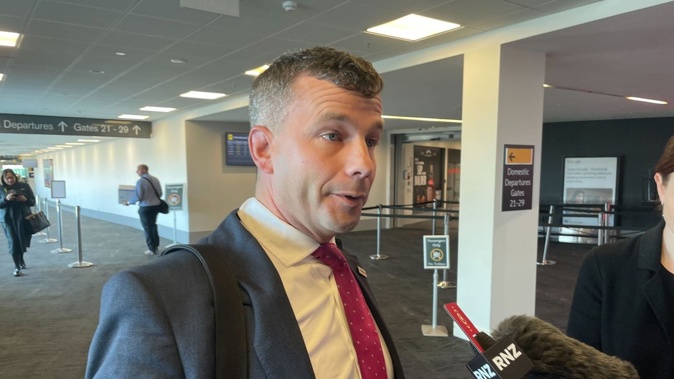 National, ACT, NZ First meeting could happen today - Seymour
Author

Publish Date

Tue, 14 Nov 2023, 10:32AM
Arriving in Wellington, Act leader David Seymour said he was hopeful the parties could resolve sticking points around tax and spending this week, but nobody could be certain when an agreement might be reached. 
Seymour said he thought the three leaders – National leader Christopher Luxon, NZ First leader Winston Peters and himself – could meet all together for the first time today, given all were in Wellington. As yet, the parties have all met in pairs. 
However, nobody could yet say when an agreement might be reached. 
He said no one party was to blame for any hold-up. 
"Ultimately, three have to agree and everyone can get into the blame game of saying 'well, you know, it's those guys.' I think it's fair to say that each party has issues that the other one doesn't like so much. I think each party knows they're going to have to come to compromise." 
On whether Luxon had overestimated his ability to cut a quick deal, Seymour said it was starting to take longer than people had expected. 
"But there are legitimate issues to work through. Some people want a fast deal, I think it's more important to get a good deal." 
On whether National's tax policy was a major sticking point, Seymour said it was a question of working out what a Budget looks like overall. 
"Today you're seeing reports that the ETS [Emissions Trading Scheme] auctions may not deliver as much revenue as people accounted into their budgets in different ways, so that creates another hurdle, I guess. 
"We can't keep borrowing and spending. That drives inflation, it drives mortgage rates, it makes people's lives much harder as a result." 
He said Act believed spending cuts should be what paid for lower taxes. 
"That's the kind of question that I guess I've got to work through this week." 
He said Act was not opposed to National's plan for a foreign buyers' tax, but NZ First had made it clear they were. 
"I guess at the end, you've got to have three parties prepared to sign up to a programme that is coherent because the challenges New Zealand faces from the outside - just balancing a Budget, a difficult geopolitical situation – those are going to be much greater than any challenges within the government." 
Christopher Luxon arrived at Wellington airport today. Photo / Michael Neilson 
National leader Christopher Luxon said very little when he arrived in Wellington, repeating his line that he was certain he would get a "strong, stable government." 
"We've got a great week ahead of us. We're going to make some progress." 
He ignored questions about whether his inexperience was showing up, or whether it was getting embarrassing, saying only that they were making progress. "We've got lots to do this week, and gonna make sure we get a strong, stable government for New Zealand." 
National's tax policy has become the main front line in coalition talks as both New Zealand First and Act push for the main party to cave on elements of its tax cuts proposal - and National Party leader Christopher Luxon won't confirm whether the policy will survive in the same form as it was campaigned on. 
Objections to the tax policy and the ways of paying for it are among the key sticking points in talks with both of National's potential coalition partners. 
Unless Luxon either caves in or manages to placate the leaders by today, his hopes of making it on to the plane to Apec in San Francisco by Wednesday night are slim. 
After a weekend of meetings, the three leaders were all in Auckland yesterday without their wider negotiating teams. 
By late yesterday afternoon there still had not been a meeting of all three leaders together, but one source said meetings were sometimes called at late notice so it could happen at any point. 
Points of contention were around National's tax policy, the Treaty and race relations, and the way Emissions Trading Scheme funding should be used – something all three parties have a different view on. 
Few details have emerged of the gains each party has secured, including whether they will be inside Cabinet or outside, or who is in line for Deputy Prime Minister. While many details of policy gains have been sorted, it is understood the decisions on allocations of ministerial portfolios were being left until last. 
However, both parties now have basic draft agreements which are constantly being fine-tuned as the talks go on. NZ First and Act have also seen most of what is in each other's deals, although the documents were still in development. 
That will be critical to ensure they can commit to supporting each other's gains into law. 
NZ First leader Winston Peters and Act leader David Seymour also had a further meeting in Auckland on Sunday as the two discuss issues they can take a joint stand on with National. 
On RNZ yesterday, Luxon repeatedly refused to say the tax cuts package that would be delivered was the same as that National campaigned on, in terms of timing, scope and the way it would be paid for. 
Instead, he repeatedly said only that National would still deliver "tax relief" to lower- and middle-income earners. 
He indicated National had had to budge on some issues, pointing to "trade-offs" being required from everybody involved in the talks. 
Seymour told the Herald Act's primary concerns remained the same as on the campaign: Significant spending cuts, changes to resource management laws and environmental regulations, and a flatter tax structure. However, he too said all sides had to make tradeoffs. 
"We recognise every party has a version of the fiscal plan, and we won't get all of that." 
NZ First's deputy leader Shane Jones once again voiced his party's concern about National's plan to allow wealthy foreign buyers back into the housing market, making it clear it was something of a bottom-line issue. NZ First has consistently opposed foreigners buying property in New Zealand. 
Jones told the Herald there had been a lot of progress, "but there's still the jagged edges of tax policy to deal with", in particular the foreign buyers' plan. 
Jones has previously made it clear NZ First is strongly opposed to National's policy to alter the existing ban on foreign buyers by exempting those who buy properties for $2 million or more. 
That was a key part of National's plans to pay for its tax cuts, by taxing those buyers 15 per cent. 
Prime Minister-elect Christopher Luxon says a deal may not be done in time for him to attend the Apec meeting later this week. Photo / Mark Mitchell 
The deadline of the Apec summit has come into play as a negotiating tool as the leaders tried to get leverage: Both Act and NZ First were continuing to push for what they wanted, which was seen as driven by the hope Luxon would cave in for the sake of a quick deal. 
On his Monday morning media appearances, Luxon moved to try to dampen any such hopes, saying it was now highly unlikely he would be able to get the deals signed in time to attend Apec, and his top priority was putting together a deal to form a Government that would last the distance. 
Luxon will still be keen to attend Apec, which was also former PM Sir John Key's first trip soon after he won the election in 2008. 
It is a must-do on a New Zealand Prime Minister's agenda given the leaders of the United States, China and many Asian leaders are part of it. It would give him a chance to talk to US President Joe Biden and China's President, Xi Jinping. 
There is a slim chance a deal could be finalised today and the new Government sworn in before tomorrow night. 
However, the parties would need to get sign-off from their caucuses and boards before Luxon could go to the Governor-General and the new Government could be sworn in. 
In the event Luxon cannot attend Apec, it is likely the outgoing Trade Minister, Labour's Damien O'Connor, will represent New Zealand. 
The Labour Government was sworn in again on Saturday to continue to act as a caretaker Government until a new Government is formed. 
Claire Trevett is the Herald's political editor, based at Parliament in Wellington. She started at the Herald in 2003 and joined the Press Gallery team in 2007. She is a life member of the Parliamentary Press Gallery. 
Take your Radio, Podcasts and Music with you