Michael Wood wins Mt Roskill seat by landslide
Author

Publish Date

Sat, 3 Dec 2016, 6:25am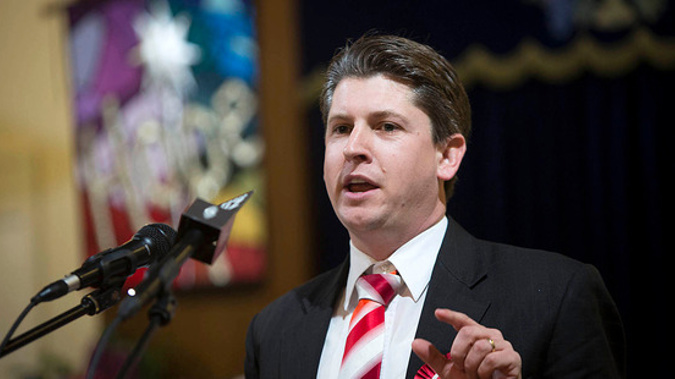 Michael Wood wins Mt Roskill seat by landslide
Author

Publish Date

Sat, 3 Dec 2016, 6:25am
UPDATED 9.53pm Labour's Michael Wood has been voted the new MP for Mt Roskill by a landslide.
The Electoral Commission has confirmed that 100 per cent of cast votes have been counted, with Wood polling 11,170 votes. Parmar was a very distant second, returning 4652 votes.
Roshan Nauhira, of the NZ People's Party was the third-highest polling candidate, with 709 votes.
Andrew Leitch (Democrats for Social Credit) received 125 votes, Brandon Stronge (The Cannabis Party) received 79 votes, Richard Goode (NAP) received 40 votes and Tua Schuster (Independent) received 32 votes.
Wood is giving his victory speech, special praise for Andrew Little, wife Julie, campaign manager Shayne Misselbrook, and Phil Goff.
A large crowd of supporters are in euphoric mood, whistling and clapping every other word.
Former Mt Roskill MP Phil Goff tweeted his congratulations to Wood.
Congratulations @michaelwoodnz! #MtRoskill you did well in selecting your new MP!

— Phil Goff (@phil_goff) December 3, 2016
A by-election was forced when Goff relinquished the seat to become the mayor of Auckland.
Goff held the seat since 1981 and retained the seat in the 2014 general election with a majority of more than 8000 votes.
Forty minutes before all the votes were counted,  Labour's general secretary Andrew Kirton called it for Wood, tweeting, "That's it - we've got it".
That's it - we've got it

— Andrew Kirton (@andykirton) December 3, 2016
Labour's held the seat almost uninterrupted for 50 years - with the previous MP Phil Goff holding it for 32.
Newstalk ZB's political editor Barry Soper said it's not a shocking victory.
"There was no that it was going to National's way. The seat has never been out of Labour's hand so there's no surprises here."
Labour leader Andrew Little joined the Wood at an election function at the Winstone Park Tennis Club.
Little tells the crowd that National threw everything at the campaign and lost badly.
"For a seat where National won the party vote in the last election, this is a real wake up call to them."
He said next year would be tough and dirt would be thrown at Labour, and took a swipe at some in the media "who just don't get it"
Little told a fired up crowd that National would try and spin the result but there was not getting away from its significance - or the effort they put in to try and wrest it from Labour.
"They thought they were going to win. We had the trash talk...but the Prime Minister doesn't come here for seven days of the campaign, and three days this week without thinking he's going to win.
"They had one thing going for them, and it was the Prime Minister. And they've lost... the result tonight is absolutely outstanding."
A disappointed Parmjeet Parmar has taken defeat in her stride, saying National always faced an uphill battle winning what has long been considered a Labour Party stronghold.
"It's disappointing but we knew heading into this by-election that it's always hard for an adjustment to win a seat from the opposition. And we are talking about a safe Labour seat here."
At Parmjeet Parmar's election night party, the faithful had all but conceded defeat by 8.30pm.

About 100 supporters nonetheless toasted the party's campaign at Frolic Cafe opposite Cornwall Park, where leading National Party figures Steven Joyce and Paula Bennett lent their support.

"I think Parmjeet has just done an excellent job but at the end of the day, yeah, it's landed about where we expected it to," Bennett told the Herald.

"By-elections aren't known for being too unpredictable - they're known for returning the party that's already there and that's what they've done this time. Really low voter turnout, from what I can see. I think people were more interested in other stuff that's been going on."
Speaking to media, Parmar said she was proud of her campaign.

"History wasn't on my side and history was proven right."

She said she would be putting her name forward to contest the seat again.

"But it's the party's decision so I won't preempt anything."

She said she'd called Michael Wood to offer her congratulations.

Steven Joyce took the opportunity to have a dig at Labour Party leader Andrew Little.

"I'd be keen for him to take as much as possible out of tonight but I don't think you can read too much into it -- it's a safe Labour seat. The Greens, New Zealand First didn't stand and it's never been done for a Government to win an opposition seat in a by-election."

He said Parmar had proven herself a very good candidate despite the odds being stacked against her.

"We know that next year's an entirely different context and we' ll all have to work very hard next year. It doesn't say anything positive or minus about next year it's just literally a by-election which we knew was probably going to go this way."

He said when Parmar went back to Wellington there would be a whole new level of respect for her.
Earlier in the evening Goff said, at Wood's function, that he was "very confident" of the win as Wood "has been a top polling candidate on the local board, he knows the area, he lives in the area, and he is active in the area."
He said in a by election the result would always tighten, but was confident that given time Wood would appeal to both National and Labour supporters.
Jenny Salesa, MP for Manukau East, said the early results were very encouraging.
"What we don't know of course if whether those areas are Labour areas. I'm pretty confident but that's more because I was out door-knocking quite a lot, and a lot of the folks I spoke with said they would vote for him."
A convincing victory for Wood would deliver a boost for Labour going into next year's general election, Salesa said.
"There is no doubt that it would be a boost for Labour."
Labour's 2017 campaign chair Phil Twyford has identified Auckland as critical to the party's chances of being in Government next year. Transport is an area Labour believes National is vulnerable, and its promise to fast-track light rail along Dominion Road was a central policy in Wood's campaign.
No incumbent Government has won a seat they don't hold in a by election and there was "relatively little" at stake for National, John Key told reporters.
Those comments were dismissed as "trash talk" by Little, who said they were designed to distract from a poor candidate in Parmar.
After NZ First leader Winston Peters' Northland byelection victory in 2015, the number of National MPs dropped to 59, meaning it relied more on the Maori Party or United Future to get a majority.
Most notably, the Government had to go back to the drawing board on planned changes to the Resource Management Act, intended to speed up planning and consent laws.
Candidates
• Michael Wood, Labour: A local board member who lives in Roskill South. Says Government has failed to address crime, worsening housing affordability, and congestion. Labour has pledged to bring forward light rail along Dominion Rd.
• Parmjeet Parmar, National: A scientist and businesswoman who entered Parliament on the list in 2014. Parmar wants to make Roskill communities safer, improve transport (she favours buses over the cost of light rail), address housing affordability, and make life easier for small business owners.
• Roshan Nauhria, NZ People's Party: The businessman who was a driving force behind the Balmoral Rd temple is particularly aiming for the Indian and Asian vote, with a core issue of law and order - Nauhria has promised to cut crime by 50 per cent and be a strong voice for Roskill in Parliament, free of party constraints.
• Andrew Leitch, Democrats for Social Credit: The 31-year-old commercial pilot says housing and other social issues show an overhaul of NZ's economic system is needed.
• Tua Schuster, Independent: Says he represents the electorate's poor, who are marginalised by mainstream parties.
• Brandon Stronge, The Cannabis Party: Wants the recreational use of cannabis to be legalised.
• Richard Goode, Not A Party (NAP): Advocates for a transition from democracy to to a "free society based on voluntary cooperation".