Ministers used taxpayer-funded Crown cars during Northland by-election campaign
Author

Publish Date

Mon, 13 Jun 2016, 5:39am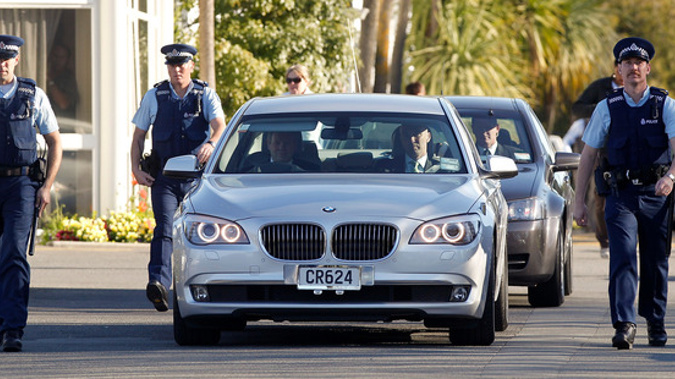 Ministers used taxpayer-funded Crown cars during Northland by-election campaign
Author

Publish Date

Mon, 13 Jun 2016, 5:39am
Newly disclosed information on the use of the Government's VIP limousine fleet suggest the Government was involved in extensive use of taxpayer funded transport during last year's Northland by-election campaign.
Ministerial cars are supposed to be used for ministerial purposes - election campaigning sits well outside that definition.
GPS records, which also show the cars were breaking open road speed limits, reveal Crown cars were used in Northland on 25 separate occasions throughout February and March in the eight weeks leading up to the by-election.
On one occasion in early February, four separate Crown cars were being used in the electorate on the same day.
Winston Peters, who took the seat of Northland away from the National Party, said his opponents have been caught out.
The New Zealand First leader said the Government used taxpayers' money heavily in the campaign and then demonstrated, with their subsequent lack of visits to the north, just how marginalised they've made that part of New Zealand.
"They're caught by their use of taxpayers money in a campaign, it's clear as daylight."
Mr Peters said he used a campaign bus for the by-election and paid for it without any use of taxpayer funds.
"They took limousines that the taxpayer owns and pays for and used that for the campaign. That is simply wrong, but of course the National Party has acquired now a sense of entitlement - they think they can do what they like."
But Cabinet Minister, and Northland by-election campaign manager, Steven Joyce maintains their activities were above board and that they were quite open about the use of the VIP cars.
"Certainly in my case I genuinely had events on in Northland at the time that were both ministerial related as well as campaign related and this is a long standing practice, you can change it if you want but that's how it works."
He said in no way did it give National an unfair advantage over other candidates who didn't have taxpayer-funded transportation.

"Absolutely not. Ministers have a role to conduct their ministerial duties when they're doing a range of things."

Labour leader Andrew Little thinks the use of Crown limousines by Ministers during the Northland by-election is worth investigating.
"As I understand it that there is an exception for the Prime Minister and the leader of the opposition during a general election, but not for every minister during a by-election, and I think it may well be a question of looking at the rules to see whether or not the cars were properly used."
Constitutional law expert Graeme Edgeler said ministers can use taxpayer funds while on ministerial business, so if such business is used during a campaign it does give them an advantage over their opponents.
"It is an incumbency advantage that is inherent in the system, and we should have rules which try to limit that."
Mr Edgeler said the standard rule that apples to everything that ministers do, is that it must relate to their ministerial duties and they can't use Government funds for non-ministerial things.
"It's a question as to whether you believe them when they say it was ministerial business or not. If it was then they're right and it was lawful, whether it was ethically or morally justified might be a different question."
OPINION: Govt's use of Crown cars during Northland by-election unethical