Labour MPs forbidden from associating with "right-wing" Wellington mayoral candidate
Author

Publish Date

Tue, 9 Aug 2016, 12:25pm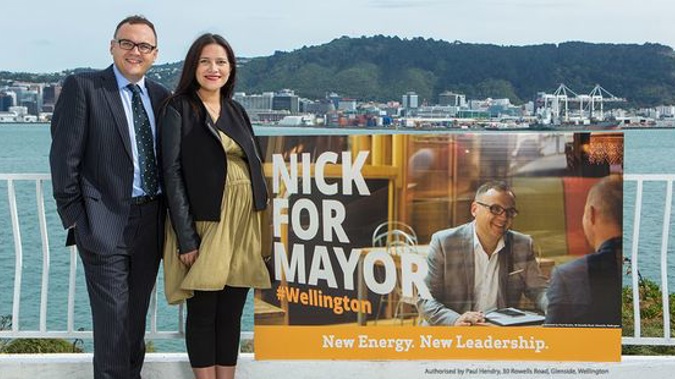 Labour MPs forbidden from associating with "right-wing" Wellington mayoral candidate
Author

Publish Date

Tue, 9 Aug 2016, 12:25pm
UPDATED 2.51pm: Wellington Mayoral candidate Nick Leggett appears to be public enemy number one for the Labour Party as its MPs are forbidden from associating with him.
Labour Leader Andrew Little has pulled rank, preventing MP Stuart Nash from speaking at an event where Mr Leggett was also speaking.
Mr Little said the event was for right-wingers who have routinely sought to undermine the Labour Party and it's not right for a Labour MP to share a platform with people who do that.
And he's making it clear he considers Nick Leggett, a former Labour Party member, a right-winger.
"His campaign manager is well-known ACT party identity. We know that there's money from the right-wing that has gone into his campaign. He's a right-wing candidate."
However, Leggett is laughing off suggestions he's right wing.
Mr Leggett said he's standing as an independent and doesn't believe there's a place for party politics in local government.
"I've got people that have worked on my campaign from all parts of the political spectrum, mainly Labour and National obviously. That's local government, you unite around good ideas for the communities that you live in."
The event was attended by Labour MP David Shearer and former Labour Party activist Phil Quin who resigned after the party's released housing data based on "Chinese-sounding surnames."
When it was pointed out to Little that Shearer had attended the same function, Little said: "I'm saying it is not right for Labour MPs to be associated with events like that and with people who seek to undermine the Labour Party."
Labour has endorsed current deputy mayor Justin Lester for the position.
Mr Leggett is the outgoing Mayor of Porirua.
The field is wide open in the race for the Wellington Mayoralty, with seven candidates confirmed for the role being vacated by current Mayor Celia Wade-Brown.