Kris Faafoi apologises over immigration allegations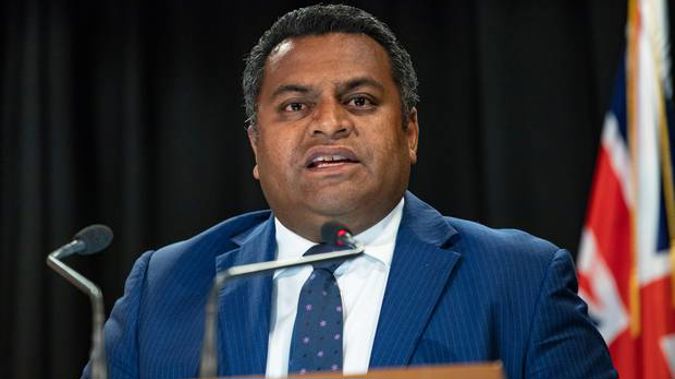 Kris Faafoi apologises over immigration allegations
Cabinet Minister Kris Faafoi says he has apologised to the Prime Minister over his mishandling of an immigration matter.
And Prime Minister Jacinda Ardern says she has confidence in Faafoi and that his dealings with friends Jason Kerrison were not a conflict of interest.
"I have apologised to the Prime Minister and understand I have let her down in regards to my dealings with Jason Kerrison over an immigration matter concerning his family," Faafoi said in a statement this afternoon.
"I know I need to be more upfront in the future about what I can and can't do if I'm approached for help.
"I was contacted by Jason, who is an old family friend, to see if I could help him with his step-father's immigration case.
"Rather than telling Jason straight away I couldn't do anything to help him, I said I would look into it; as MPs are allowed to do in these cases.
"I made contact with the Associate Immigration Minister's Office to seek advice on the appropriate process. They told me to refer him to his local MP and that I could write a support letter.
"Following that conversation I told Mr Kerrison he needed to talk to his local electorate MP and I called Matt King to let him know about the case.
"I contacted Jason's mother to offer to write a supporting letter, as I had been advised I could, and got some more details for the letter. However, I never wrote the letter.
"I stupidly created an impression through my messages that I was following up on it when in fact I wasn't. I was uncomfortable with him messaging me pretty regularly on it and you can see I stopped responding to his texts.
"In hindsight I should have just been clear and told him I couldn't help and just to deal with his local MP. But aside from checking to see what the proper process was for me to follow I took no other actions, and specifically took no actions to advance it, influence it, or advocate for it.
"I acknowledge this is messy and you could read other meaning into my messages. But I can hand on heart say I wasn't doing anything to advance the case, and the messages just reflect me not wanting to let a mate down. In hindsight I should have been clearer with him.
"I've apologised to the Prime Minister and understand I have let her down. I know I need to be more upfront in the future about what I can and can't do if I'm approached for help."
It was revealed yesterday that Faafoi offered to assist his friend and Opshop singer Jason Kerrison's family in getting a visa.
Messages between Faafoi and Kerrison published by Newshub showed that he said he would talk to "people who can speed things up".
In October, Kerrison said he was "gutted" to hear Immigration New Zealand's decision to reject his step-father's application for residency.
His mother, Jude Kerrison, married Gitonga "Mich" Obadiah, a Kenyan national, in 2017.
But Obadiah's residency was rejected, as Immigration New Zealand questioned the legitimacy of their relationship.
Facebook correspondence showed that agreed to help Kerrison, and at one point asked for Kerrison's step-father's surname and immigration number.
"Bro I have a plan - but it can't be plastered over [Facebook],' Faafoi wrote to Kerrison.
The Cabinet Manual states that "a conflict may arise if people close to a Minister, such as ... whānau, or close associates, might derive, or be perceived as deriving ... personal, financial, or other benefit from a decision or action by the Minister or the Government.
It also says that "it may not be appropriate for Ministers to participate in decision-making on matters affecting family members, whānau, or close associates, for example,
by: (a) attempting to intercede on their behalf on some official matter."