Government welcomes renewed TPP progress
Author

Publish Date

Mon, 22 May 2017, 5:22am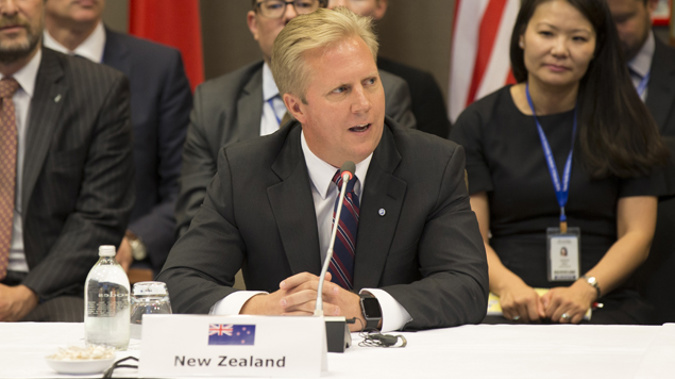 Government welcomes renewed TPP progress
Author

Publish Date

Mon, 22 May 2017, 5:22am
The Government's welcoming what it sees as renewed progress on the TPP deal.
A key part of Bill English's Asia trip last week was talks with Japan aimed at keeping the trade deal alive.
Over the weekend the remaining 11 countries signed up to the agreement, following the withdrawal earlier this year of the USA, committed to bring it into force in its current form.
Trade Minister Todd McClay said the outcome was better than hoped for.
"An absolute commitment to work together to find ways to put it in place, so the benefits of the agreement are available not only to our economies, but the people of our country, so I'm extremely pleased with the outcome, and it probably is better than what I thought it would be."
McClay appears optimistic the commitment will hold saying there's a very strong commitment from all signatory nations.
"Strategically it's very clear that everybody believes the common set of rules that are in TPP are extremely valuable and important. And it's very pleasing to see all 11 countries now after some months of affliction, committing to this process."
McClay said a re-evaluation of the TPP's economic impact, minus the US presence, is underway.
"A Japanese think tank has done some work on all the countries and they've said there'll still be a 3.4 percent increase to New Zealand's GDP as a result of the TPP of 11, and it's worth some $2.5 billion to our economy after 10 years."
ACT Leader David Seymour said, as originally envisaged the TPP would  have given our economy a half percent GDP boost, and there's not a lot of things Government's can do that will make everyone half a percent richer for no cost.
"Keeping it open for the Americans to come back is probably a smart strategy, with the caveat who knows what the future of American politics is; I suspect the way it's going right now it could change dramatically."
However, Labour Party Leader Andrew Little's critical of the move, given a lot of the TPP is there to serve the interests of the USA.
"Having 11 of the 12 countries now try to sign up to it on the basis that they hope and pray that the US might change its mind at some point, or the President might change his mind and sign up to it, I think is a little naive."
Little also said that with the USA out of the agreement, it's been materially changed and it would be interesting to get an economist to re-evaluate what its dollar benefit might now be to the country.
"Given the significant change in circumstances, the right thing for the Government to do would be to come back to relevant stakeholders and have a proper open and transparent consultation process, so that all New Zealanders can have a say, and let's see where New Zealanders are at on it."