Film industry to get $300 million Budget boost
Author

Publish Date

Fri, 12 May 2017, 12:30PM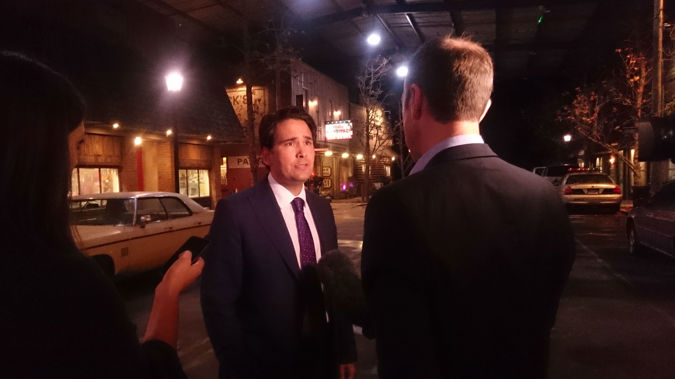 Film industry to get $300 million Budget boost
Author

Publish Date

Fri, 12 May 2017, 12:30PM
The Government has confirmed it's dangling a $300 million carrot to the film industry.
In all, $303.9m would be allocated to New Zealand screen industry production grants in New Zealand and overseas.
More than $220 million will be allocated over the next four years will be for international grants, with an extra $18 million for the 2016/17 year.
While nearly $64 million of that will go towards domestic productions.
Economic Development Minister Simon Bridges said New Zealand is a leading film tourism destination, and this will ensure that continues.
He's just made the announcement alongside Arts, Culture and Heritage Minister Maggie Barry.
Mrs Barry said she's delighted to be a part of such a great investment that will continue New Zealand's great name as a film tourism destination.
Movie makers hoping to dip into the $300 million funding pot will have to build their sets, and make all their costumes here, to qualify.
Mr Bridges said a lot of work will be done to ensure New Zealand gets value from the grants.
"Make sure we leverage it very strongly so we see things such as contract provisions, about being on Good Morning America for example, or having rights to have Scarlett Johannsen or other actors publicise, effectively, the New Zealand experience."
Since 2014, the grant had supported about 50 international productions, he said.
The local film industry employed approximately 14,000 people and generated revenue of $3.3 billion last year.
"Without the grant these international productions would not have located in New Zealand and much of the $3.3 billion would not have been spent here," Mr Bridges said.
Growth in the film sector had a flow-on effect to the tourism and tech sectors, he said.
Artificial intelligence and robotics devised for film productions were being adapted into healthcare and other areas.
On the tourism side, about 18 percent of visitors to New Zealand said they had travelled here because of Peter Jackson's Hobbit Trilogy.
Mrs Barry said the domestic screen grant had supported 23 productions since it was introduced in 2014, including the Taika Waititi hit Hunt for the Wilderpeople.
"The international and domestic screen grants are working hand in hand," she said.
"The successful marketing of New Zealand as an international screen production destination is leading to increased production activity and improved business confidence within the domestic industry."
Mr Bridges revealed he was an extra in Xena Warrior Princess, joking he was once a bit of a movie star himself.
"As an Asian warrior on Xena back then I took my shirt off. I don't do that anymore."
Mrs Barry also joked she had no idea her colleague was a movie star - but quickly brought him back down to Earth with Xena movie quip.
"Everyone dies, not only once but repeatedly, so it's a good career change at the right time."