Winston Peters suggests quick Government formation after special votes counted
Author

Publish Date

Mon, 30 Oct 2023, 2:22PM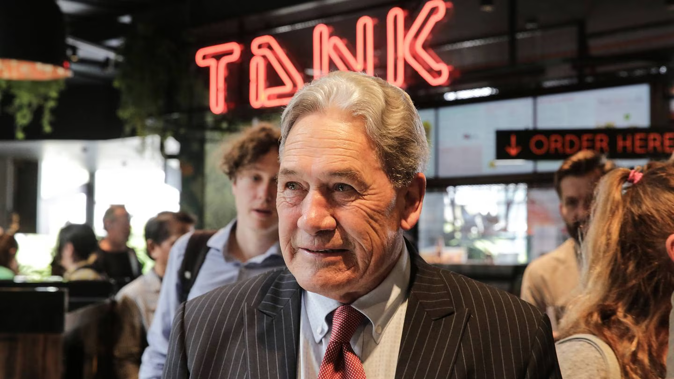 Winston Peters suggests quick Government formation after special votes counted
Author

Publish Date

Mon, 30 Oct 2023, 2:22PM

New Zealand First leader Winston Peters is confident a new Government can be formed more quickly than pundits are predicting, following the release of the final vote count later this week.
He also doesn't believe that how the special votes fall will significantly impact how long it would take National, Act and potentially his own party to cut a deal.
Special votes, which included votes from Kiwis overseas and those who voted outside their electorate, made up about 20 per cent of the overall vote. The result of those votes would be made public at 2pm on Friday.
They could determine whether National and Act need NZ First in order to form the next Government. On the preliminary count from October 14, National and Act received enough of the party vote to hold the barest majority in the House - 61 seats out of 121.
Speaking to The Platform's Sean Plunket, Peters said political commentators predicting delays in forming a Government after the final count was released could be proven wrong.
"I think it can be done much more quickly than people think," Peters said.
"This can be done with far greater speed if people get into the room and don't muck around."
PM-elect Christopher Luxon was reported to have had dinner with Winston Peters last week. Photo / Sylvie Whinray
He referenced the importance of New Zealand's attendance at the Pacific Islands Forum, which starts on November 6 in the Cook Islands, and the Apec Leaders' Summit in the United States shortly after.
"You might think that that's not important, but it is for a country like New Zealand, because a small country like ours needs to be there in some circumstances, making sure that we've got representation."
Peters, a former Foreign Minister, laughed away Plunket's question as to whether he'd like to attend the events as Foreign Minister, saying they were engagements National leader Christopher Luxon as the next Prime Minister would be interested in attending.
Luxon has revealed very little about negotiations with Act and NZ First except to say he was speaking to both party leaders. 1News last week reported Luxon and wife Amanda were seen arriving at Peters' Auckland home one evening.
Peters was similarly guarded when questioned by Plunket, indicating that it had been agreed the interview would not be focused on details of negotiations.
"There's a proscription on this matter at the moment because we're all waiting around for the 3rd of November to know exactly what it is we're dealing with," he said.
"There are talks. There are meetings between political parties, but they all have this one qualification: we have not yet got the detail, numeric detail, that's required to have a... discussion that leads to finality."
Peters did not provide a direct answer when asked if he'd met with Act leader David Seymour.
"I'm not going to breach confidentiality on anything in this process. It's very important, if you want to move forward and gain people's confidence, you stick to your word and I've always done that and I'm not going to change now."
Act Party leader David Seymour and deputy Brooke Van Velden. Photo / Alex Burton
On the country's most pressing issues, Peters told Plunket they were the cost of living, crime and the health system in that order.
NZ First and Peters had been vocal critics of the Labour Government's use of lockdowns and mandates during the Covid-19 pandemic.
Asked what he would do for people who felt aggrieved by the Government's decisions during that time, Peters referenced his party's policy to replace the current Royal Commission of Inquiry into the pandemic with a "proper inquiry and proper terms of reference".
NZ First had also campaigned on compensating people who were injured by the Covid vaccine or who were mandated out of work, but Peters didn't raise this with Plunket.
Adam Pearse is a political reporter in the NZ Herald Press Gallery team, based at Parliament. He has worked for NZME since 2018, covering sport and health for the Northern Advocate in Whangārei before moving to the Herald in Auckland, covering Covid-19 and crime.
Take your Radio, Podcasts and Music with you