National/Act could govern as Labour's slump continues in poll; NZ First hits 5 percent
Author

Publish Date

Wed, 13 Sep 2023, 6:08PM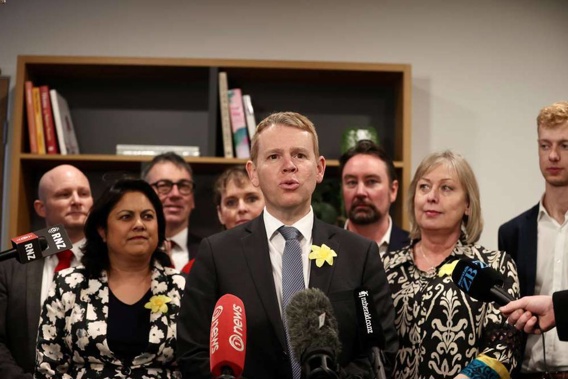 National/Act could govern as Labour's slump continues in poll; NZ First hits 5 percent
Author

Publish Date

Wed, 13 Sep 2023, 6:08PM

National and Act can form a government, Labour is still in the 20s and New Zealand First is back in Parliament, according to the latest 1News Verian poll.
National came in at 39 per cent, up two points from the last poll in August. Labour had dropped one point to 28 per cent.
Both the Green Party and Act were on 10 per cent, dropping two and three points respectively.
Winston Peters' New Zealand First hit the 5 per cent threshold to enter Parliament, up one point from the last poll.
Te Pāti Māori was steady on 3 per cent. The Opportunities Party and New Conservative were level on 1 per cent.
Ten per cent of poll respondents either didn't know who they would vote for or refused to answer, shrinking from 12 per cent.
On these numbers, National would get 49 of the 120 seats in the House. Together with Act's 13, the two parties surpass the 61-seat majority and could govern.
Labour would get 35 seats, the Greens 13 and NZ First would secure seven. If Te Pāti Māori won an electorate seat, which it is expected to do, it would get three seats.
Labour leader Chris Hipkins and National leader Christopher Luxon were tied for preferred prime minister on 23 per cent. It follows Monday's Newshub poll which also had the pair equal as preferred PM.
Act leader David Seymour was the next highest on 5 per cent, down one point. Peters had risen one point to 4 per cent.
Peters told 1News he already knew his party was above the threshold, claiming he would be above 5 per cent.
Luxon wouldn't rule out working with Peters, saying he wouldn't talk about New Zealand First as the party had not been in Parliament.
Hipkins said Peters was a "force for chaos" while Seymour said Peters had little to offer Kiwis.
Hipkins also told 1News he thought Labour was "on the way back up again" after two consecutive polls in the 20s.
Labour leader Chris Hipkins didn't get a good result in August's 1News Verian poll. Photo / George Heard
It comes two days after the latest Newshub Reid Research Poll showed Labour on 26.8 per cent, down 5.5 percentage points, while National polled at 40.9 per cent, up 4.3 points.
Even though Act had dropped two points to 10.1, National and Act could form a government on those numbers, earning 66 seats (National with 53 and Act with 13).
Hipkins and Luxon were also equal in the preferred prime minister stakes on 22.5 per cent in Monday's poll. Hipkins had dropped 1.5 points with Luxon rising 6.6 points.
This poll was taken after both parties held their campaign launches, Labour's promise for free dental care for people under 30 years old and National's proposed tax plan.
In the previous 1News Verian poll last month, Labour crashed to its worst result in that survey for six years, coming in at 29 per cent, down 4 percentage points from the previous poll in July.
Meanwhile, National had jumped two points to 37 and Act was up one point to 13.
In the preferred PM race, Hipkins was leading Luxon but only by one 1 per cent after the Labour leader dropped six points from the last poll.
Hipkins has been in Dunedin today to open a trades training building and announce Labour's promise to lift the number of places at the Otago Medical School by 95 a year each year next term.
He spent much of his press conference today attacking National's proposed tax plan, calling on Luxon to release his "secret costings".
Meanwhile, Luxon visited a factory and small businesses in south Auckland. He was repeatedly asked by journalists why National wasn't releasing more details that informed his tax plan and what impact its foreign buyers' tax would have on house prices, but he didn't give a clear answer except to say he was confident in his numbers.
Adam Pearse is a political reporter in the NZ Herald Press Gallery team, based at Parliament. He has worked for NZME since 2018, covering sport and health for the Northern Advocate in Whangārei before moving to the Herald in Auckland, covering Covid-19 and crime.
Take your Radio, Podcasts and Music with you