'Bleak posturing': Greens hit out at 'two Chrises', reveal policy priorities
Author

Publish Date

Sun, 1 Oct 2023, 2:55PM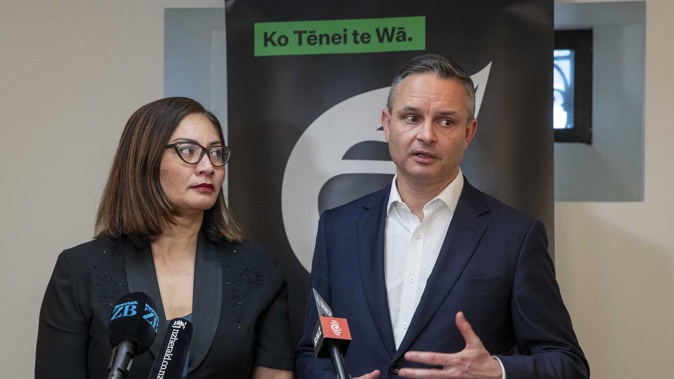 'Bleak posturing': Greens hit out at 'two Chrises', reveal policy priorities
Author

Publish Date

Sun, 1 Oct 2023, 2:55PM

The Greens are calling out the "bland" two "Chrises" and what they say are uninspiring choices from the two main political parties, Labour and National.
In doing so, the party has unveiled its top nine priorities - akin to a "pledge card" from the main parties - for any potential governing negotiations come October 15, with an income guarantee, wealth tax and warm, dry, clean-energy homes at the top of the agenda.
The party has also released an independent fiscal review of its election policies, conducted by Infometrics, which also reviewed Labour's policies.
The review found their policies, which involved a much higher level of spending than Labour, would be more than accounted for by revenue changes such as a wealth tax over a four-year period.
The review did note the Greens' policies would see debt increase very slightly but reach a surplus at the same time Labour and National forecasted - 2027. It also warned the tax revenue forecast was at the "higher" end of estimates, with potential for tax avoidance with new income taxes and the wealth tax being brought in.
"The bland proposals put forward by other parties do not represent our future," co-leader Marama Davidson said today at an announcement in Auckland.
"The future is up to us, and there is not one political party with a stronger say over our future than the collective will of New Zealanders."
"All we have heard so far from political leaders are different versions of the same thing.
 "The two Chrises spend more time telling you who not to vote for - trying to scare you with how things will be under the other lot - than they do talking about how we build the future our tamariki deserve.
"For the next two weeks, let's shift our attention away from the bleak posturing we've seen so far, and talk about the Aotearoa we can become - if we just had a government with the political guts to make it happen."
The party document, "The Future is Up to Us", highlights six key policies, including a guaranteed income of $385 a week for students and anyone looking for work, with an extra $135 each week if people are caring for kids at home on their own.
Families would get a further up to $215 a week for their first child and $135 a week for other children, plus a universal payment of $140 a week for every child under 3.
Everyone out of work because of a health condition or disability would receive an income of at least 80 per cent of the minimum wage.
The tax policy includes a $10,000 tax-free threshold, with a 2.5 per cent wealth tax on the value of assets over $2 million for individuals or $4 million for couples, after debt and mortgages.
The corporate tax rate would return to 33 per cent and there would be a new rate of 45 per cent on income over $180,000.
Other key policies include the Clean Power Payment, clearing the state housing waitlist in five years and 35,000 new state homes, free dental care, improved and more sustainable public transport, more ocean protections and its Hoki Whenua Mai policy, focused around addressing Māori land issues.
"The Future is Up to Us is the Green Party's plan to transform Aotearoa to work for everyone, not just the wealthy few," Davidson said.
"The independent fiscal review we're also releasing today shows very clearly that everything adds up, it's all just a matter of choice.
"We can have an Aotearoa where everyone has enough to live good lives; where everyone has a warm, dry, affordable and accessible home, powered by cheap, clean solar energy; where everyone has access to free dental care; and where we have restored the health and mauri of the ocean. It is all possible with the right political decisions."
The fiscal revenue found over the forecast period was expected to be $43.3 billion higher than in Treasury's Pre-Election Economic and Fiscal Update (Prefu) 2023, primarily due to income tax changes, the introduction of a wealth tax and higher ACC levies.
Expenses over the forecast period are expected to be $38.4b higher than in Prefu 2023 due to various Green Party policy initiatives, with larger costs including funding for dental care, a range of income and benefit supports and changes to ACC.
Green Party co-leader James Shaw said their policies were possible, they just needed the "political courage to make it happen".
"Right now, the wealthiest 311 families hold more wealth than half of all New Zealanders.
"That's not an accident. It is the consequence of a system that taxes work rather than wealth.
"The independent review we are releasing today confirms that our evidence-based solutions will fix the fundamentals of our tax system to make sure everyone has enough to get by."
Their policies would instead see more money in the back pockets of families raising kids and free dental care for everyone, he said.
"Our Clean Power Payment, which will support people to cut their home energy bills with rooftop solar and other low-carbon home upgrades, can also be fully met from the money we will raise from our biggest polluters.
"Our plan to make sure people have accessible and climate-friendly ways of getting around our towns and cities will be met by reallocating existing funding and modest new borrowing.
"Moving Auckland's planned tunnelled light rail to street level will save enough money to build light rail in Christchurch and Wellington, too. These are the political choices we need to be getting right."
Take your Radio, Podcasts and Music with you