Luxon says special vote count takes too long; negotiations 'progressing'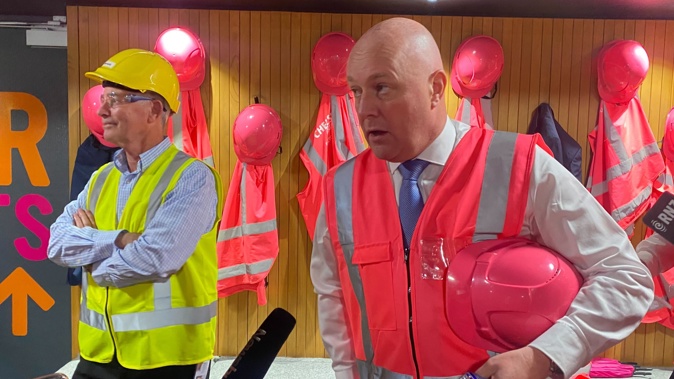 Luxon says special vote count takes too long; negotiations 'progressing'

Prime Minister-elect Christopher Luxon told Newstalk ZB's Mike Hosking talks were progressing and would remain confidential but "I'm pleased with the progress". 
Luxon has repeatedly said he did not think it was productive to play out talks through the media. 
His wish - and, he believed, New Zealand's wish - was that talks would be completed by the time the special votes had been counted. 
Luxon believed three weeks was too long for special votes to be counted. "This is the reality of our system." 
He said it used to be two weeks but an extra week had been added for those who enrolled on election day - he preferred it would be two weeks. 
Regarding Auckland's light rail, Luxon said the party had been crystal clear about which projects would be stopping under his government and he hoped people would "read between the lines". 
But he could not stop the project from continuing to hire people until he was officially Prime Minister. 
"We would hope that people would be smart in that transition period" not to take jobs or continue working on projects that would be stopping, Luxon said. 
Regarding the conflict in Israel and Gaza, Luxon said "Our position is very simply that we condemn Hamas' terrorist attacks and we support Israel's right to defend itself". 
But it was important that both sides fully complied with all their obligations under international law. 
"Obviously we should be very focused on making sure civilians are protected and we're getting humanitarian assistance in there." 
New Zealand had announced a $5 million assistance package for humanitarian aid. 
Labour was still the government and was taking the lead on the situation, but he was closely involved and being consulted, which was "greatly appreciated". 
Luxon told TVNZ's Breakfast to "trust the process" when asked if he was concerned that Act's David Seymour and NZ First's Winston Peters were not talking to each other. 
He would not say if he had told the pair not to talk to each other. 
He would not confirm if he was committed to working with NZ First regardless of how the special votes panned out. 
Luxon said talks had been moved to Auckland because "it's where a number of us live". 
In the first 100 days, he said, the new Government would start drafting legislation to reduce gang offending, such as banning gang patches and powers to disperse gang members. 
That 100-day count would start when the official vote count was finalised. 
He had not yet spoken to Police Commissioner Andrew Coster about those plans as National was not yet in government. 
Luxon told AM that his Government is on track and committed to getting the books back in surplus by 2027, but it will be a tough job. 
"It's tough because we're actually inheriting a mess," he said. 
Asked why coalition talks were not being had more openly, Luxon said "trust the process". 
He said it was important for him that a foundation of chemistry and trust was being built with the other parties. 
However, he promised to release coalition documents publicly. 
"I think we should make coalition documents publicly available, I think that is important," said Luxon. 
"In the end it should be very transparent what is being committed to." 
Luxon said his Government would be working right up until Christmas and would be returning sometime in January. 
"That is what every other New Zealander does. 
"We've got a lot to get on with and crack on with." 
Yesterday he told media he was "very open" to making coalition arrangements public after the final decisions were made, echoing comments made by Act leader David Seymour on Tuesday morning. 
Speaking at Auckland's Chelsea Sugar Factory he said coalition negotiations were "progressing well". 
"As soon as we have something to say, we'll say it," Luxon said, confirming he has spoken to both leaders of the Act Party and NZ First. 
The exact makeup of New Zealand's Parliament won't be known until November 3 when the official vote count has been completed, including the 500,000-odd special votes. 
Those include votes from people who were not enrolled on election day or who needed to update their details as well as people voting outside their electorate or from overseas. 
It's expected that National will lose seats in the final tally, meaning the party could require support from both Act and NZ First to form a government. 
That will require compromise from all parties. Act wants a referendum on the Treaty of Waitangi despite Luxon saying such a vote would be "divisive", while Act and National both want the age eligibility for the pension lifted, which NZ First strongly opposes. 
Negotiations between the parties have reportedly shifted to Auckland where Luxon, Act leader David Seymour and NZ First leader Winston Peters are all based. 
It's believed the trio are spending more time in the city to avoid the intense media scrutiny of the press gallery in Wellington as they hammer out an agreement. 
Take your Radio, Podcasts and Music with you