Chris Hipkins' sausage roll surprise in Hawke's Bay; pumps more funds into cyclone-ravaged region
Author

Publish Date

Thu, 21 Sep 2023, 4:04PM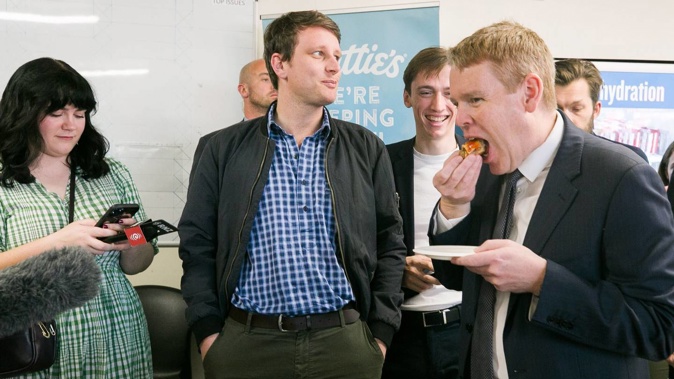 Chris Hipkins' sausage roll surprise in Hawke's Bay; pumps more funds into cyclone-ravaged region
Author

Publish Date

Thu, 21 Sep 2023, 4:04PM

Prime Minister Chris Hipkins put his money - and pastries - where his mouth was in Hawke's Bay on Thursday, indulging in one of his favourite tasty treats while also announcing new investment in the cyclone-hit region.
Hipkins announced $4.6 million dollars for both stopbank repairs and waste management, as well as putting support behind a plan to replace one of the region's most vital healthcare facilities and an extra $12m boost for silt recovery services.
As Labour leader, the morning started with a Hawke's Bay Chamber of Commerce breakfast event for local Napier and Tukituki candidates at Toitoi in Hastings, where Hipkins threw his support behind the party's $1.1 billion promise to replace the current Hawke's Bay Hospital.
"You've waited long enough," he told the audience, while also mentioning how Tukituki MP Anna Lorck had been consistently pushing for the project.
The election promise came with a commitment to initiating work within the first 100 days of a Labour-led government.
Hipkins' went on to Wattie's in Hastings, where he was greeted with his favourite work treat: a sausage roll.
He told staff it was his first visit to the factory and said it was "fascinating".
"It wouldn't quite be a sausage roll without Wattie's tomato sauce, in my view," he said after receiving two personalised bottles of sauce.
Chris Hipkins reacts as Cyclone Gabrielle-affected resident Mike Glazebrook (right) of Biorich recounts his experience during the storm during a visit to the Henderson Rd Transfer Station in Hastings. Photo / Warren Buckland
Putting on his Prime Minister hat, Hipkins also announced three major funding boosts for the region to help it recover from Cyclone Gabrielle.
The first - announced at the Henderson Rd Transfer Station in Hastings - was a $2.1m boost from the Government's Waste Minimisation Fund (Te Pūtea Whakamauru Para).
Spread across three organisations, Associate Minister for the Environment Rachel Brooking said the funding would "help increase local waste infrastructure and enable greater recovery of valuable resources".
$680,000 would go to Hastings District Council to improve construction and demolition recovery at the Henderson Road Refuse Transfer Station.
$550,250 would be given to Phoenix Contracting to go towards a new shredder, and Hog Fuel NZ would receive $875,000 to go towards purchasing two slow grinders, an excavator and a Trommel screen, which separates waste.
The second funding announcement saw Hipkins travel to Central Hawke's Bay, where he and MP Kieran McAnulty announced $2.5m to replace and upgrade a stopbank to protect the Waipawa Drinking Water Treatment Plant.
"This funding will allow urgent remediation and give locals confidence in a continuous supply of safe drinking water to the townships of Waipawa and Ōtāne," McAnulty told those in attendance.
In a third announcement, Hipkins re-allocated $12m of funding to Hawke's Bay Regional Council's Silt Recovery Taskforce to allow it to continue its work clearing silt and debris.
This was despite the fact the agency confirmed clean-up work would continue to slow down and stop at the end of this month.
Silt Recovery Taskforce lead Darren de Klerk said the re-allocation confirms the discussions they'd been having with Government officials for some months.
"Unfortunately, the $12m re-allocation won't allow us to continue works into October 2023, but rather allows us to honour the commitments we have made with contractors and landowners to date to collect and manage sediment and debris."
The Prime Minister also experienced an Art Deco tour in Napier. Photo / Paul Taylor
Earlier in the day, Hipkins went on an Art Deco Trust tour.
A Napier tourism staple, it is one of the organisations that will benefit from Hawke's Bay Tourism Cyclone Recovery Programme, which recently received a $1.2m boost from the Government as part of a wider $10m package.
The tourism-related funding is designated "to restore the local tourism industries in the three regions following the disruption caused by Cyclone Gabrielle" and includes money the Ministry of Business, Innovation and Employment (MBIE) had earmarked to support Art Deco Trust events.
Mitchell Hageman joined Hawke's Bay Today in late January. From his Napier base, he writes regularly on social issues, arts and culture, and the community.
Take your Radio, Podcasts and Music with you