Defence in Iraq, trade top of agenda in meeting with Tillerson
Author

Publish Date

Tue, 6 Jun 2017, 5:57am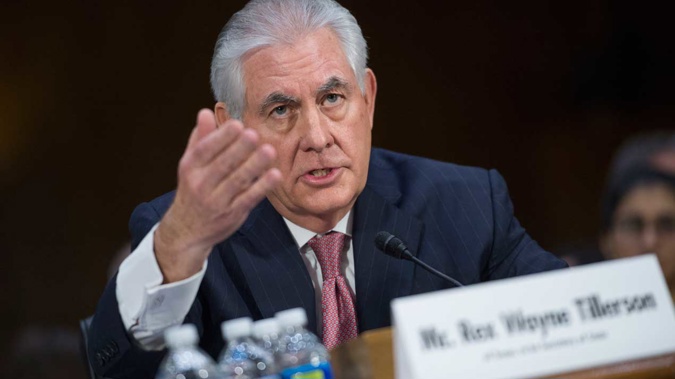 Defence in Iraq, trade top of agenda in meeting with Tillerson
Author

Publish Date

Tue, 6 Jun 2017, 5:57am
The Government is looking to get a grasp on the future of American foreign policy as United States secretary of state Rex Tillerson visits the capital today.
Foreign Minister Gerry Brownlee has suggested defence co-operation in the Gulf States area, particularly the NZDF training mission in Iraq, will be discussed, and says there will also be brief talks on trade prospects.
"In general, we will be wanting to get a understanding from him about what the new administration's foreign policy approaches are going to be and where they might differ from past administrations," Brownlee said.
Climate change is unlikely to be at the top of the agenda after the US withdrew from the Paris Climate Change accords last week.
Climate Change Minister Paula Bennett believes Trump has been unequivocal on the matter, and believes the Tillerson visit is more about the relationship overall, which she describes as strong.
"Our trade with the US is really important, as well as that security relationship and the Five Eyes," she said. "That's what we'll be concentrating on with Tillerson."
The Five Eyes is the intelligence-sharing network made up of the US, the United Kingdom, Canada, Australia, and New Zealand.
In light of the Trump administration's 'America First' policy, Labour Party leader Andrew Little, who will be meeting with Tillerson, has called for the US to maintain its presence in the Pacific.
"Here in the South Pacific, we know that there are other countries that are seeking to have an influence," Little said.
"The US has an important role to play in this neck of the woods. They need to maintain good relations with New Zealand, with Australia, with other South Pacific nations. It's very important for our sense of stability and peace."
New Zealand First leader and former foreign minister Winston Peters doesn't think believe domestic US political issues will be raised at the bilateral meeting.
"I don't think that we would appreciate Americans telling us how to organise our internal politics any more than they would expect us to be commenting on theirs, particularly in a political setting," Peters said.
Tillerson's appointment as Secretary of State has been shrouded in controversy. He had no experience in public office, and as the former ExxonMobil oil boss, he worked closely with Russian interests on a deal to explore the Arctic Ocean for oil, for which Russian president Vladimir Putin awarded Tillerson the Order of Friendship in 2013.
The Arctic deal was frozen when sanctions were applied to Russia for annexing Crimea.
Former FBI director James Comey, who was sacked by president Donald Trump, is expected to testify to Congress this week over ongoing investigations into the connections between the Trump administration and the Russian government.