Milestone moment in coalition talks as all three leaders prepare to meet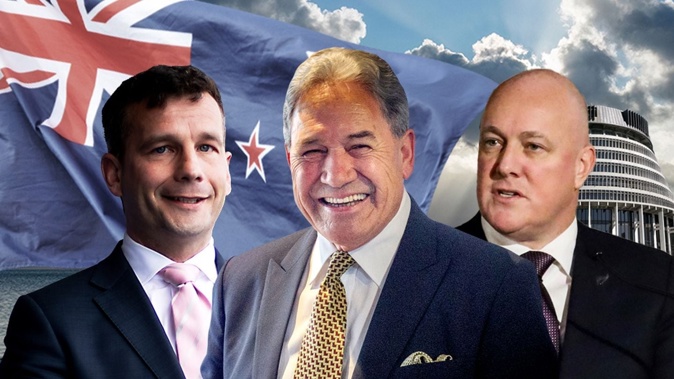 Milestone moment in coalition talks as all three leaders prepare to meet
The leaders of National, Act and NZ First are set to finally meet all together on Wednesday – the first time they will have all been in a room together.
It's understood the three have now arranged a meeting together, an important stage of the negotiations. However, the parties are also warning that it does not mean a deal is imminent and talks could stretch into the weekend or next week.
Tomorrow's meeting comes after NZ First leader Winston Peters was a no-show in Wellington today – a day on which all three were expected to be in Wellington.
Act leader David Seymour had said in the morning that while there was no scheduled leaders' meeting, it could well happen. He was also expecting to be in Wellington for the long haul: until the deals were inked.
However, Peters had not turned up in Wellington.
National Party leader Christopher Luxon had spoken to Peters several times by telephone during the day. Luxon had also met with Act leader David Seymour in Wellington.
Despite the planned three-leader summit, the parties are warning it does not necessarily mean a final deal is imminent, saying there are still details to iron out.
Earlier today, Luxon made a final decision not to go to the Apec summit in San Francisco, which would have required him to be sworn in as Prime Minister by Wednesday night.
Luxon's call not to attend Apec removed the initial informal deadline the parties had been working towards. While that decision has allowed more time to work on the nuts and bolts of the agreements, it also risked seeding the impression the talks were dragging on and could be in a stalemate.
Peters was believed to be working on a draft agreement presented to him by National last week, elements of which he was not happy with.
Today, National and Act's teams spent the time working through the details of their agreements: much of the work being done by the party spokespeople in various portfolio areas rather than at the leader-to-leader level.
Both Act and NZ First have pointed to National's tax package as a problem area.
In his only comments to media, Luxon said repeated his line that he was certain he would get a "strong, stable government."
"We've got lots to do this week, and gonna make sure we get a strong, stable government for New Zealand."
On whether Luxon had overestimated his ability to cut a quick deal, Seymour said it was starting to take longer than people had expected. "But there are legitimate issues to work through. Some people want a fast deal, I think it's more important to get a good deal."
Seymour said that nobody could yet say when an agreement might be reached, but no one party was to blame for any hold-up.
Take your Radio, Podcasts and Music with you