'Ate a lot of Weet-Bix this morning': Luxon hits back at Seymour's public deputy PM pitch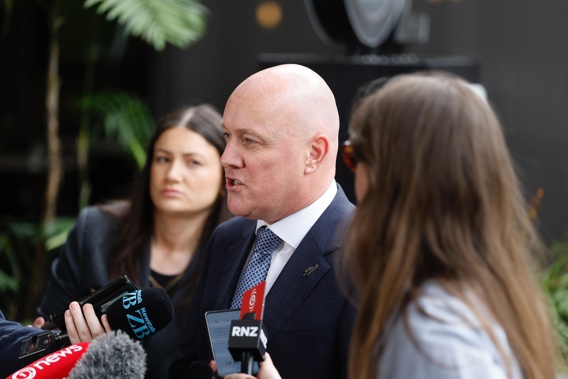 'Ate a lot of Weet-Bix this morning': Luxon hits back at Seymour's public deputy PM pitch
A tussle over the deputy Prime Minister role appears to be playing out, as National Party leader Christopher Luxon voiced his displeasure about Act leader David Seymour publicly stating his case for the job while meetings were still underway.
After meeting with Luxon this morning and ahead of Luxon's meeting with NZ First leader Winston Peters, Seymour publicly set out his claim to the title: Act's bigger share of the vote.
Luxon's options include his own deputy, Nicola Willis, or choosing between Seymour and Peters. There is a slim chance he could consider a co-deputy role.
Luxon was clearly unimpressed with Seymour's apparent public pitch, turning Seymour's own earlier reference to Weet-Bix back on him.
Yesterday, Seymour said Luxon had clearly had one too many Weet-Bix after Luxon stated that the policy talks between National and the two smaller parties were completed.
On Seymour's public airing of the deputy Prime Minister claim, Luxon said "he probably got up and ate a lot of Weet-Bix this morning," before saying all parties had agreed to keep talks confidential.

National leader Christopher Luxon arrives at the Cordis Hotel in Auckland for ongoing coalition talks. November 21, 2023. Photo / Michael Craig
Luxon said the only two roles that were set in stone were himself as Prime Minister, and Nicola Willis as Finance Minister.
When asked about the deputy PM role, Seymour said proportionality should be a factor in the decision "and Act is the second largest party."
"So that would be the argument.
"It's a negotiation, but everyone can see the numbers for themselves. It would seem unreasonable to end up with something where a party gets a totally disproportionate share of the roles and entitlements."
Seymour also indicated he was hoping his party would get the agriculture minister, referencing agriculture specifically when talking about which people had the skills and backgrounds for roles. Act has former Federate Farmers' president Andrew Hoggard and farmer Mark Cameron on its team.
Seymour had earlier said Luxon was premature in stating that the policy part of their talks was over, saying negotiations were still underway and cross-checking was still happening.
Seymour clarified that what he meant was that until the smaller parties' boards and caucuses agreed to the content of the agreements, things could change. It was possible the board or caucus would require the leaders to return to re-negotiate elements of the agreements.
"Until everything is signed off, nothing is signed off."
He said the caucus and board sign-off was not just a formality. He said those meetings would not be called until the full agreements were ready to sign, including the allocation of portfolios.

Act Party leader David Seymour speaks about coalition talks from outside Auckland's Pullman Hotel.
Luxon has continued to hold coalition talks in Auckland on Tuesday morning, hosting Seymour at his home.
"I've just been here to visit a constituent in the Epsom electorate, he's having some challenges with a negotiation he's involved in and I found I could actually be quite helpful," Seymour cheerfully related as he emerged from the Luxon household shortly before midday.
Luxon on Monday said all three parties had agreed a policy platform, with Act and New Zealand First now agreeing on one another's deals with National.
Discussions are now focused on ministerial responsibilities and Cabinet positions in an arrangement likely to a be a three-party coalition.
Seymour said he thought there was "a clear case" for him to have the role of Deputy Prime Minister.
"I think there's a very clear agenda that the Act Party is the second-largest party in the government and therefore if there's a second role in the government that should go to the second party," he said.
"But having said that, a negotiation's a negotiation, and you never know your luck ... so look I'm not going to try and predetermine it one way or another.
"I've always said that I'm going to serve in whatever role that I need to, to advance the goals of the Act Party and the government for New Zealanders."
He agreed it was his view Act should get more ministerial roles than NZ First based on the party vote, saying "that would be the result of proportionality, yes".
"I think proportionality's important to democracy, it's important to the people. Every person out there, their vote counts the same and so should their representation in a government. It's also a fair way to do things and if there's one thing that really resonates as a Kiwi value it's fairness."
The negotiating is likely to be centred on key positions like Deputy Prime Minister, Foreign Minister and Attorney-General, and the level of influence in crucial portfolios like Finance.
"I think we've made really good progress, obviously we've had to talk a lot about policy but we've also got to have a government formed and that involves people having to do jobs that align with the policy goals of the government as well as their own skills and passions so they can deliver for people," Seymour said.
However, he would not say whether the Attorney-General role, for instance - the government's top lawyer with responsibility over the law and legal matters - was particularly contentious.
"If one portfolio or another is contentious or decided I wouldn't be able to talk about it at this stage," Seymour said.
With the deal looking likely to be a three-party coalition, he was positive about the relationships between the three leaders.
"I would say it's collaborative and constructive, which is how we're going to have to be for the next three years," he said.
"I mean, what I see is that people rise to the challenge and the responsibility and I think we're going to actually work together very well."
He had not met with NZ First's Winston Peters this morning, he said, but the option was always there, as they were still going through some of the details of each others' policy agreements with National.
"We're in a really good space and we're just dotting 'i's and crossing 't's on things like that.
"I have no plans to meet him but we've met many times over the last week sometimes with an hour's notice so we're always ready to pick up the phone or meet if we need to."
Seymour remained cautious about putting a timeframe on when a deal could be complete.
"I think it's always possible we'll get a deal tomorrow but I feel bad for having said that quite a few times in the last few weeks so I won't say it today," he said.
"As I said last night I closed my account at the TAB after a few losses predicting when this thing ends. I'm not going to bet on it but I think it'll be very soon."

NZ First leader Winston Peters arrives at the Cordis hotel in Auckland for a meeting with National leader Christoper Luxon. Photo / Michael Craig
Meanwhile, Peters has just arrived at the Cordis hotel in Auckland ahead of a meeting with Luxon.
Peters moved quickly past media on his way on, declining to answer questions about negotiations.
Take your Radio, Podcasts and Music with you