Britain plans to seek free trade with NZ
Author

Publish Date

Sat, 14 Jan 2017, 7:29am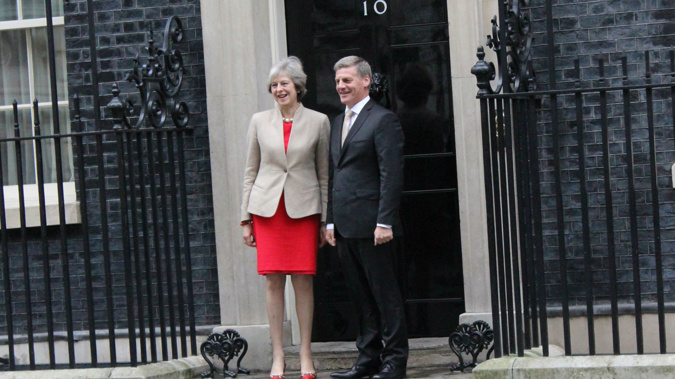 Britain plans to seek free trade with NZ
Author

Publish Date

Sat, 14 Jan 2017, 7:29am
UK Prime Minister Theresa May has refused to budge on restrictions on New Zealanders rights to live and work in the UK but had a sweeter story to tell Prime Minister Bill English on post-Brexit free trade.
English and May met at 10 Downing Street today and emerged with warm words about the long relationship between the two countries. 
While Britain can not enter any free trade agreements until it has left the EU - something that will take at least two years - both leaders made it clear New Zealand would be among the first. 
However, asked if she had any intention of improving access for New Zealanders after presiding over a tightening of the rules in the past few years, May was unapologetic.
She said most visa applications from New Zealanders were approved and schemes like the 2-year visas under the Youth Mobility Scheme gave opportunities to live in the UK.
"But it is also important here in the United Kingdom that we do ensure we have that control. We want to see net migration coming down because of the impact we feel it has on people here in the UK."
Afterward, English said he had discussed it with May but had not pushed it given the pressure on the UK because of Brexit and high net migration.
"Given the context, I think it would be quite unreasonable of us to expect some movement on the issue when they are trying to deal with large scale issues of immigrations and people flows with the EU.
He said that was at the core of the Brexit negotiations with the EU. "And much as we'd like them to pay more attention to us, I don't expect we should push Mrs May's good will too hard on that.
So we indicated that we will continue to advocate for easier access for Kiwis, but we wouldn't expect we will get engagement on it until they've dealt with the bigger issues."
He said it was possible it would be dealt with as part of trade talks. 
On trade, May was more positive, saying New Zealand and the United Kingdom both recognised the importance of free trade. "I think it's natural we would look to a partner like New Zealand."
She said preliminary trade talks had already begun and her International Trade Secretary, Liam Fox, would visit New Zealand in the coming months to launch the talks properly.
English said May's enthusiasm was encouraging.
"We are making a pitch, they are responding very positively.
We are a credible partner for the UK to be able to demonstrate to the rest of the world that when they leave Europe, they can do high quality, comprehensive trade deals quickly."
He said New Zealand was an obvious choice for the UK given its experience in trade negotiations and as part of a closely integrated economy with Australia. "Over here people tend to think of being outside a customs union as meaning you can't be close to other economies. In our experience, that's not the case. It's just one example of the kind of experience New Zealand can bring to a deal with Britain."
That did not mean the negotiations would be a walk in the park. English said he expected agriculture to be a sticking point, as it was with all of New Zealand's trade agreements.
English said May had also discussed Brexit with him.
May has been criticised for her failure to set out a comprehensive plan to deal with Brexit and is due to deliver a major speech on the issue next Tuesday.
English said May was holding her cards close to her chest on her plans for Brexit.
"In our discussions it became obvious she's got some real clarity about the objective and that is making sure people understand Britain is going to leave the European Union and anyone who has got any doubt about that will have their doubts put to rest."
It was his first meeting with May and the pair spent 90 minutes talking over a lunch. He described her as "engaging."
"She listens carefully,  a very determined woman and a clear thinker. I was left with the impression these are the kind of qualities you need, the UK needs, to get through what is going to be a complex process."