Bridges parades new cabinet and fires shots at Ardern
Author

Publish Date

Mon, 12 Mar 2018, 3:15PM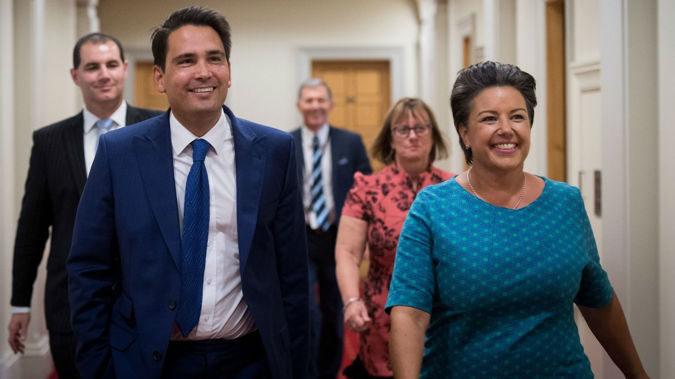 Bridges parades new cabinet and fires shots at Ardern
Author

Publish Date

Mon, 12 Mar 2018, 3:15PM
National's new front bench was on parade in parliament on Monday, with party leader Simon Bridges saying his senior MPs were "incredibly excited and energised" about what was ahead of them.
Mr Bridges announced the shadow cabinet on Sunday, promoting some of his most experienced former ministers as well as bringing in new faces from the back benches. To make room for them, some of the "old guard" have slipped down the rankings.
They had their first meeting on Monday morning before Mr Bridges and the top five held a press conference on parliament's steps.
"We have a government that talks a big game but there are no new houses under Kiwibuild, there are no new trees under its billion trees programme, and there are no new transport projects," he said."It's our job to hold them to account so New Zealanders understand what we think is the lack of progress."
Judith Collins, promoted to number four in the shadow cabinet and holding the housing portfolio, said she was going to keep a very careful watch on Kiwibuild.
"Not one house built yet and all I'm hearing from developers is that (housing minister) Phil Twyford is meeting them to try to take over some of their existing projects to bring them into Kiwibuild," she said. "Basically that means paying them money to build houses they were going to build anyway."
Mr Bridges said the government didn't seem to be making much progress in any area."The government is taking a tea break - it can't afford to do that."
The top five in the shadow cabinet after Mr Bridges are Paula Bennett (deputy leader, social investment, skills and employment), Amy Adams (finance) Judith Collins (housing) Todd McClay (foreign affairs and trade) and Jonathan Coleman (health).