Biosecurity cuts behind fruit fly scare?
Author

Publish Date

Thu, 19 Feb 2015, 5:22AM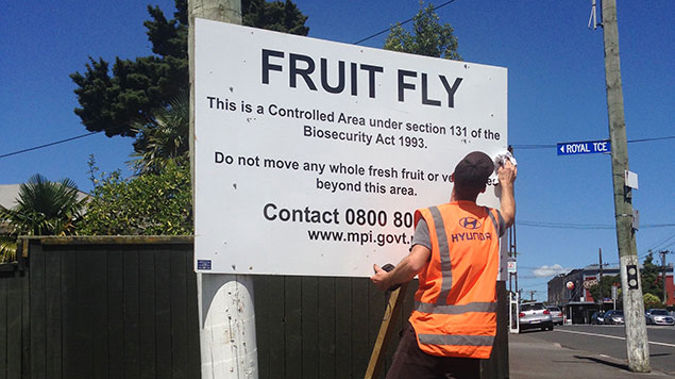 Biosecurity cuts behind fruit fly scare?
Author

Publish Date

Thu, 19 Feb 2015, 5:22AM
UPDATED 8.40am: A relaxation in screening procedures is being tipped as one of the reasons a Queensland fruit fly made its way into the country.
The Ministry of Primary Industries dropped 100 percent screening at the border in 2011, to speed up processing times at the country's airports.
Horticulture New Zealand's Peter Silcock told Newstalk ZB's Mike Hosking the discovery shows MPI needs to tighten up their screening standards again.
"We've had four finds in our traps over three years. In the previous 14 years when we had the 100 percent screening in place, we didn't find any."
Calls to reinstate 100 percent compulsory x-rays
Silcock says the $6 billion New Zealand horticulture industry is at risk.
He says 100 percent x-ray of passenger bags at international airports should be immediately reinstated, at least until the end of summer.
"Sure that's going to cost some money, but we also have to look at every time we're responding here is between $1 million to $1.5 million for the response that we're putting in place."
Silcock says 5500 commercial fruit and vegetable growers are waiting to see just how bad this will be.
"We know the x-ray machines are very good at picking up pieces of fruit and that's how this pest is likely to have arrived here."
Meanwhile, the Ministry of Primary Industries made a conscious decision to inform event organisers first about restrictions placed in Auckland.
MPI chief operations officer Andrew Coleman says that's because some of the events like the Pasifika Festival and Cricket World Cup will have large numbers of people.
Some of the fruit and vegetable shops in the exclusion zone spanning five central-city suburbs, say they're surprised MPI hasn't contacted them yet.
"So if you think about the fruit and vegetable shops, the other supermarkets, all the householders, you're talking in the vicinity of possibly between 6000 and 7000 individuals.
"We're not going to get them all in one day, so we've had a response we've initiated with pamphlets."
Businesses sweat on impact
Businesses in the the exclusion zone set up to detect Queensland fruit fly in Auckland, are waiting to see what impact it will have on their operations.
Olivia Goldsworthy-Keeley of Ponsonby Fruit World says the alert has done nothing to stem the usual stream of customers.
"We have got our local customers that come in daily and they're still coming in daily, so it hasn't affected us so far."
It's claimed frontline cuts to biosecurity has caused the fruit fly scare in Auckland.
Fruit can't be taken out of five central Auckland suburbs, after a Queensland fruit fly was discovered in a trap.
Green Party biosecurity spokesperson Steffan Browning says the problem comes down to biosecurity officers being under-resourced.
"The effort to try and fast track passengers without the 100 percent screening is putting us at risk."
The Green Party also wants a ban on any fruit and vegetable imports from Australia, until better biosecurity measures are in place.
Browning says the scheme would cost, but it will cost more if the fruit fly inflicts the major damage its capable of on our horticulture industry.
"They would be looking to industry to help. However, in the first instance the government should be ensuring that we have 100 percent x-rays."
New Zealand First MP Richard Prosser says it's insane these incursions keep happening and is scathing of the current state of biosecurity protections at the border.
"The first thing we'd like to see is the Smartgate gone. It's an extra 10-15 minute inconvenience for a traveller to have a physical inspection, to have all hand luggage x-rayed, to make sure there aren't any nasties or unwanted surprises in them.
"But in the grand scheme of things we're putting at risk three quarters of our economy."