Awkward and chilly night for solidarity protesters
Author

Publish Date

Fri, 17 Jun 2016, 8:23AM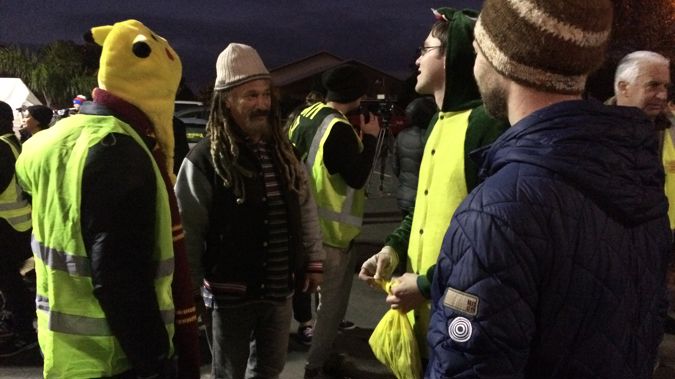 Awkward and chilly night for solidarity protesters
Author

Publish Date

Fri, 17 Jun 2016, 8:23AM
Hundreds of people in South Auckland are waking up to a chilly morning after camping in their cars overnight, in solidarity with the homeless forced to do the same every night.
MORE: Political grandstanding at 'sleeping in cars' event
Close to 1000 people have slept in the Mangere town centre car park in an event to put the spotlight on the plight of people forced to sleep in vehicles.
There were people of all ages present, and also a number of MPs, including Green Party MP Marama Davidson who said the evening was "cold" and "awkwardly uncomfortable".
"It was good to come to this event and support the solidarity of New Zealanders saying we don't accept this," she said.
Mangere MP Su'a William Sio said he took part in the event to show empathy with those who have to live far from many material comforts.
"The environment [the government has] created where they think it's okay for people to be homeless and to live in a car as a norm - it's just unacceptable," he said.
Frances Fa'alili, an operations manager at the camp, says the government has failed to see that homelessness is a problem.
"I'm not the smartest guy out there but if you've got a bunch of money and you've got people who are living like this and people that need shelter, food, support, I'd be prioritising those things," he said.
Spokesperson for the event - which was organised by Child Poverty Action Group and Park Up For Homes - Annaliese Johnston says all of them wanted to make clear something needs to change.
"It's awesome to see people getting on board this waka and saying 'Hey, we want to stand with you, our family wants to stand with your family'," she said.
Prime Minister John Key was yesterday asked why no National MPs were present at the event. Key said it was at each MPs' discretion to do so.
Three more events are scheduled to be held on June 25 in Wellington central, and the Auckland suburbs of Otara and Mangere.
Last month's Budget allocated $41 million to fund 3000 emergency housing places and a special emergency grant that would not need to be paid back, however Social Housing Minister Paula Bennett has been under pressure to resign this week after it was revealed one of her staffers had leaked sensitive information about Hurimoana Dennis.
Dennis is the chair of Te Puea Marae, which has been taking in homeless people and families.
A recent study found that the number of people sleeping rough in Auckland's central city was two-and-a-half times higher than it was three years ago.