Witnesses to mosque shooting: 'Gun shots... I heard 50'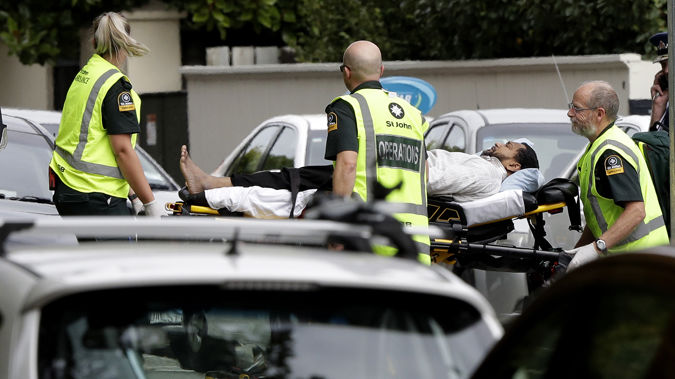 Witnesses have shared their stories from inside the mosques that were targeted in a violent shooting this afternoon.
Mohan Ibrahim was one of around 400 people who were inside Christchurch's Masjid Al Noor mosque near Hagley Park praying when the shooting began.
"I didn't get a glimpse of the gunman as I was in the next room, but all of a sudden we heard the shots being fired and people just started running for their lives. I'm still in shock.
"A lot of people have been killed and many are injured. I can see a girl dead in the middle of the road," Ibrahim said in tears.
He managed to escape and is now around 200m from the scene of the shooting on Deans Ave.
"I am scared for my friends. Some are still inside and we have been calling but can't get hold of them," Ibrahim said.
He said his friends who were at the other mosque in Linwood had called him saying the shooting occurred there at the same time.
"I have friends at both Islamic centres - it's terrifying and I don't know what to do."
He said it was completely unexpected.
"You think New Zealand is the safest place in the world, it's just really unexpected."
Another woman the Herald spoke to said she had been called from her friend who had been shot in the leg and was hysterical - she did not know if her friend was alive.
"He just hung up and I haven't been able to get back in contact with her."
Oakford Close resident Robert Weatherhead has taken in about 13 men and a boy aged about 3 after they escaped from Al Noor Mosque.
Earlier, he helped three people who had been shot at the mosque.
"One man had been shot twice - once in the abdomen and once in the shoulder ... he was conscious."
The injured had been taken to hospital and he was comforting those who remained at the house, where police had told people to stay put.
No-one wanted to talk to the Herald but Weatherhead said they had told him about the shooting.
They had seen one gunman, a white man aged in his 30s or 40s and who had a lot of magazines strapped to his legs, Weatherhead said.
"He was in a uniform but I haven't been able to find out what kind. He had a vest on as well."
A neighbour had taken in a boy aged between 3 and 6 whose parent was injured in the incident, Weatherhead said.
Weatherhead described hearing the shooting unfold.
"There were a lot of bullets. I heard at least 30 or 40 shots ... it was [in my opinion] a heavy semi-automatic or automatic machine gun."
14-year-old witness Idris Khairuddin says prayers were just about to begin when he heard multiple gunshots.
"At first I thought it was just like construction work or something, then people were all running and screaming," said the 14-year-old Hillmorton High School student.
His uncle Tamizi was one of about six persons he knew got shot.
Idris said he was sitting near the door, he said he saw people falling down but wasn't sure if they were injured.
"I just ran as fast as I could, over the fence to Hagley Park, I didn't stop," he said.
"The gun shots sounded like pop, pop, pop...I heard over 50."
Idris and his uncle were both Malaysians living in Christchurch.
"My uncle got shot in his backside, I am just praying it is not too serious."
"This week is the first time I went to the mosque...I am still shaking, and I am traumatised," Idris said.
He said everything was a chaos as people scrambled to get out of the mosque.
One Christchurch resident told the Herald he was sleeping when he woke up to 20-40 gunshots and a man fleeing into his house with a bullet wound 7cm into his leg after a mosque shooting.
The young man and his three flatmates, who live on Brockworth Place near Masjid Al Noor, rushed to the aid of a male Muslim who fled to his house after the mass shooting.
"I had to deal with that really quickly considering I just woke up," he said.
"We called an ambulance and police and I applied pressure to the wound."
"It's just human nature to help someone in that situation."
When the Muslim man ran into their house he told the residents that he had just been at the mosque, multiple shots were fired and he fled the scene immediately looking for help.
"[The victim said] he didn't see the armed gunman but he heard bullets ringing around, one had just missed his stomach area. He would have had a far more serious injury in that case," he said.
"I thought he was making it up ... I didn't realise something of this magnitude could happen in New Zealand.
"I was just in an utter panic."
He believed the bullet was a .223 calibre from a high powered rifle as the bullet was 7cm into the man's leg.
"Based on hearing it, it was very high-powered. [I] could hear the gun barrel going from 5km away."
The young man said an ambulance never arrived at this house, so a flatmate drove the victim to the hospital.
He first thought the gunshot was from the armed offenders' squad, but said when the victim ran in it shattered his thought.
"I send my condolences to the families and people involved also," he said.