Why Amazon doesn't scare Mighty Ape
Author

Publish Date

Mon, 4 Dec 2017, 5:44am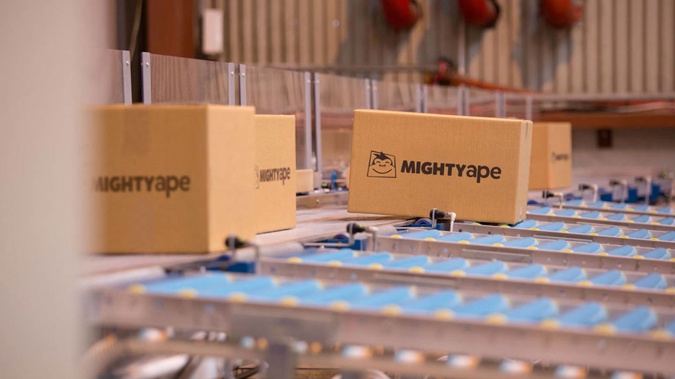 Why Amazon doesn't scare Mighty Ape
Author

Publish Date

Mon, 4 Dec 2017, 5:44am
New Zealand e-commerce retailer Mighty Ape isn't sweating over Amazon's launch across the Tasman and is focused on getting products to Kiwis quickly and building relationships with local suppliers.
The Auckland-based company is gearing up to move into its new 10,000 sqm Silverdale warehouse in January next year.
Mighty Ape general manager Dylan Bland said it was bursting at the seams.
"We're literally bursting at the seams, and struggling to get all of the orders out at the moment because of the lack of space," Bland said.
"We're currently operating out of our 5,500 sqm warehouse in Albany. We were hoping to have moved out of this place by now but the construction of the new [warehouse] ran behind schedule, unfortunately."
Mighty Ape began as bricks and mortar video game store GameZone in 1994, and has been operating as an e-commerce-only operation for the past 10 years - under the name of Mighty Ape since 2008.
It was one of New Zealand's first retailers to venture into the realm of online sales in the late 1990s, and ships products to 250,000 Kiwis every year.
The company is not worried that Amazon will soon have a physical presence in Australia, Bland said.
"We don't under-estimate Amazon for a second but one of the areas that we feel confident in and that we are focused on is the speed of delivery," he said.
"That's our way of competing against any e-commerce store whether it's Amazon or The Iconic, AliExpress or anyone."
The looming launch of Amazon Australia will bring the retail giant closer in proximity to New Zealand, but Bland said it wouldn't change much at this stage.
"The competition will be more intense, but it's also fair to say Mighty Ape has competed against Amazon and a number of other e-commerce sites for a long time, unlike bricks and mortar companies."
Bland said its customers were aware of Amazon, and likely already shop there.
"It's going to be interesting having Amazon closer but we've been competing against them for a while."
Mighty Ape, which employs more than 120 workers, has been growing year on year since its rebrand and name change in 2008.
Amazon is said to offer products at prices of up to 30 per cent cheaper than elsewhere on its launch and up to 15 per cent cheaper after it is established.
"We're not worried, we're prepared for it," Bland said.
"We expect them to be aggressive on prices and we'll be looking closely, and being competitive where we can and where we need to be.
"Amazon coming into Australia is going to serve as a bit of a wake up call to a lot of the local suppliers, and it is a great opportunity for New Zealand retailers to really work closely with the local suppliers together to combat the effect of Amazon."
Service and speed is the e-commerce retailer's focus, Bland said.
It currently has more than half a million stocked items in its warehouse, with a main product range centred around entertainment and merchandise but also sells supplements, food, clothing and beauty products.
"With e-commerce, one of the great mysteries is 'when is it going to arrive?', and at Mighty Ape we've tried to focus hard on fast delivery being a core part of what we do," he said. "Moving to the bigger warehouse is about trying to keep up with our growth and being able to range more products."
The potential for e-commerce convenience was not limited, he said.
"It'll only be a matter time before Amazon does come to New Zealand and perhaps changes to GST will make that happen faster, so certainly we know the services we offer today are not going to be good enough in - who knows - one year, two years, three years...
"For us it'll be about [better] working with our delivery partner Courier Post on how we deliver faster, open more distribution centres around the country and distribution points so that we have more stock in other parts of New Zealand.
"We feel like in this market we are ahead of Amazon - by quite some way, and also compared to other e-commerce operations in New Zealand.
Australian orders account for roughly 20 to 25 per cent of Mighty Ape's business.
Bland said Mighty Ape would list its products on Amazon's Australian website, and saw Amazon Marketplace as an opportunity to grow its Australian customer base.
"We'll let [Amazon] launch, we'll wait a few days to see who's on that and what the prices are like... but at this stage it is definitely our intention to be on the Marketplace in Australia for Amazon.
Ben Goodale, managing director of retail marketing firm justONE, said Mighty Ape had significant advantages over Amazon.
"They have strong heritage and personality, an established customer base, and have some particularly well established categories especially in games.
"They have stock, and can ship fast so they have the capability to be closer to market than Amazon in what they are good at," Goodale said.
"Let's face it, Amazon will have better margins than Mighty Ape, based on the simple global buying power Amazon wields – so potentially they can win on price or otherwise squeeze Mighty Ape on margin. But Kiwis love the plucky battler and there's going to be a proportion who are always going to back local."
JB Hifi, The Warehouse and EB Games are Mighty Ape's biggest local competitors.
"[In the end] it's all going to come down to service - giving customers a complete A to Z experience. When it comes to shopping, the time it takes from you wanting it and you getting it is really important. Getting that time to being as little as possible, I see, is the future," Bland said.
"Five years from now, you'll want something now and get it in an hour or two, and it probably won't be very expensive."