White Island eruption: The dead, the missing and the injured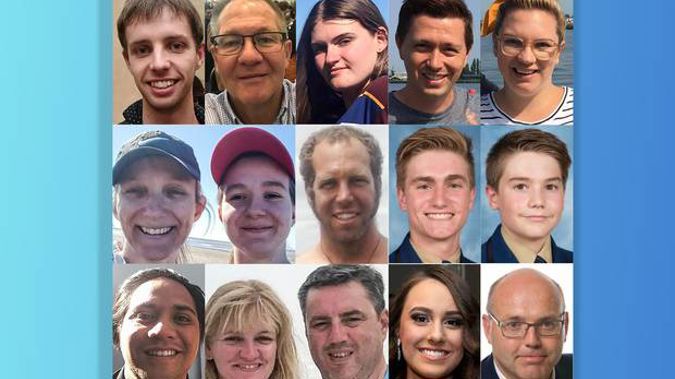 White Island eruption: The dead, the missing and the injured
UPDATED MONDAY 16TH 2PM
At 2.11pm on Monday, when Whakaari/White Island spewed scalding steam, rocks and ash into the air, 47 people were on or near the island.
Police have so far confirmed 16 people have died.
The 16th person died on Saturday after being repatriated to Australia.
As of yesterday, 14 people remained in hospitals across New Zealand, while another 13 people had been transferred to Australia.
Two people remain unaccounted for on or in the vicinity of Whakaari/White Island.
These are the people who family and members of the public have said have been killed or injured during the devastating volcanic eruption.
Some of the deaths have been confirmed by the New Zealand Police; others have been confirmed by extended family and friends.
Some people remain unaccounted for.
Matthew, left, and Berend Hollander died in the eruption. Photo / Supplied
The Hollander family released a statement saying they were "absolutely heartbroken" by the loss.
"Ben and Matthew were wonderfully kind and spirited boys who lived short but very fulsome lives."
The boys had loved their school, Australian sport and an outdoor lifestyle, the statement said.
"They had a positive and lasting impact on everyone's paths they crossed."
Police have since confirmed that the boys' father - Martin Berend Hollander, 48 - is also among the dead.
Martin Hollander, 48, from Sydney, was visiting White Island when the volcano erupted.
The boys' mother, Barbara Hollander, remain unaccounted for and is feared dead.
Tīpene Maangi
It was just one month into Tīpene Maangi's job as a guide for White Island Tours when the island erupted.
Maangi, from Te Whānau a Apanui and Ngāti Porou iwi, has been described as a loving young man, who always puts others before himself.
Earlier this week, Long-time friend Shaniah Semmens described the 24-year-old as a very cool, caring and funny person who was well-loved.
"I would rather it have been me than him out there."
The day after the disaster Maangi's father stood at the Whakatāne wharf, staring at Whakaari.
Maangi started working for White Island Tours in September 2019 and was on the island when the volcano erupted.
Anthony and Kristine Elizabeth Langford
New Zealand Police confirmed Anthony Langford died due to the volcanic eruption. His wife, 45-year-old Kristine Langford, has also been confirmed as among the dead.
The couple were on a trip with their two teenage children - Winona, 17, and Jesse, 19.
Their son Jesse was found alive and is in hospital. However, their daughter Winona remains unaccounted for.
Kristine Langford and Anthony Langford of North Sydney and their children Jesse, 19 and Winona, 17 were visiting White Island when the volcano erupted.
Gavin Dallow and his stepdaughter Zoe Hosking
New Zealand Police have confirmed the deaths of Gavin Dallow and his teenage stepdaughter Zoe Hosking.
Dallow's wife and Zoe's mother, Lisa Dallow, is in hospital and being treated for her injuries.
Gavin Dallow, 53, was travelling with his partner Lisa Dallow, 48 and her daughter Zoe Hosking, 15, all from Adelaide, South Australia.
Dallow's family said in a statement: "We mourn the loss of Gavin and Zoe.
"Gavin was a wonderful son and brother.
"We'll miss him at the cricket and we'll miss him at the football. He was a generous man, always helping his family and his community.
"Our hearts break at the loss of Zoe at such a young age.
Zoe Hosking from Adelaide was a visitor to White Island when the volcano erupted.
"We know her loss will also devastate her school community and the local Girl Guides, of which she was still an active member.
"The Dallow family is extremely thankful for the support from relatives, Rotary, the local church community and the broader community."
Krystal Browitt
Australian vet nursing student Krystal Browitt was on the trip of a lifetime to celebrate her birthday with her close-knit family, the Herald Sun reported.
New Zealand police confirmed the 21-year-old died due to the volcanic eruption.
Following the eruption, both her father Paul and her sister Stephanie were hospitalised.
Browitt's mother Marie, however, was uninjured after choosing not to go on the White Island tour.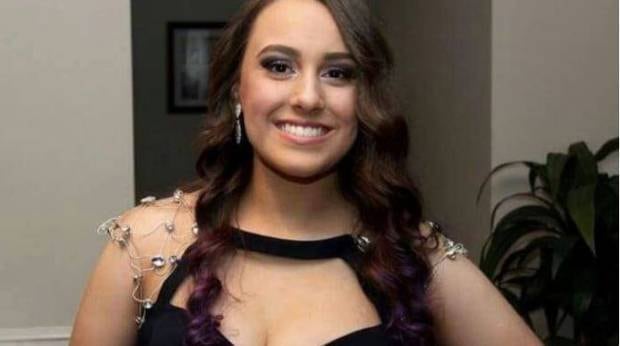 Krystal Browitt was listed as officially missing by New Zealand Police on December 11. Photo / Supplied
Unnamed Australian
An unnamed Australian man died on Saturday, December 15, becoming the 16th to die following the Whakaari eruption.
The New South Wales Department of Health confirmed a man who had been transferred to Concord Hospital following the eruption had been in a critical condition and had died yesterday.
The department did not release his name or age at the request of his family, who had asked for privacy.
New Zealand police said the man came under Australia's coronial jurisdiction and Australian authorities were responsible for releasing his name.
"Australian Federal Police has worked closely with our police over the last week.
"Our relationship has proved invaluable as we continue to support those Australians and their families impacted by this tragic event."
Confirmed dead by family or friends
Australian couple Karla Mathews, Richard Elzer and friend Jason Griffiths
Three Australians from Coffs Harbour, Jason Griffiths, 33, Karla Mathews, 32 and her partner Richard Elzer had been holidaying with a group of friends on the Royal Caribbean Ovation of the Seas cruise ship.
NZ Police said on Sunday that Mathews was among those killed, but her death, as well as those of Elzer and Griffiths, had already been confirmed by friends.
"On the 9th of December 2019, we were devastated by the news that three of our friends were visiting White Island on a shore excursion during the time of eruption," a joint statement issued by friends and the Australian Department of Foreign Affairs and Trade said.
"Some time later, we discovered that two of our friends, Richard Elzer and Karla Mathews, were still on the island.
"We then located our third friend, Jason Griffiths, in a hospital in the early hours of the next morning.
"From that moment until the moment of his passing, Jason was surrounded by friends and family members.
"We are incredibly saddened to have lost three of our closest friends."
Griffiths, 33, has since been officially named as a victim by NZ Police.
Jason Griffiths, Karla Mathews and Richard Elzer. Photo / Supplied
Hayden Marshall-Inman
Whakatāne local and tour guide Hayden Marshall-Inman left $5 at the dairy every week to pay for the next person.
The Four Square at Ōhope Beach said the tour guide was close to their hearts because of this.
"This has been happening for years so will be many recipients of his kindness," they posted on Facebook.
Marshall-Inman loved taking tour groups to Whakaari and had been doing it for 15 years.
His brother said: "He died doing what he loved."
A friend posted on Facebook: "There was not a more genuine, kind, loving soul on this planet than Hayden.
"Completely devastating and my heart goes out to the Inman family."
Hayden Marshall-Inman from Whakatāne was a guide to White Island and died in the explosion.
Julie and Jessica Richards
Australian media first reported that Brisbane mother Julie Richards, 47, and her 20-year-old daughter Jessica had been confirmed dead.
Friend and family spokesman John Mickel told media the family were "devastated" but united in grief.
Mickel, a Queensland politician, said the pair were known as "adventurous" people and loved cruising.
"If there was an adventure that offered itself, then they would be the ones to do it."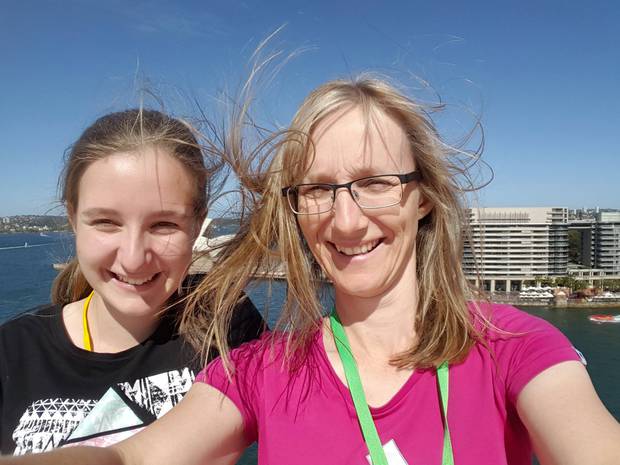 Julie Richards, right, aged 47 and daughter Jessica Richards, 20, were visiting White Island when the volcano erupted. Photo / Supplied
The missing or unaccounted for
Barbara Hollander
The mother of two Sydney schoolboys, Berend (also known as Ben) and Matthew, who died in hospital after the eruption is unaccounted for.
Her husband, Martin Hollander, has also been confirmed to be among the fatalities.
Winona Langford
While Jesse Langford has been accounted for and is in hospital, his sister Winona, 17, is still considered missing by New Zealand authorities.
Langford's entire family were all on White Island when the volcano erupted.
The injured
Pratap and Mayuri Singh
Atlanta couple Pratap and Mayuri Singh were injured during the volcanic eruption.
The Singhs, who are of Indian origin, are two of nine Americans believe to have been caught up in the disaster.
Kelsey Waghorn
White Island tour guide Kelsey Waghorn was guiding a group during the volcanic eruption.
Hospitalised and in a critical condition, a Givealittle page has been created to support Waghorn while she recovers.
She has been described on the page as a courageous young woman, who always helps others first before herself.
Kelsey Waghorn has been a tour guide with White Island Tours for five years. Photo / Givealittle
Paul and Stephanie Browitt
Krystal Browitt's father Paul and her sister Stephanie have been hospitalised and are reportedly both in comas.
A Gofundme page has been created to support the family.
Jake Milbank

Young White Island tour guide Jake Milbank suffered burns to 80 per cent of his body and is now in Middlemore Hospital's intensive care unit.
A family friend described him as passionate about nature and all living creatures, especially everything in the sea as he and his father spend a lot of time together out there.
"He is a very kind boy with a huge heart," she said.
Jake Milbank was a guide on Whakaari and was injured when it erupted.
Jesse Langford
Australian teenager Jesse Langford has reportedly been found alive after the worst was feared.
The 19-year-old's mother Kristine and his sister Winona, 17, remain unaccounted for.
His father Anthony died due to the volcanic eruption.
Jesse Langford.
Lisa Dallow
Adelaide mum and engineer Lisa Dallow, 48, suffered serious burns and was initially taken to Waikato Hospital.
Dallow's husband Gavin and daughter Zoe Hosking both died due to the volcanic eruption.
Lisa Dallow is reportedly one of the injured in hospital.
Rick and Ivy Kohn Reed
American pair Rick and Ivy Kohn Reed reportedly both required surgery after suffering severe burns in the White Island eruption.
Both are expected to continue their recovery at an after-care burns unit in Auckland, according to a Gofundme page.
The page was established to offset costs "related to their unexpected and extensive medical stay and related expenses".
"The family extends their sincere appreciation for your concerns and prayers," the page reads.
Rick Reed and Ivy Kohn Reed. Photo / Facebook
Matthew and Lauren Urey
Matthew Urey's mother got a text message from her son. There'd been an eruption and they'd been really badly burned, it said.
He'd try to call but his hands were so badly burned, it was hard for him to use his phone.
He told his mother he and Lauren had been taken to hospital, but their family haven't heard anything since.
Lauren Urey's mother relayed the conversation to the Washington Post and said she was panicking.
The couple had been on their honeymoon.
A GoFundMe page has been set up for the couple by friends who say they "feel completely helpless in this situation".
"We want to do what we can in order to ease the burden of their recovery.
"Any money raised from this campaign will be given directly to Matt and Lauren in order to cover expenses resulting from this disaster for themselves and their family."
As at 10am on Thursday, more than $10,000 had been raised.
Lauren Urey and husband Matthew Urey, a couple from Richmond, Virginia, were visiting White Island when the volcano erupted.
Marion and Nick London
Australian media reported Marion and Nick London, from Engadine in southern Sydney, were hospitalised following the eruption.
They suffered burns to 50 per cent of their bodies and internal chemical burns from breathing in toxic gases, Australia's Sydney Morning Herald reported.
They remain on life support and face an uncertain recovery timeline, son Matt told the newspaper.
Marion London. Photo / Facebook
Nick London. Photo / Facebook