Whale stranding survival rates plummet
Author

Publish Date

Thu, 23 Mar 2017, 5:45AM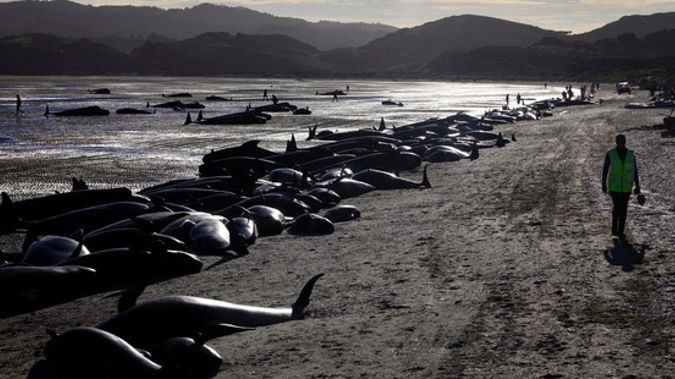 Whale stranding survival rates plummet
Author

Publish Date

Thu, 23 Mar 2017, 5:45AM
The number of stranded whales being successfully refloated has plummeted in recent years, new figures show.
The survival rate was 70 percent in the 1990s, and now it's around 45 percent, figures released to Newstalk ZB from the Department of Conservation show.**
The data follows the death of up to 250 whales at Farewell Spit last month after they became stranded.
Steve Whitehouse from Whale Rescue said New Zealand is now among the worst in the world at saving whales when it used to be with the best.
But DOC's Golden Bay ranger Mike Ogle said it's not that simple, and each case should be treated separately.
He said some information is missing from DOC's records, which go back to the 1800s.
Whale Rescue's Jo Halliday believes stranding survival rates will go up if rescues resume at night.
Whales stranded at Farewell Spit last month were spotted at 8pm - but rescue efforts couldn't start until daylight. By that time over 100 had already died.
Ms Halliday said in the past they've used generators to light up beaches.
"There has been so much focus on mamby pamby Health and Safety, and I totally get that they need to have Health and Safety, but it has gone over the top."
DOC said they had to put people first after an incident in 1993, where some people were severely injured working with whales at night.
Whale Rescue has also raised concerns at the number of animals being euthanized.
The same figures show 11 whales were euthanised out of 24 rescues in the 1990s. That figure blew out to 257 whales out of 23 rescues since the year 2000.
DOC said they're taking a more humane approach now, whereas in the past they left the whales to die
Mr Whitehouse said DOC "don't have skills or the knowledge to rescue these animals, so what they do is they just go and shoot them, so everything is over and done with very quickly.
In response, Mike Ogle defended the training and experience of the staff and believes the department is as well prepared for a mass stranding as it can be.
He said every stranding case is different and insists their teams work efficiently and humanely.
"People know what they are doing and where to slot in, even during a change of shift."
**Survival rate figures were derived from strandings with at least 10 whales, did not include any strandings recorded on the Chatham Islands or Stewart Island, and did not include whales that were already dead when rescuers arrived.