Wet and wild weather on its way this weekend
Author

Section

Publish Date

Wednesday, 25 April 2018, 4:44p.m.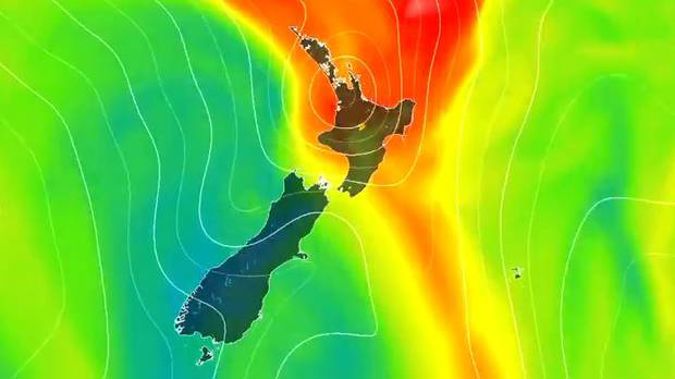 A wet and possibly wild weekend is on the cards for New Zealand, forecasters say.
Meteorologists are tracking a complex low-pressure system expected to move across the Tasman Sea, possibly bringing gale-force winds and flooding by the weekend.
The MetService's latest severe weather outlook says there's a good chance of warning-level amounts of rain about Northland, Auckland, Coromandel Peninsula, Bay of Plenty, Rotorua, Taupo and northern Gisborne.
Chances are lower of heavy rain over northern Westland, Buller, Nelson, Marlborough, Canterbury and eastern Otago, or severe easterly gales over much of the North Island.
A ridge of high pressure over the country was expected to retreat east on Friday as a front moved onto the South Island from the Tasman Sea.
A large low was then expected to develop over the north Tasman Sea late Friday and Saturday, spreading rain and easterlies over the North Island, and causing the front to stall over central New Zealand.
But it is unclear Which areas would be worst hit, meteorologist Tom Adams said.
"What can be said for sure is that this system will reach the country this weekend, however, the exact locations of where and when the worst of the wind, rain and snow will hit remains to be seen."
Adams explained the winds over New Zealand were now light and rotating anticlockwise - a high-pressure system, but just off the Gold Coast was a small clockwise circulation, or a low.

"There is also a jet stream north of New Zealand - this joins up and becomes more continuous as time goes on.
"The other main player to watch out for is a curve in the jet where it arcs towards the equator and then heads back down again."
"This arc is most pronounced north of New Zealand at the end of the loop, at midnight Sunday."
On Thursday, the low near Australia would get a nudge from the strengthening jet and move into the Tasman Sea.
"At this point, however, there are multiple centres, all with light winds. One particular centre is in a spot favourable to deepening and development - just to the south of the jet and downstream of the upper trough."
This meant that, as time went on, the multiple centres consolidated into one main low late on Friday into Saturday.
The winds around this low become strong, and also spread across New Zealand, where they may reach severe gale."
On Sunday, the upper trough was expected to catch up with the low over New Zealand.
"It loses some of its ability to deepen, and some secondary lows develop, but it also stops moving east and hangs around in our patch for longer."
It also meant heavy rains were likely to last longer, potentially leading to flooding, and also the strong winds will stick around too, he said.
"There is also a chance that a good cold southerly will combine with the moist air around the low and bring snow to the higher passes of the South Island."
MetService would be able to give a better picture of what weather regions could expect by Thursday or Friday.