Wellington family reunited with priceless war relic
Author

Publish Date

Tue, 14 Mar 2017, 6:17pm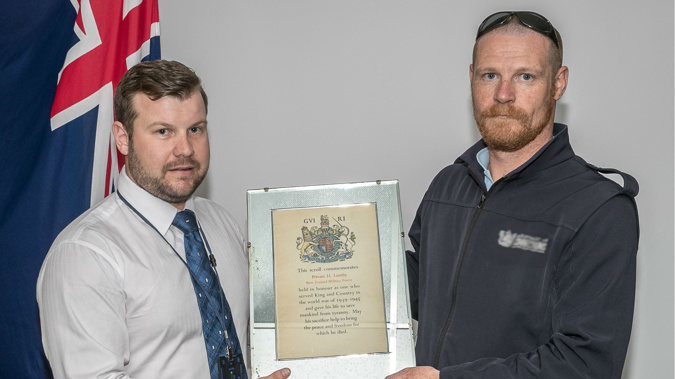 Wellington family reunited with priceless war relic
Author

Publish Date

Tue, 14 Mar 2017, 6:17pm
A Wellington family is thrilled to be reunited with a priceless war relic.
Last week police put out a public plea to find the family belonging to a scroll they found during a search warrant in Naenae.
The scroll was given to Private Harold Lumby's family after he was killed in Greece in World War Two.
His great grandson, Daniel Lumby, was tagged in a photo of the scroll on Facebook.
Corrections Officer Daniel Lumby said he was blown away when he saw the photo online, and hadn't seen the framed commendation since he was 12 years old.
"It has been in the back of my mind and when I seen [sic] it on Facebook I was over the moon."
Lumby said it is the only thing they have to remember his great grandfather, it is something that is priceless in his eyes and means the world to him.
The scroll was displayed in his grandmother's house in Silverstream, but when she moved to Foxton it was placed in a box in storage and lost.
It will now have pride of place in the Lumby household.
"My dad is going to display it in his lounge, and is going to get it reframed because the glass it is in has deteriorated a bit."
Detective Ben Hurley has been trying to track down the rightful owner for the past year.
He said he found the scroll in the roof of a house and knew it was out of place so did not want to leave it there.
"It looked like something quite special, I felt like it should be with the family it belonged to," he said.
The Detective then checked with previous home owners and with the Army to see if he could track down the family it belonged to without any luck, which is when he decided to go public.
He said he is pleased it is now home where it belongs.
"It is cool because when I met Daniel I knew I had got the right family."