'Pretty grim': Thunderstorms and severe gales to lash Auckland, North Island
Author

Publish Date

Thu, 28 Sep 2023, 9:16PM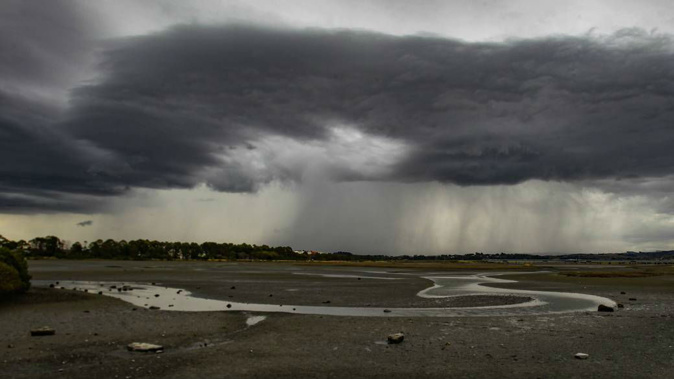 'Pretty grim': Thunderstorms and severe gales to lash Auckland, North Island
Author

Publish Date

Thu, 28 Sep 2023, 9:16PM
Auckland is expected to be lashed with wild weather this weekend and forecasters are warning this is just the start of weeks of wild weather at the hands of El Niño.
The MetService is expecting thunderstorms this afternoon to rain down on Northland, Great Barrier Island, Auckland, Waikato, Waitomo, Taumarunui, Coromandel Peninsula, Bay of Plenty and Taupō.
These could bring a dreary mixture of small hail, heavy rain with intensities of 5 to 15mm/h and strong wind gusts of 70 to 90km/h.
On Saturday, an active trough embedded in a strong west-to-southwest flow is expected to affect central and northern areas of the country.
This trough is expected to bring severe wind gusts in Northland, Great Barrier Island, Auckland and Coromandel Peninsula.
Niwa warned of wind gusts exceeding 100km/h on Saturday.
MetService has placed a strong wind watch on Auckland and the Coromandel Peninsula, which began at 6am this morning and will last until midnight on Saturday.
It warns the winds "may approach severe gale in exposed places".
 "Northwesterly winds are expected to tip southwest around midday, marking Auckland's first strong southwesterly event since early August," MetService meteorologist Ngaire Wotherspoon said.
"Along with the wind, it's going to be rainy and temperatures will be dropping, so it's going to feel pretty grim."
The kick-off for the final Black Ferns test in Hamilton will likely fall victim to the wet weather despite showers and winds easing Saturday afternoon.
"After a wet couple of days, supporting the Black Ferns in Hamilton is a great way to get out of the house, but be sure to wrap up warm underneath a water and windproof layer," Wotherspoon said.
Other areas will not escape the dreary weather.
Wotherspoon said all corners of the country are likely to see wet weather, however, some will be more severe than others.
"Even as today's showers and thunderstorms over central and northern regions ease, another front spreads rain on to the lower South Island tomorrow," Wotherspoon said.
"This front may bring heavy falls or even hail to western regions, followed by cold, showery southwesterlies."
On Friday morning, Wairarapa, Hawke's Bay and Gisborne are next in the firing line for thundery weather before the system moves south again onto Tasman, Buller, Westland, the Canterbury Headwaters, and Fiordland.
The Canterbury High Country and inland Marlborough ranges are under a strong wind watch from Friday morning until the evening.
"Any thunderstorms that occur will likely be accompanied by heavy rain with intensities of 5 to 15mm/h, strong wind gusts of 80 to 100km/h, and small hail," MetService reported.
Unfortunately for parents of cooped-up kids on school holiday, the second week is not likely to get any better.
"More fast-moving fronts are expected to travel up the country into the second week of school holidays, with heavy rain expected for the South Island west coast from Sunday," Wotherspoon said.
According to weather forecaster NIWA, this is only the start of "rollercoaster" weather over the next few weeks at the hands of El Niño.
NIWA meteorologist Seth Carrier said this will mean a lot of "changeability" during the next two seasons.
"So we are now in an El Niño pattern," Carrier said.
"As we go through the next few weeks, I think the name of the game is, like a rollercoaster."
"It's gonna be a lot of ups and downs
"It looks like we could have definitely above normal wind speeds at least at times over the next few months," Carrier said.
The winds will switch abruptly, sometimes hailing from the warm areas of Australia, and other times from the much cooler areas south of the country.
"It's just that there's going to be kind of a mixed bag, you know, at times it might feel late spring or summer, like, but at other times, it might even feel like late winter or early spring, like so a lot of back and forth and that is accompanied probably at times with quite a bit of wind as well," Carrier said.
Rachel Maher is an Auckland-based reporter who covers breaking news. She has worked for the Herald since 2022.
Take your Radio, Podcasts and Music with you