Polar jet stream headed our way after wet week for North Island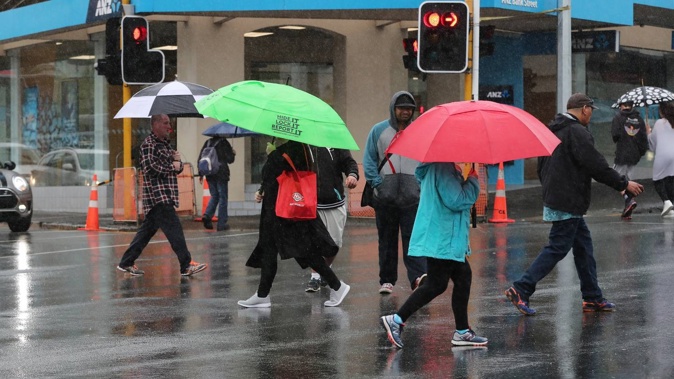 Polar jet stream headed our way after wet week for North Island
As we round the corner towards summer, the last of the cooler temperatures are not going away without a fight with another polar jet stream barrelling our way at the end of this week. 
It's a wet week for the North Island with rain expected this afternoon and evening as a result of surface wind convergence and daytime heating, according to MetSerice. 
There is a moderate probability of thunderstorms in the afternoon and evening in Auckland, mostly south of the city, the Bay of Plenty about west of Tauranga, Waikato, western Waitomo and Coromandel Peninsula. 
There is less chance of thunderstorms to the north across the rest of Auckland and eastern Northland, and to the south over northern Taranaki and Taumarunui, along with the rest of Waitomo. If these thunderstorms form, they will produce 10 to 25 mm/h of localised, heavy rain. 
For the South Island, the majority of Otago, Southland, the high hills of Canterbury, and the Nelson Lakes are all at low risk of thunderstorm activity. However, the chance of thunderstorms in the afternoon and evening is regarded as moderate in the inner parts of Southland, Clutha, Dunedin, North Otago, Central Otago, and the south of Canterbury near the alps. If a thunderstorm forms here, it may produce small hail and isolated heavy rain of 10 to 25 mm/h. 
Up until Wednesday, onshore winds will continue to affect the eastern parts of the North Island, resulting in cloudy days with rain that is heavier on higher ground. 
Light breezes and sunny skies are expected over the top half of the North Island and the interior regions of the South Island this week; however, afternoon showers may occur, possibly with a chance of thunderstorms. 
Most of this week's temperatures will be pleasant. On Thursday, Christchurch is expected to reach 26°C, which is around 6°C warmer than its typical maximum temperature for this time of year. But because of a blast of colder air from the Southern Ocean, we're expecting a high of 14°C on Friday, so Cantabrians, do not put away the coats and jackets just yet. 
On Wednesday, rain begins to fall on Fiordland, signalling the approach of the chilly air. This rainband swiftly advances to the north on Thursday and then across the North Island on Friday. Significant temperature drops, a sudden downpour of rain, and occasionally strong southerly winds are all brought on by this system. 
On Thursday and Friday, a succession of cold fronts move across the nation, bringing rain or showers to many areas. 
Niwa is reporting the cold front is another polar jet stream, which will lead to "chilly temperatures for the time of year" as we round the corner towards summer. 
According to MetService models, a deep low may build east of the North Island late on Friday and Saturday. This will result in severe southwest gales from Wellington to Wairarapa and Hawke's Bay on Saturday, as well as low confidence warning amounts of rain in Hawke's Bay and southern Gisborne. 
Take your Radio, Podcasts and Music with you