Is there a deal? Conflict over whether TPP 'agreed'
Author

Publish Date

Fri, 10 Nov 2017, 6:20am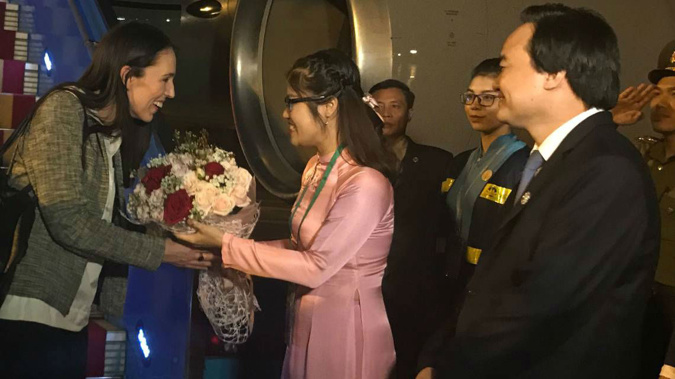 Is there a deal? Conflict over whether TPP 'agreed'
Author

Publish Date

Fri, 10 Nov 2017, 6:20am
There are conflicting reports about whether agreement in principle has been reached over the Trans-Pacific Partnership.
Japan's Minister for the Economy says a ministerial agreement has been reached, but Canada's trade minister denies that.
Herald political editor Audrey Young says Trade Minister David Parker and the chief negotiator headed straight into trade talks when they arrived in Danang in Vietnam for Apec yesterday.
Prime Minister Jacinda Ardern told reporters afterwards that talks are going down to the wire.
Japanese Economy Minister Toshimitsu Motegi said on Thursday that ministers from countries in the Trans Pacific Partnership (TPP) "agree in principle" on the trade pact.
Ministers from the 11 member countries met in the resort of Danang in Vietnam on the sidelines of the Asia Pacific Economic Cooperation (Apec) summit to discuss how to proceed with the deal after the United States withdrew.
When asked what the results of the talks had been, the Japanese minister said "agree in principle", according to Reuters.
He did not provide any further details.
Mexican Economy Minister Ildefonso Guajardo had said earlier that the countries had reached a deal, though he gave no other details.
Prime Minister Jacinda Ardern arrived in Vietnam last night and said negotiations would continue into the night for as long as it took.
"It is fair to say these negotiations are now down to the wire."
She was briefed by Trade Minister David Parker and New Zealand's chief negotiator, Vangelis Vitalis, shortly after arriving in Danang and they then headed back to the talks.
Leaders of the 11 countries remaining in TPP set themselves a deadline to come to an agreement today on what to do with the deal after US President Donald Trump withdrew in January.
Leaders were due to meet about 8pm NZ time on the sidelines of the Apec summit.
Most countries believe the TPP deal would unravel if it were to be renegotiated, but that hasn't stopped some, including New Zealand, putting in a late bid for changes - in New Zealand's case to opt out of the Investor State Dispute Settlement provisions.
However Ardern has signalled that it would not be a deal breaker if New Zealand did not get its way.
Asked if it was now or never, Ardern said: "It is definitely coming to a head."
"There are a number of countries that do want to see a conclusion. It's hard to know whether or not you'd be able to maintain your ongoing negotiating position the longer it drags on."
Foreign Minister Winston Peters has been in Danang for several days for Apec ministerial meetings and has met counterparts from Vietnam, Japan, Thailand, Australia and the Russian Foreign Minister, Sergei Lavrov, an old acquaintance from his 2005-2008 stint as Foreign Minister.
Peters said the pair did not discuss reviving the free trade agreement, which was put on ice over Russia's annexation of Crimea, and which Peters' New Zealand First party got written into the coalition agreement with Labour.
"I talked about the bigger picture, of where do we go in the future. That was the past. And we as a country are seriously interested in going back to our serious relationship on Antarctica and other areas where we can be of enormous help to each other and he was delighted to hear it and suggested we get back together with our officials as soon as possible."