Visiting family loses $17,000 in Airbnb scam
Author

Publish Date

Sun, 14 Jan 2018, 6:25AM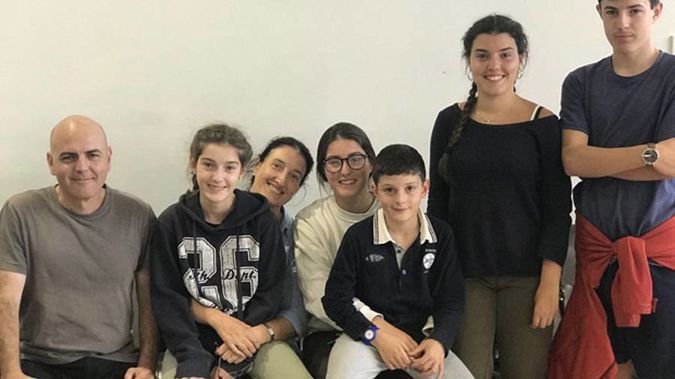 Visiting family loses $17,000 in Airbnb scam
Author

Publish Date

Sun, 14 Jan 2018, 6:25AM
A family paid $17,000 for an Airbnb rental only to arrive at the doorstep with their suitcases to discover the listing was fake.
Police are investigating but say their hands are tied because the family paid by an international bank transfer to a third party.
The family is one of several who've lost substantial amounts of money through the scam which lures victims through the popular booking website but then asks guests to veer from the usual payment system.
Amaia Ros, 19, and her family are echoing calls for Airbnb to improve host vetting after their family lost years of savings while on a sabbatical from their native Barcelona, in Auckland.
The family of seven arrived in August for a short stint to practise their English and prepare for a long-term move. On arrival they stayed in two rentals through Airbnb but their third proved costly.
When Ros' parents Gabriel and Anabel tried to book the Takapuna home they were told their credit card details were invalid and asked to transfer funds to a Spanish bank account instead. When they arrived at the house they discovered the listing was fake.
They had paid to stay from September 6 until the end of November- a total of $17,000. Her parents were "sad and worried" having spent years saving to come to New Zealand.
"Thankfully we have enough money to stay ... but imagine if this happens to a family that doesn't have the money. We were thinking of going back to Spain because of this, but then we met very lovely people and the community that helped us," Ros said.
The youngest child was enrolled at Takapuna Primary School and principal Cindy Walsh said the family was "distraught" after picking their son up, having just come from the home.
Walsh went to the house herself to work out what happened.
"There was definitely some disbelief. I just thought they had got the address wrong - that this couldn't be."
Quickly an army of parents and community members rallied to donate a house full of furniture and a discounted rental home organised by Harcourts agent Rachael Bridger.
Parents took turns cooking and dropping off dinners for the grateful family, who have recently returned to Spain.
"The community was so appalled to hear a family in our community had been treated that way," Walsh said. "It was so humbling to see it come together. (The family) had the most amazing attitude, it was a privilege to help them. They didn't dwell on the negatives- but that doesn't make it right."
Airbnb users pay for their stays up front through the website and hosts and tenants both receive endorsements through reviews. If guests pay directly to third parties rather through Airbnb they violate its policy and aren't eligible for refunds.
Fellow scam victim Michaela Scarrott, who lost $4800, says Airbnb needs better verification systems.
"I feel at the least they should have to provide a proof of address and a copy of their passport. This really wouldn't take much and would make it so much harder for scammers to advertise on their site."
Airbnb is standing by its security.
A spokesman said hosts had to provide their names, date of birth, photos, phone numbers and email addresses, and the website used predictive analytics to evaluate and stop suspicious activity.
"When we detect potentially concerning behaviour our team takes a range of actions including removing a user from the platform entirely," the spokesman said. "Building a safe, trusted community is our priority."
Police confirmed they were investigating but if scams originate from overseas police powers are limited.
The Ministry of Business Innovation and Employment's Consumer Protection manager Mark Hollingsworth said it received five inquiries about accommodation scams between August and November last year. Scams were becoming more sophisticated, he said.
"If a consumer communicates directly with an accommodation host or makes any payments outside of the Airbnb online payment platform, they are no longer protected by the site's terms and conditions. If a consumer is encouraged to do this, it could be a scam."
AVOIDING SCAMS
If you suspect a suspect contact Netsafe on 0508 NETSAFE. The biggest red flag, Netsafe says, is being asked to make payments outside the norm. Scammers might ask for payment to be made to an international bank account or by money transfer system.
Scams should be reported to Consumer Protection. Visit consumerprotection.govt.nz. 
Police ask people who are scammed to report it to their local station