Vandals in Huntly destroy Anzac Day memorial crosses
Author

Section

Publish Date

Tuesday, 23 April 2019, 2:43PM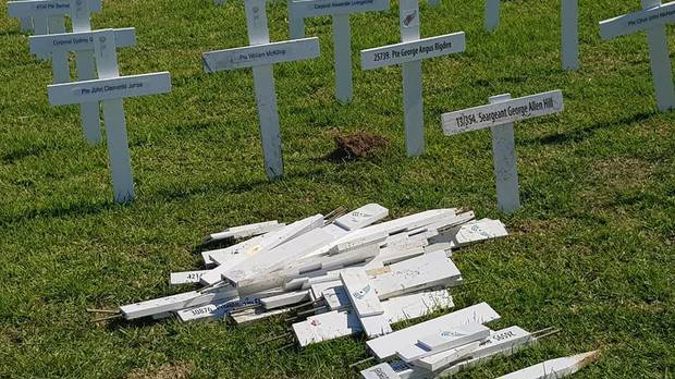 More than 170 white crosses are being delivered from Auckland to Huntly to replace a vandalised war tribute before Anzac Day.
Dozens of individually named white crosses were destroyed in a late night drive-by attack over Easter.
RSA Huntly president Frank McInally says it will be a race against the clock to set them up before Anzac Day on Thursday.
"The Auckland RSA will bring down some spares tonight but it will take some time to figure out whose names are missing."
McInally says he wants the culprits tracked down and punished.
"I am working with Police to track down the culprits. People and business from all over New Zealand have called up asking what they can do to help."
On Saturday morning, photographs taken from a field on Tumate Mahuta Dr show tyre tracks and dozens of destroyed white crosses.
"In Huntly, an act of vandalism has seen numerous white crosses recently displayed in the tribute of Anzac Day, ripped out," Antonello Savini said on Facebook.
"This act of vandalism is insensitive to our united community, the RSA, and all the families of our nation who lost their soldiers and loved one during the war.
Fields of Remembrance Trust vice president Graham Gibson says the memorial will look even better once the new crosses get there.
He says they're all individually named, with the dates and locations of deaths.
"It covers everything from the 1845 New Zealand Wars, right through to the war in Afghanistan."