Unswimmable: Two-thirds of monitored NZ river sites grade poorly for E.coli
Author

Publish Date

Sun, 24 Sep 2023, 2:59PM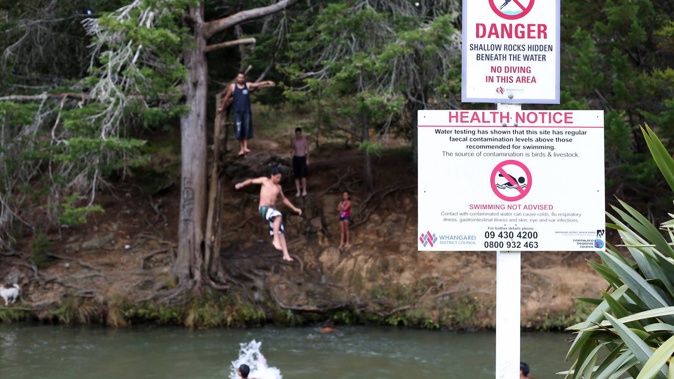 Unswimmable: Two-thirds of monitored NZ river sites grade poorly for E.coli
Author

Publish Date

Sun, 24 Sep 2023, 2:59PM
A just-released snapshot paints another worrying picture for New Zealand's rivers, with two-thirds of monitored sites graded poorly for harmful E. coli.
Data published  by the collaborative Land, Air, Water Aotearoa (Lawa) project also showed some troubling trends for our lakes - of which 60 per cent were being plighted by algal and plant growth stemming from nutrient pollution.
While there were signs of gradual improvement in some indicators, the latest results, showing data from and up to 2022, suggest more effort is needed to turn the trends around.
"A lot of work is under way to improve freshwater, the reports released today serve as a reminder of the need for continued attention and action," said Dr Roger Young, a Cawthron Institute scientist involved in the analysis.
Of 785 monitored sites, two-thirds were graded in the two poorest categories (D and E) for E. coli - a notorious bacteria linked to animal or human faeces, and known to cause vomiting, cramping, nausea and diarrhoea.
The analysis showed E. coli levels were highest in those river sites surrounded by urban and pastoral land – more than 90 and 80 per cent of those two land types, respectively, were graded D or E – while sites near native and exotic forest were in comparably better health.
"With urban streams typically receiving the worst health scores, the impact on our urban communities becomes pronounced," Young said.
"Although urban streams make up just one per cent of the country's total river length, their wellbeing directly affects a majority of New Zealanders, given that nine out of 10 residents live in urban areas."
Previous reports have similarly shown how levels of E. coli were 22 times higher in waterways in towns and cities than in the relatively unspoiled waterways that flow through our native wilderness.
The Waikato River has been degraded by years of intensive farming and destructive activities. Photo / NZPA
They were also nearly 10 times higher in the pastoral countryside wrapping around much of New Zealand's 180,000km of total river length.
Meanwhile, a similar proportion of monitored rivers in the new Lawa report were graded poorly for a critical measure of a river's ecological health, called the Macroinvertebrate Community Index or MCI.
The picture wasn't quite as dismal for two other key measures.
They were dissolved reactive phosphorus, a nutrient known to drive excessive plant and algae growth in streams, and water clarity, which reflected the amount of suspended fine sediment in a waterway.
More than half of the assessed sites received an A grading for water clarity - although a third still rated C or D.
While just half were graded C or D for phosphorous, the report noted that some sites had naturally high levels, in some cases due to phosphorus-rich volcanic soils.
Young said the risk of toxic effects from nitrate and ammonia, meanwhile, appeared limited to a small percentage of sites.
Some trends were slowly shifting.
"We know that indicators of ecological health take some time to respond to restoration efforts, while some indicators of river water quality can respond more quickly to change," Young said.
"We are seeing encouraging signs of improving clarity and phosphorus in our rivers with an increased number of monitored sites in the A and B state bands and fewer sites in the poor D band over the last 10 years."
As the Lawa project calculated river health in line with the National Policy Statement for Freshwater Management 2020 – requiring five years of regular sampling to generate a state band score – it took time for positive or negative changes to show up.
Elsewhere in the report – released to coincide with World Rivers Day - were some concerning results from lake monitoring.
Measuring lake condition with what's called the trophic level index, scientists found the vast majority of monitored lowland shallow lakes were in poor or very poor condition.
"There is not a single monitored lake shallower than 10 metres in very good condition," Waikato Regional Council senior water scientist Dr Mafalda Baptista said.
Fortunately, most of New Zealand's upland lakes appeared in fair or good condition.
More than 60 per cent of monitored lakes have ecological communities impacted by algal and plant growth arising from elevated nutrient concentrations. Photo / Paul Taylor
Baptista pointed to the report's other lake health indicators, including chlorophyll a, phosphorus, nitrogen and ammonia toxicity.
"Looking at the state of lake health indicators at a national level, over 60 per cent of monitored lakes have ecological communities impacted by algal and plant growth arising from elevated nutrient concentrations, with subsequent reduced water clarity."
Lawa project chairman Dr Tim Davie said the findings in the report were backed by more than 1.8 million data points – each representing physical samples later analysed in labs and reported by councils.
It comes after the Ministry for the Environment and Statistics NZ's latest freshwater stocktake found 45 per cent of lake monitoring sites between 2011 and 2020 had become more polluted with nutrients and algae.
As well, about 45 per cent of the country's entire river length was deemed unswimmable due to risk of bacterial infection over the period 2016 to 2020.
The report noted the increasing pressures from changing land use, including still increasing levels of fertiliser being used, intensification of farming - more livestock in smaller spaces - alongside thousands of urban wastewater discharges.
The Government's policy response had come with its Essential Freshwater programme – which included new environmental standards, mandated farm plans and more stringent rules around fencing and nitrogen loss – and its overhaul of the Resource Management Act.
When its freshwater package was released in 2020, critics were quick to point out a lack of limits for dissolved reactive phosphorus, and also dissolved inorganic nitrogen (DIN) - for which delayed plans to set a bottom-line for were eventually abandoned.
It later emerged the Ministry for Primary Industries had opposed setting a tough bottom line for DIN - as did industry group DairyNZ, which proposed an alternative nitrate toxicity measure - over concern that economic impacts would outweigh environmental benefits.
Ahead of next month's general election, National has proposed new water quality rules, to be set and enforced by the Water Services Regulator, while the Green Party favoured a lower cap on nitrogen application – along with a phase-out of synthetic nitrogen fertiliser.
Jamie Morton is a specialist in science and environmental reporting. He joined the Herald in 2011 and writes about everything from conservation and climate change to natural hazards and new technology.
Take your Radio, Podcasts and Music with you