Uni bosses deny censorship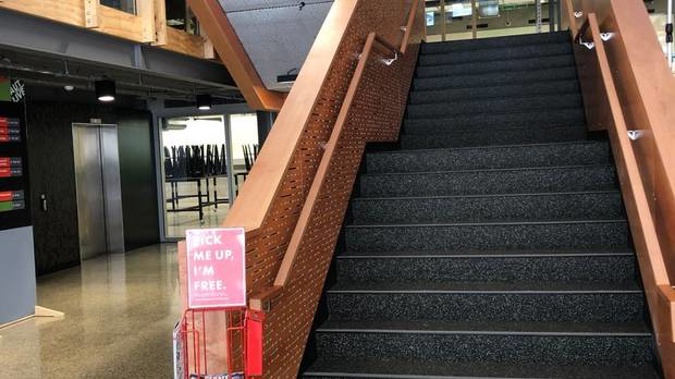 Uni bosses deny censorship
An Auckland student newspaper fears university bosses censored them during a busy open day by hiding magazines critical of campus mental health services.
Debate magazine editor Julie Cleaver alleged "stifling freedom of speech" after magazine stands were moved from their usual prominent places inside AUT's main building today.
But uni officials denied censorship, saying the magazine stands were only temporarily moved during the AUT Live open day.
"Magazine stands in the main building (WG) were not in their usual locations, but this was an issue of clearance rather than censorship," a spokeswoman said.
"They were pushed back from the main thoroughfares in public spaces to make way for heavy foot traffic – up to four times that of the average weekday on campus. Three of the four stands were moved to a quieter space, simply because they were empty."
She added: "The content of the current issue of Debate magazine has no bearing on the events of the day."
Cleaver arrived on campus today to find it swarming with visitors.
She noticed a Debate magazine stand wasn't in its usual spot and thought, "That's weird".
"I went to check another one and it was gone, then another and another. And then I realised there were no stands in the entire main building of AUT," said Cleaver, who also lectures at AUT.
Outraged, she turned to social media.
"All Debate magazine stands in AUT's main building have been removed for the open day. There is an article inside critical of AUT's mental health services. Stifling freedom of speech like Critic or what?" Cleaver posted on Twitter.
AUT's official Twitter account responded to say Debate magazine was "still proudly on display" but was moved for health and safety reasons.
Cleaver, however, was certain the mental health article was behind the move.
The story alleges mental health services "appear to be failing many AUT students".
"Despite the presumed good intentions of many of the services' employees, the facility appears under resourced and therefore unable to give the care AUT students need and deserve," it says.
Cleaver claims some magazines were hidden in a storage unit, while others were relegated to quiet thoroughfares.
After finding them, she moved them back to their normal places.
"My assumption is [the university] wanted to get rid of the magazines for the open day because it's a bad look for them," Cleaver said.
"You have to be very careful when moving any magazines because it's an interference with the freedom of the press. And with student media, which is quite important, you have to have quite solid grounds if you want to move something."