Call to safeguard tonnes of carbon buried under NZ's oceans
Author

Publish Date

Thu, 16 Nov 2023, 4:39PM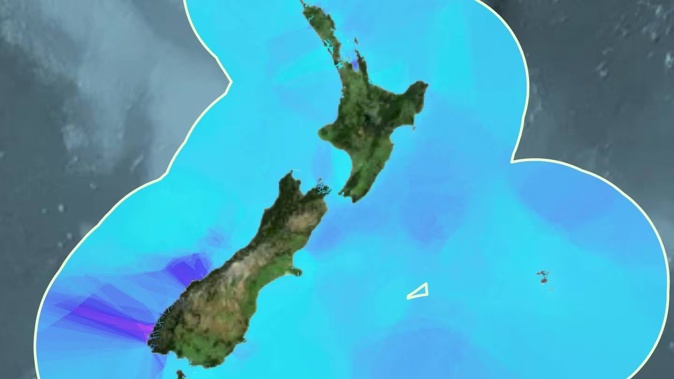 Call to safeguard tonnes of carbon buried under NZ's oceans
Author

Publish Date

Thu, 16 Nov 2023, 4:39PM
A major report reveals more than 2.2 billion tonnes of organic carbon lies buried at the bottom of New Zealand's marine estate, amid worry that human activity such as bottom trawling is churning it up.
The Niwa-led study marks the first stocktake of organic carbon within our vast exclusive economic zone (EEZ) and the first attempt at quantifying which areas are most vulnerable to disruption.
For scientists trying to better understand the global carbon cycle, and particularly how humans are changing it through our planet-warming emissions, what's stored in our oceans is a vital piece of the picture.
As plants do on land, marine organisms draw their carbon from the atmosphere and, as they break down and sink to the seafloor, add to the stock of organic marine carbon that's locked in sediments for thousands, or even millions, of years.
When these sediments are disturbed – be it through landslides, trawling, dredging or installing offshore infrastructure – they can be mixed into the water column and transformed into organic carbon before being released as carbon dioxide into the ocean or atmosphere.
"Marine sediments are one of the largest stores of carbon on Earth," said Parliamentary Minister for the Environment Simon Upton, whose office commissioned the new report.
"Yet globally, little is known about how much carbon they store and what happens to the carbon when these sediments are disturbed."
The report, launched today at the New Zealand Geosciences Conference, estimates our EEZ stored 2.24 billion tonnes within marine sediments, equating to about 1 per cent of global stocks.

This map shows the density of organic carbon in marine sediments within New Zealand's Exclusive Economic Zone. Image / Parliamentary Commissioner for the Environment
Around two-thirds of the carbon was stored in areas of our oceans deeper than 1500m, while a quarter was found in continental slopes.
Upton added another 8 per cent was housed within Fiordland's fiords, despite representing just a tiny fraction of New Zealand's waters.
Elsewhere, the report shows how much of the continental shelf and slopes within the EEZ have been trawled multiple times – as have deep-water environments on the Chatham Rise, Challenger Plateau and Campbell Plateau.
Some of that activity was happening in places – offshore of Fiordland and south Westland – where the new science found higher levels of carbon.
Upton said this raised the need for discussion about safeguarding these stores, such as through marine protected areas.
This map shows the level of vulnerability organic carbon stores around New Zealand have to disturbance through activity such as bottom trawling. Image / Parliamentary Commissioner for the Environment
"In the same way that we need to keep carbon in the soil on land, we need to keep carbon in marine sediments – the ocean's soil."
Otago University marine scientist Professor Abby Smith noted Niwa's new index didn't cover other activities such as dredging, anchoring or mining.
"That's the next logical step to take in order to understand the consequences of our activities in shallow water inlets, harbours, estuaries and fiords," she said.
"The deepest deep sea, where even more organic carbon is stored for even longer periods of time, is not quite so urgent to study, since we aren't disturbing the bottom so much there."
But, ultimately, Smith said the report offered the necessary data to allow government regulation of bottom disturbance in some places.
"We don't think about the importance of bottom sediment very often, but here's one time we should."
Environment group Forest and Bird pointed out that marine sediments can store up to 20 times as much carbon as land, but nearly half of our EEZ and territorial seas shallower than 400 metres had been trawled at least once between 1990 and 2011.
"Bottom trawling off the coast of Fiordland and South Westland is a huge area of vulnerability because this area is such a key marine carbon store," said Chelsea McGraw, the group's regional conservation manager for Otago and Southland.
The Government needed to look at what was required to protect that carbon as part of our climate change response, she added.
"It shouldn't be a case of out of sight, out of mind. New Zealand needs to protect carbon stored in the ocean depths as well as in the forests of the Fiordland mountains."
Jamie Morton is a specialist in science and environmental reporting. He joined the Herald in 2011 and writes about everything from conservation and climate change to natural hazards and new technology.
Take your Radio, Podcasts and Music with you