Trump billboard to be resurrected
Author

Publish Date

Sun, 27 Mar 2016, 4:32PM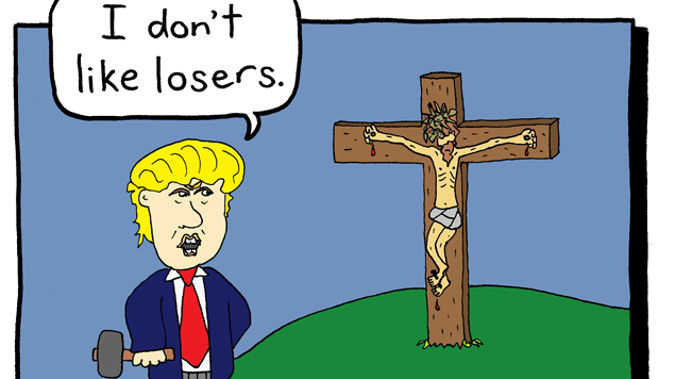 Trump billboard to be resurrected
Author

Publish Date

Sun, 27 Mar 2016, 4:32PM
A controversial billboard featuring Donald Trump and Jesus which has gone viral is to be resurrected after the original sign was stolen from outside a church.
The entire board including its corflute sign and wooden backing was stolen on Thursday while minister Glynn Cardy of St Luke's Church in Remuera was conducting a funeral service.
SEE ALSO: Auckland Church's Trump billboard stolen
The cartoon of US presidential candidate Donald Trump standing in front of the crucified Jesus holding a hammer saying 'I don't like losers' has hit a nerve with people around the world after going viral, featuring on overseas websites, shortly after it was put up two weeks ago.
"It went offshore quite quickly with both Republican and Democratic [party] sites picking it up. When Trump was in Arizona last week one of the churches in Arizona had distributed this to their members. We know it is going around the world," Rev Cardy said. It also features on a number of Christian websites including Christian Today and Christian Post.
Rev Cardy, who came up with the idea in conjunction with an Auckland cartoonist known as Jim, said people seemed to either love or hate it.
"This would have gone to a whole lot of American websites and Australia -- and we are getting people from America writing to us saying Donald Trump walks on water and you don't know what you are talking about."
Along with the Trump supporters who objected to him being criticised, there were people who did not think Christians should make political statements, people who misinterpreted the sign and thought the church was saying Jesus was a loser, and people who supported the statement the church was making.
"My feeling is that New Zealanders, New Zealand Christians generally find the policies of Donald Trump quite offensive. I haven't found a New Zealander yet who thinks that Donald Trump will be a good thing for New Zealand and for the world."
Despite its creating controversy, plans are already under way to reinstate the sign. A builder is in the process of replacing the stolen billboard and a new sign will be printed this week.
"And you know resurrection always takes a little bit of time you realise, it doesn't just happen. It will be a little bit before it makes its reappearance."
The sign is expected to be back in place early next week and will stay there until Trump's candidacy is decided.
The thieves who ran off with the church's billboard may also be disappointed to find the piece of wood was rotten.