Tourist 'pretty beaten up' after 100-metre alpine plunge
Author

Publish Date

Thu, 31 May 2018, 2:36pm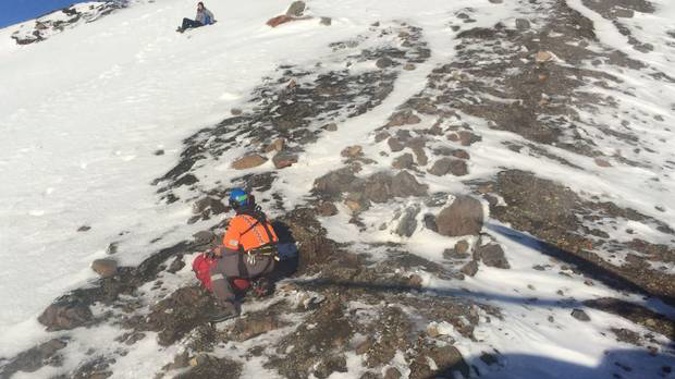 Tourist 'pretty beaten up' after 100-metre alpine plunge
Author

Publish Date

Thu, 31 May 2018, 2:36pm
Police are warning people intending to tramp the Tongariro Alpine Crossing to be fully prepared after an English tourist plunged 100m down rocks and ice this morning.
Senior Constable Barry Shepherd of Taupō Police said trampers should carry an ice axe and crampons - and know how to use them.
Taupō's Greenlea helicopter this morning flew a paramedic and Land Search and Rescue volunteer to Mt Tongariro to rescue an English woman who had slipped on ice at Red Crater and fallen 100m down the mountain into a ravine.
She was "pretty beaten up" by the fall down through rocks and ice, including a knocking her head and suffering bruises and cuts, Mr Shepherd said.
The woman, 30, who has been living and working in New Zealand, set out from the Mangatepopo carpark this morning at 4am with a young Austrian woman as a companion.
The fall occurred at about 7.30am and the alarm was raised 10 minutes later.
The helicopter flew from Taupō Airport to Mt Tongariro and dropped off a paramedic near Emerald Lakes, who made his way to the woman.
It then unloaded the SAR volunteer who used an ice axe and crampons to reach the Austrian woman perched on the icy slope below the summit of Red Crater, where she had remained.
She had been in voice contact with her friend, although she could not see her, and initially feared she had been killed in the fall.
Shepherd said both women did the right thing in staying put and calling for help but there was always ice on the Tongariro Alpine Crossing at this time of year and people needed to be properly prepared.
"It's icy up there, that whole Red Crater summit was icy.
"It'll thaw and soften around late morning but freezes overnight and will be frozen in the mornings, and if you get a bit of cloud and it stays under cloud, it won't thaw out at all."
If people did not know how to use an ice axe and crampons, they should use a guiding service across the crossing, he added.
The injured woman was flown to Rotorua Hospital.