Storm to bring heavy rain, gales; Auckland Harbour Bridge will close if necessary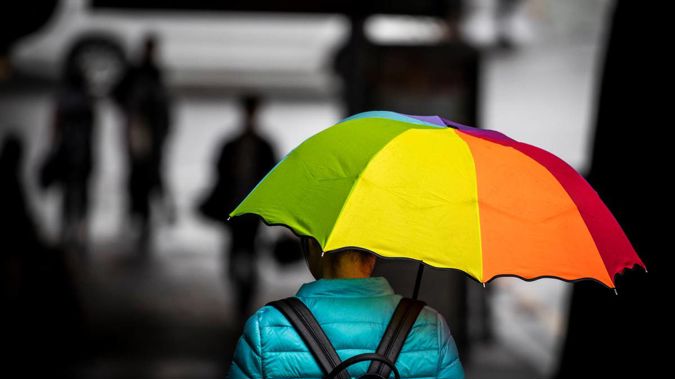 Storm to bring heavy rain, gales; Auckland Harbour Bridge will close if necessary
No part of the country will escape the spring storm bearing down on New Zealand; every region is expected to get a taste of wind, rain or snow in the next day or so.
And transport authorities "will not hesitate" to close Auckland's Harbour Bridge if wind causes a concern as a once-in-a-decade storm makes its way across the country today.
High winds are already battering some parts of the nation as the first front hits, and the MetService are warning all New Zealanders to "be prepared".
"People just need to be aware that this is going to affect a lot of the country," MetService meteorologist April Clark said.
"There's no one that's not going to be touched by it."
A rapidly deepening low over the Southern Ocean has arrived on the South Island's West Coast with heavy rain and gales. That will be followed by snow and sub-zero chills to parts of the south.
This morning, Metservice said there had been 107.8mm of rain in the past 24 hours in Milford Sound, 130km/h wind gusts in Cook Strait and 1352 lightning strikes since midnight. It said many of those strike were happening this morning in the Wellington region, which was unusual.
Rain and wind is already hitting some western areas and there will be more to come.
Showers, lightning and snow can be expected in the next 24 hours.
Warnings are in place for many areas.
Clark said motorists needed to be extra aware and adjust to the extreme conditions.
"There will be debris on the roads, powerlines will possibly be affected," she said.
"Be aware - there will be quite a lot of wind, so be prepared."
Eastern areas may not get as much of a hammering but will still experience the wind and scattered showers as the main front passes over, followed by a series of smaller fronts.
Tomorrow there will be a change to a southwesterly wind, meaning cooler temperatures and snow to sea level in some places in the lower South Island.
"It's already windy in a lot of places with really high gusts," Clark said.
At Mount Kaukau in Wellington, 144km/h gusts were recorded - and 105km/h in Kelburn.
In the Hokianga Harbour area, 89km/h winds were clocked.
At Mt Cook, 122km/h was reached.
"It's going to be widespread across the country," Clark said.
"It is windy out there but some areas are not feeling it as much as others."
MetService has issued a swathe of warnings and watches across almost the entire country.
There are gale warnings for large parts of the North Island, including Wellington, Wairarapa, Gisborne, Hawke's Bay, southern Taranaki, inland Whanganui and Taihape - and these could spread as far north as Auckland.
The potential gale-force winds have Auckland transport authorities on high alert, after strong wind gusts blew over two trucks on the Harbour Bridge nine days ago, one seriously damaging a metal support strut and requiring repairs that mean weeks of lane closures.
Sandbags and weights were yesterday placed on temporary road cones along the harbour bridge ahead of the storm.
While other areas would likely take the brunt of the wild weather, a conservative approach was planned with the bridge, Waka Kotahi NZ Transport Agency transport services' general manager Brett Gliddon said.
"Bridge managers receive constant reports on the wind strength from MetService, and we will not hesitate to close lanes or even close the bridge for short periods if the wind gets up too much ... closures may happen at very short notice."
Auckland Transport is replacing double decker buses with singles today, while motorcyclists and those in high-sided vehicles should use the Western Ring Route.

While Aucklanders will be keeping their fingers crossed against more disruption,
those in the deep south will be preparing for snow from late tonight.
Heavy snow watches have been issued for Clutha, Central Otago south of Alexandra, Southland, Fiordland and Stewart Island.
"The snow ... goes right down to sea level in Southland. It's the lowest we've forecast snow this winter," MetService forecaster Cameron Coutts said.
This weekend's national forecast looked nearly as bad as a huge storm in May 2014, when 4500 homes lost power and massive amounts of snow fell in Queenstown.
Temperatures in Invercargill and other parts of Southland were expected to feel sub-zero for up to 50 hours, according to WeatherWatch.
"Daytime highs, not just wind chill, are miserable too - after a mild Saturday Invercargill has a high of 4C on Tuesday with snow and rain/sleet flurries … Lumsden is expected to only reach 1C at the warmest point of the day with wind chill of -7C earlier.
Flurries are also expected in Queenstown and Dunedin.
In the North Island, the Desert Rd is likely to be affected by snow on Tuesday.
The severe weather outlook for New Zealand from tomorrow through to Wednesday.
The storm would last until mid-week, dampening the start to school holidays, Coutts said.
"Most of the country is going to be affected by this set-up. Usually we'll get tropical cyclones coming out of the Pacific and [they] can result in quite a few warnings as well. But for this one, the whole country's involved."