St John refutes claims of preventable deaths
Author

Publish Date

Sat, 24 Dec 2016, 3:04pm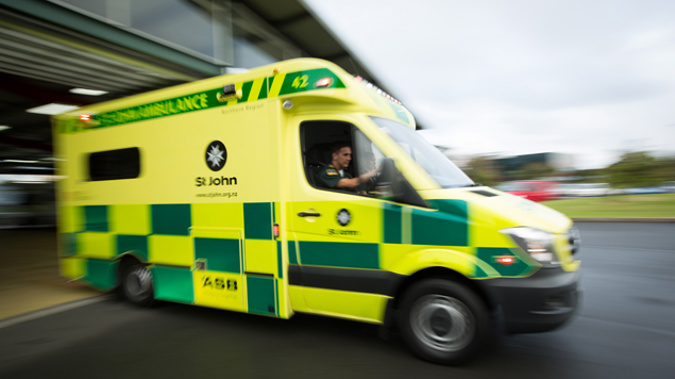 St John refutes claims of preventable deaths
Author

Publish Date

Sat, 24 Dec 2016, 3:04pm
Intensive care paramedics from First Union say a staffing shortage in Auckland is causing patients to die on a 'regular basis' but St John says that couldn't be further from the truth.
The union's paramedics came forward to Newstalk ZB claiming under-staffing has highlighted inefficiencies in the way St John allocates ambulances to different areas of a city.
Their concerns are with the St John Patient Centered Deployment Plan and how it prioritises patients in areas of high demand, over patients who have a critical status.
They allege that demand is based on how many 111 calls come in from an area, and that increased demand is matched with an increase in ambulances, meaning another area is left short of an ambulance.
An Auckland Intensive Care Paramedic who Newstalk ZB has agreed not to name says it would mean patients who live in an area that doesn't receive many 111 calls would have to wait longer for an ambulance to arrive.
He details a nosebleed being prioritised over an elderly person who needed urgent medical attention.
Clevedon, Pukekohe, Franklin, Otahuhu, St Heliers, and Mt Wellington are all concerns for paramedics in the north island, especially rural areas in Leigh, Piha and Whenuapai.
"It happens in Auckland a lot, Howick's probably the big one that will shock a lot of people because it's big, it's rich, they buy ambulances for the ambulance service."
He said areas such as Waiuku are 'sacrificial' and Pukekohe is a 'pain in the neck'.
"These are places where, unless there's another resource immediately there in the area - your game's up - you're not living in an area where we focus our resources to meet demand so we sort of look at it and go well that person's toast."
He said over the last couple years it's got progressively worse, and this year it's tipped to a critical point.
"So your eyeballs are hanging out and you know it's all about chasing numbers not about getting the right care to people and that's really frustrating and demoralising." 
The paramedic said he's grown numb at the frustration of turning up to an event late and losing a life because of a lack of resources and other staff.
"I'm a hard-ass I've got used to that, people would look at that and feel shocked, I'd look at it and say this is business as usual."
Another woman said ICPs lose lives because of an under-staffing of ambulances, she said some medical assistance cannot be administered with one person.
But St John says they have open, anonymous communication with paramedics and they're frustrated the staff haven't come forward to them.
Medical Director Tony Smith is gobsmacked and Director of Clinical Operations Norma Lane finds the comments very upsetting.
She said if paramedics feel this way they should be logging these events as adverse incidents to be investigated.
"We have systems where people can write to us or contact us anonymously, we also run web chat rooms linked to our chief executive so we encourage staff to come forward."
She's also worried the ambulance officers who've come forward don't fully understand the way the deployment system works.
"While they may be at the incident they're unable to see the bigger picture and that's the role of our control rooms, they see the jobs coming in and where the resources are and they'll move those about based on the patient's needs."
Mr Smith says while no system is perfect, it's borderline lying to say that preventable deaths are occurring and it's dangerous to tell the public that.
"The statement has the potential to undermine the confidence of New Zealanders in the 111 system and I'd like to reassure New Zealanders that the 111 system and the following process for dispatching an ambulance is both safe and effective."
St John recently reported its best ever response times for the most life-threatening and time critical emergencies, showing it reaches the most urgent jobs first.
The national average response time for the most critical patients, coded as purple, is now 5.8 minutes, and for rural that's 8.7 minutes.
For red coded jobs in urban areas it's 7.5 minutes and 11.7 for rural.
The figures decrease steadily to green coded jobs which take between 21 and 23 minutes for urban and rural calls.
Mr Smith said a good gauge of how fast paramedics reach the most serious patients is the out-of-hospital cardiac survival rate of St John patients which improved from 15 percent to 16 percent in the 2015/2016 year.
On a global comparison, the London Ambulance Service only scores nine percent, and Ambulance Victoria in Australia, ten percent.
He added paramedics at the St John Communications Dispatch Centre can change the level of seriousness of a job, and in many cases will re-route an ambulance to a more serious incident.
With regards to the under-staffing claim, St John agrees single crews are unsafe. Of its 400,000 111-emergency calls a year, just over 30,000 are from single crewed ambulances and they say most of those are in rural areas.
"We have been wanting to eliminate single-crewing for a long time and we've now got a formal plan in place to do that as soon as possible, and definitely within the next five years."
In Auckland it says there are no single-crewed ambulances, but a few paramedics in cars to get to patients faster than an ambulance.
These paramedics are always backed up by a transporting ambulance with two crew. 
It says an additional 165 extra frontline staff have been added since June 30 as part of its plan to end single crewing.
The New Zealand Ambulance Association's Mark Quin said First Union is growing frustrated at the fact it's not getting what it wants from St John.
He said it's one of the last unions to accept a collective agreement that five other unions have already signed onto.
His union settled on 1.25 percent rise over the first year, but including alternative holidays in lieu he said a lot of their members are ending up with 2.5 to over three percent for the first year.
He admitted his union has different issues to Auckland, "No one would say that the fluid deployment plan for a particular area will stay that way forever and a day, that's something that needs to be constantly reviewed."
He's aware of an ambulance shortage at times but highly doubts it's putting lives at risk on a daily basis saying there's no data to back it up.
"If it is happening, paramedics are supposed to log the event as an abnormal, or families should go through the complaint process."