Spectacular sinkhole found on Rotorua farm after floods
Author

Publish Date

Tue, 1 May 2018, 6:41PM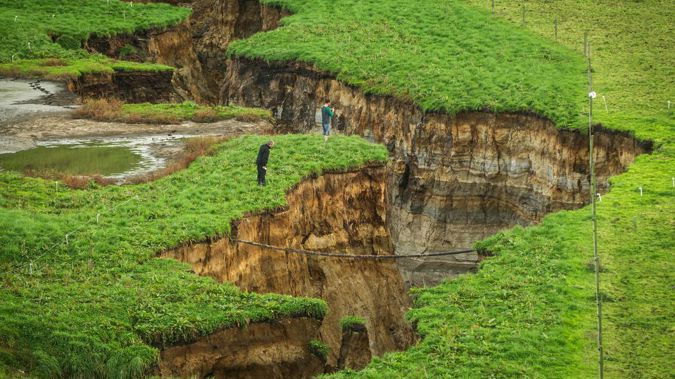 Spectacular sinkhole found on Rotorua farm after floods
Author

Publish Date

Tue, 1 May 2018, 6:41PM
A spectacular 200m-long sinkhole discovered on a Rotorua farm could have spelled danger for farm workers early on Monday.
Tumunui South farm manager Colin Tremain said the sinkhole was 200m long, 30m wide and had a depth of 20m.
Colin Tremain and Craig Kusabs inspecting the giant tomo that appeared on a farm in Reporoa. Photo/Stephen Parker
Sinkholes or tomo are formed when ground water dissolves underlying limestone rock. The dissolved hole enlarges to a point where it can't support the ground above it.
"It goes over half the race so if any of the workers had been going full speed along the race before it was discovered, they would have been in a bit of trouble," Tremain said.
The huge tomo on Colin Tremain's Tumunia South farm is 20m deep. Photo / Supplied by Colin Tremain
Another farm worker came across the hole when he was getting the cows in to be milked in the early hours of Monday.
"He rang me and said there was another tomo on the farm. We're all pretty used to them, there are a few around."
But the farm worker's guesstimate on its size was a long way off. "He was in the dark and thought it was about 20m long and about 4m wide."
Tremain said there had been a decent amount of water that had built up in the area of the tomo which would have increased substantially with the heavy rain.
"No one was near the paddock on Sunday so I have no idea when it happened."
He said there wasn't a concern with stock wandering into the tomo.
"Cows aren't stupid. They've been grazing in that paddock today although there is tape around the hole."
The spectacular tomo on Colin Tremain's farm is 200m long and 30m wide. Photo / Supplied by Colin Tremain
Tumunui South Farm is owned by the Tumunui Trust. Tumunui trustee Craig Kusabs said not much could be done with the hole.
"We'll fence and plant," Kusabs said.
"It will provide more shelter for the stock but it's a bit of a shame as that was a nice, flat paddock before the rain."
He said, as a land owner he was confident there was a good team on the farm that had good systems in place, and that would rule out any danger to workers.