Snow and power outages force school on Napier-Taupo road to close until next week
Author

Publish Date

Wed, 10 Aug 2016, 3:43PM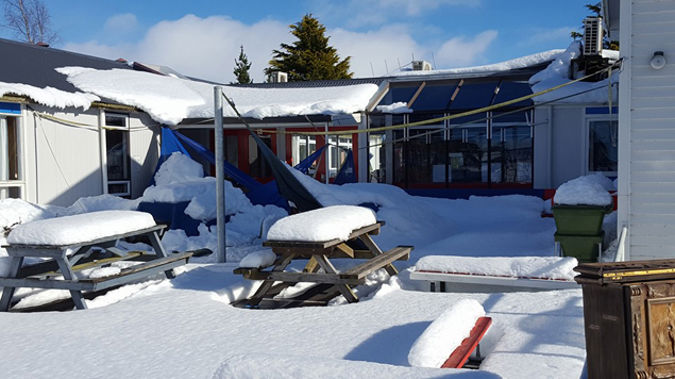 Snow and power outages force school on Napier-Taupo road to close until next week
Author

Publish Date

Wed, 10 Aug 2016, 3:43PM
Snow damage and no power has forced the closure of Rangitaiki School until next week.
The school along State Highway 5 - the Napier-Taupo Road - is among hundreds of properties in northern Hawke's Bay and the Taupo Plains area still without power.
Principal Andrea Haycock said the school buses are snowed in and many families can't even get out of their driveways.
The school's hearing from farmers who are losing large numbers of stock and buildings. Cattle are dying, and calving and milking sheds are collapsing from the weight of the snow, she said. 
She's hoping the school is relatively unscathed.
"We're in the midst of getting the Ministry of Education to do building assessment checks to make sure that the buildings are structurally safe and sound before the kids go back in."
Ms Haycock said they'll be getting a generator this afternoon to use once the buildings get the all-clear.
Unison is bringing in generators to help those properties who've been told to expect no electricity for a number of weeks.
Ms Haycock said the community spirit has been great.
"People have been commuting into town and taking in each other's washing and getting supplies for everyone so a lot of the farms are chipping together and making sure all the workers and families are looked after."
Unison has even set up a showering station in Taupo for people whose power is out, said Ms Haycock.
Ms Haycock said some families have sent their kids to stay with grandparents.
The Rangitaiki Tavern is being used as an information headquarters, where Civil Defence, Unison, Police and other community groups are gathering daily to keep residents informed.