Sir Ray Avery: 'I want to save one million babies before I die'
Author

Publish Date

Sun, 3 Jun 2018, 9:20am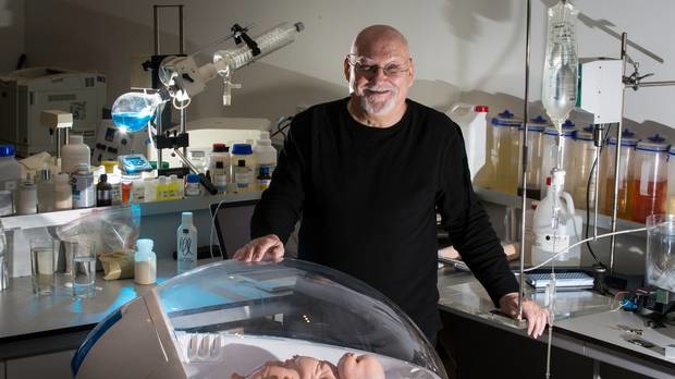 Sir Ray Avery: 'I want to save one million babies before I die'
Author

Publish Date

Sun, 3 Jun 2018, 9:20am
Sir Ray Avery is launching a bold plan to save the lives of a million babies around the world — and he wants New Zealand to be known globally as the little country that could.
The 70-year-old inventor is in talks with local and international stars about a Live Aid style concert to raise money to build more of the LifePod incubators he created.
He says $4m would be enough to make 2000 pods, each of which would save 50 lives over the 10 years it remained operational.
And each pod would be marked with "A gift from the people of New Zealand" before being shipped to countries where premature babies are dying because hospitals do not have the money or equipment to save them.
"That would mean we could save one million babies' lives," Avery said. "This country is well known for the All Blacks but not so well known for our innovation. This is a chance to leave a lasting mark on the world, from Kiwis."
Avery and wife Anna spent the best part of eight years designing and manufacturing the LifePod.
Unlike conventional incubators, a LifePod can run with tap or even seawater rather than needing purified water, which can be hard to obtain in developing countries.
It is more durable than a traditional incubator and costs about $2000 to make, compared to up to $44,000.
Avery, a former New Zealander of the Year who was knighted in 2011, was driven to create the incubators after seeing babies in developing countries die unnecessarily.
"Once I had children of my own [daughters Amelia, 9, and Anastasia, 7] it became even harder to see the nurse turn around and say a baby would 'expire' because they simply didn't have the equipment available in other countries," Avery told the Herald on Sunday.
"This is a chance to leave a legacy from the whole country."
Avery said everyone starts life with about 30,000 days.
"By the calculation I have 4795 left to make a difference. I've come up with this plan in the time I have left."
The Live Aid style concert is planned for early next year — based on the 1985 fundraisers led by Sir Bob Geldof to provide relief for the Ethiopian famine.
Avery said the concert would kick-start the project but he was also planning other fundraising events.
The first countries likely to benefit would be in the Pacific, but he also expected the LifePods to be shipped around the world. His factory is capable of building 184 every week once the funding is in place.
"What I'm asking is for everyone in New Zealand to step up and make a difference. There can be no better project than saving the lives of babies — a gift from New Zealand to the world."