Satanist group launches campaign to buy warm clothes for the disadvantaged
Author

Publish Date

Sun, 26 Mar 2017, 1:33PM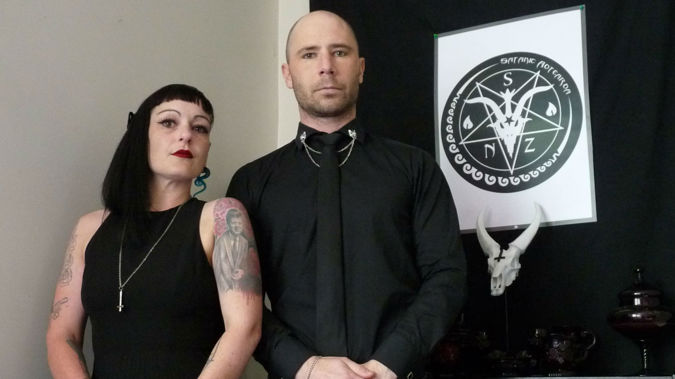 Satanist group launches campaign to buy warm clothes for the disadvantaged
Author

Publish Date

Sun, 26 Mar 2017, 1:33PM
A "Satanic" campaign to buy warm clothes for disadvantaged people has been blessed by an Auckland reverend, while drawing the ire of Family First. 
Satanic New Zealand has launched a "Soles for Satan" Givealittle page to "buy new socks, hats, and warm clothing for homeless shelters and children living in poverty".
Co-founder Frankie Astro Seven Vegas said the group aimed to challenge religious authority while encouraging public good.
"We're not in any way anti-Christian, we're just pro-Satan," the Dunedin resident said.
The clothes would be donated to KidsCan, Women's Refuge and a number of homeless shelters.
Reverend Frank Ritchie of the Wesleyan Methodist Church said he supported the campaign as a way of promoting public discussion.
"We would entirely disagree on some world view stuff, but if they're out there looking to help disadvantaged in New Zealand, then we're entirely in agreement on that, and I would support it." 
He said Satanists often had "humanistic" views, and he urged people to be open-minded.
"I would encourage people, rather than embracing this in anger, to actually look at where the common ground is and applaud what the group are trying to do."
Family First director Bob McCoskrie was scathing of the idea. He said it was "no different to a 'good cause' promoted by gangs."
"Based on the little-known and questionable details of this group, they may struggle to win credibility and trust."
Ms Vegas said Satanic New Zealand aimed to become an official chapter of The Satanic Temple - a United States-based political activist organisation. 
There are seven tenets of the group, which urge followers to "act with compassion and empathy" and respect the freedoms of others.
Ms Vegas said she did not believe in Satan as a deity, but rather a symbol of "the ultimate rebel".
"I hope people can look past the name of our group and judge us based on our actions."
The Satanic New Zealand spokesman, who refers to himself as Arcade Abdiel, said Soles for Satan was the group's first major campaign. 
He said "poverty is a major issue" in New Zealand. 
"It's an important issue to think about this election year."
Mr Abdiel, who is trained as lawyer, said the group would look to promote other causes in the future, such as updating New Zealand abortion law.
"In a lot of ways, using Satanism starts discussion in the community and actually helps get things done."
Supporters of the Soles for Satan campaign can donate new socks to Wild at Heart in Dunedin, and Bop Crazy Baby Boutique. The campaign will run until Walpurgisnacht - also known as Witches Night - on April 30.
Several other churches contacted by Newstalk ZB declined to comment.​