Royal tour: Prince Charles and Camilla travel across Auckland
Author

Publish Date

Mon, 18 Nov 2019, 4:51PM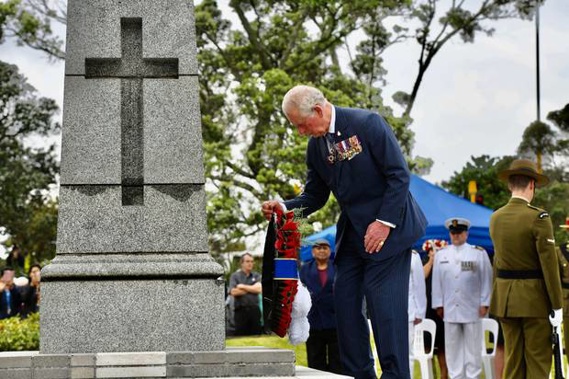 Royal tour: Prince Charles and Camilla travel across Auckland
Author

Publish Date

Mon, 18 Nov 2019, 4:51PM
Drizzly weather wasn't enough to deter dozens of royal fans from watching Prince Charles and Camilla, Duchess of Cornwall, lay a wreath at the Mt Roskill War Memorial Park this morning to kick off their royal tour. 
A swarm of people stood quiet in anticipation as a drum roll rang out over the park, followed by the New Zealand National Anthem. Deputy Labour Party leader Kelvin Davis joined the royals.
Prince Charles took on the elements while his wife Camilla was handed a clear umbrella to fight off the rain. Photo / Luke Kirkness
Following the anthem, Charles lay a wreath at the memorial. Pausing for a moment of reflection, the Last Post was played with the New Zealand and Niuean flags lowered to half-mast.
Apart from the Last Post being played aloud, only the gusts of wind could be heard as onlookers stood in silence.
The Commonwealth's next King and his wife began their six-day trip yesterday when they arrived at Whenuapai's RNZAF base on a sunny afternoon.
Then, onlookers were treated to a royal wave from the future King, before he hopped into a waiting car.
Following the Call of Remembrance and a moments silence, their Royal Highnesses met members of the New Zealand Navy, Army and Air Force before the Duchess of Cornwall placed a floral tribute under the flag of Niue.
Prince Charles took on the elements while his wife Camilla was handed a clear umbrella to fight off the rain. Photo / Luke Kirkness
Niuean soldiers served alongside their Kiwi counterparts during World War I and a memorial for them is also at the Mt Roskill site.
A quietness lied over the Mt Roskill War Memorial Park while the royals underwent their duties until a choir sang several songs, including Blackbird by the Beatles.
Onlookers, many smiling from ear to ear, took the rare opportunity to see their Royal Highnesses up close while undergoing the ceremony, several taking photographs and videos on their mobile phones.
Charles and Camilla quietly made their way around the memorial towards gathered returned service-people.
There was a heavy presence of police and security guards in the area but there was no unrest among the crowd.
An elderly woman in the crowd came to the memorial today for her husband's uncle who served during the war.
She had forgotten the royal pair were also attending - but said it would be great to see them up close.
The royals left just as a rain shower blows over the memorial grounds.
They then moved on to the Wesley Community Centre gym, where they were met by cheers as a group of dancers performed for the pair.
The Prince could be seen tapping his feet as both Charles and Camilla smiled as the dance group performed in front of them.
Taking a seat on the floor, the dance group quickly burst into song as dozens of people inside the gym embraced the group with large smiles and grabbing snaps of the dance.
The Prince of Wales presents a bicycle to local refugee woman Amina Shanko during his visit the Wesley Community Centre in Mount Roskill. Photo / Jason Oxenham
The Duchess was presented a necklace after the performance by a young girl who embraced her in a big hug - much to Camilla's delight.
Earlier the pair toured the centre and met community groups who use the centre.
The Prince walked through the centre, talking briefly with a number of organisations, including Creative Collaborative Customs. The Prince spoke quietly, engaged in each conversation before quickly moving on.
The Prince of Wales presents a bicycle to local refugee woman Amina Shanko during his visit the Wesley Community Centre in Mount Roskill. Photo / Jason Oxenham
Prince Charles was gifted a printed white tee-shirt from Creative Collaborative Customs, which he was thankful for but unsure whether he'd fit it - sharing a chuckle with workers.
Then he was invited to create a printed shirt for himself, and given a hands-on run-through of what to do.
Moving on, Prince Charles talked with staff from RYZ FM who even played a Bob Marley track for the royal on his request.
A spokesman from RYZ FM said Prince Charles was the first royal he had met. "He was easy to talk to and said a lot in a short period of time. We even talked about house prices."
Elsewhere, Camilla, Duchess of Cornwall, sat at a table with young children making arts and crafts.
Charles and Camilla parted ways for the next event at Critical Design - a social enterprise focused on achieving environmental sustainability.
It uses innovative technology to turn plastic waste into material that can be used to manufacture other products.
The enterprise is located on the site of Wesley Intermediate, where students gave Charles a spine-tingling haka to welcome him.
The Critical Design crew presented Charles with a Māori axe made from recycled plastic. Photo / Pool
Charles then spoke with staff from Critical Design, an organisation that takes recyclable material and reconstructs them into new products, such as small tables, kayaks, and even stools.
"Well done to everyone's thank you for that," Prince Charles said to intermediate students who were gathered outside. He also thanked the schoolchildren for the rousing haka that greeted him.
He accepted gifts from the crew, one of which a Māori axe made from recycled plastic.
The materials recycled and re-purposed at Critical Design include plastic pipes, fishing nets, car bumpers and wood. Prince Charles was invited to create something for himself, placing shredded plastic into moulds.
"You're quite good at it," a staff member said. "Are you looking for a job?"
Moving to Waimauku where Charles and Camilla joined a gathering to celebrate sustainable produce with local food producers and members of the local community.
Charles and Camilla sample the wares at Hunting Lodge Winery. Photo / Luke Kirkness
Their day official ended with the Presentation of Queen's Colour. It took place at the RNZAF base at Whenuapai, which was packed out with military personnel and several members of the public.
Prince Charles, wearing formal military gear, walked through the group of service-people standing at attention - saluting each Queen's Colour as he walked past and taking the time to stop and talk with several people.
His Royal Highness Prince Charles takes part in the presentation of the Queens Colour for the RNZAF. Photo / Dean Purcell
A Colour is the highest honour which the Sovereign can bestow. During the 1953-54 Royal Tour of New Zealand, Queen Elizabeth II personally presented her Colour to the RNZAF.
The presentation was made at Whenuapai during a ceremonial parade on 28 December 1953.
As the Colour is now worn, a replacement has been formally presented.
Following the presentation of the new colour, Prince Charles and Camilla moved on to meet with families of the air base.
Shaking hands with each member of the families group - about 20 people - the royal pair spoke briefly with each person.
Take your Radio, Podcasts and Music with you