Red algae chokes Northland beaches
Author

Publish Date

Mon, 11 Jan 2016, 2:07pm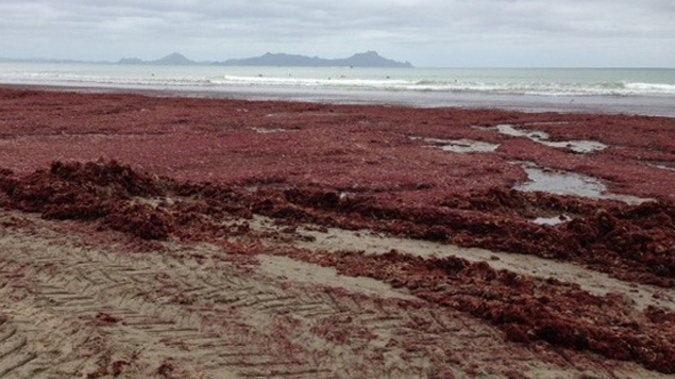 Red algae chokes Northland beaches
Author

Publish Date

Mon, 11 Jan 2016, 2:07pm
Algae, believed to be Spyridia filamentosa, is causing a thick red layer of goop to form on some of New Zealand's most popular summer beaches.
A number of beaches in Northland have been affected, including Waipu Cove, Langs Beach, Oakura and Te Haumi.
Langs Beach resident Colin Harvey said the algae was so thick at one end of the beach, at least two tractors had got stuck in the red sludge.
"They try and manoeuvre around it and it just sucks them in. It's incredible it just turns the sand to glug."
Mr Harvey said at Langs Beach the algae had been accumulating on the shore for about a week.
"It came and it was a big patch, it would have been three or four acres of red bloom stuff growing in the water," he said.
Northland Regional Council spokesman Colin Dall said nuisance quantities of micro algae and seaweed were common in New Zealand and the algae in Northland were not believed to be dangerous to people or animals, although he did concede the smelly odour it created made the beach less enjoyable to be at.
"The red seaweed currently affecting the beach is believed to be Spyridia filamentosa,"said Mr Dall.
"This is the second occasion that large quantities of seaweed have washed up on to Waipu Cove Beach since late November."
The council had also received reports of build-ups of seaweed on Oakura and Te Haumi beaches, he said.
He said Northland Regional Council was trying to obtain resource consent to help manage the recurring problem.
"Given recent events at Waipu Cove and because some other beaches in Northland have been affected by nuisance build-ups of seaweed in the past, the council is looking into obtaining a resource consent to manage the removal of build-ups of seaweed from beaches where those build-ups are causing a nuisance."
Windy weather and a southerly drift in the bay were likely causes for the algae's build-up at Waipu cove, Mr Dall said.
"The stormy weather over New Year may have contributed to the recent bloom of the seaweed in Bream Bay by up-welling nutrients that the seaweed use to grow."
He added the strong El Nino weather pattern New Zealand was experiencing could be a contributing factor.