Open day for The Block attracts housing affordability protest
Author

Publish Date

Sat, 6 Aug 2016, 1:20pm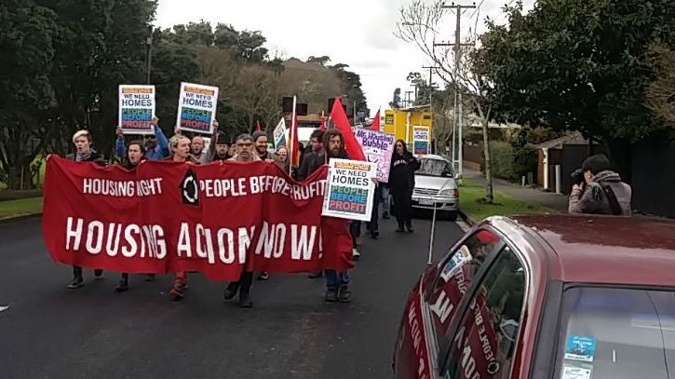 Open day for The Block attracts housing affordability protest
Author

Publish Date

Sat, 6 Aug 2016, 1:20pm
UPDATED 6.45PM Housing affordability protesters bumped up against curious reality TV fans at a public open home for The Block NZ today.
The 30-strong protest group waved placards and banners outside the MediaWorks show's houses, which are nearing completion in the upmarket Auckland suburb of Meadowbank.
There was a small police presence, but none of the protesters made an attempt to get onto the properties themselves
Despite being slightly bemused by the group's presence, bystanders were largely in support of what they had to say.
Real estate firm Barfoot and Thompson said the average price of a three-bedroom house in Meadowbank last month was $1,144,292.
Rally organiser Ben Peterson of the Unite Union said a first home buyer would need a 20 per cent deposit of $228,858 to buy the house and, based on Kiwibank's mortgage calculator, would then have to pay $1085 a week on a mortgage - impossible sums for the average family.
Fair bit of traffic backed up behind #TheBlockNZ protest @NewstalkZB pic.twitter.com/4iwHcsdnQx

— Alex Braae (@awbraae) August 6, 2016
"All those thousands of people who will come and look at the house at the weekend but no one will actually have a chance to buy it," he said. "The people who will buy it will be investors or from the upper end of town."
Peterson said the protesters were calling for action on housing, including turning The Block NZhomes into state homes.
Ben peterson from @UniteUnion - "wouldn't it make great tv to turn #TheBlockNZ houses into state housing?" pic.twitter.com/a20dOzdW2n

— Alex Braae (@awbraae) August 6, 2016
He said the show's fans were "amazingly positive" about the protest.
"People really love the idea of turning the houses into state or social housing.
"It would be a symbolic move, but turning these homes into state homes could take four families out of living in cars or garages, and give them somewhere to call home - and isn't that worth doing?"
A spokeswoman for MediaWorks, which screens the show on TV3, said the company had no comment to make.