Power Outage: Nerves fraying and answers demanded
Author

Publish Date

Sat, 14 Apr 2018, 11:45AM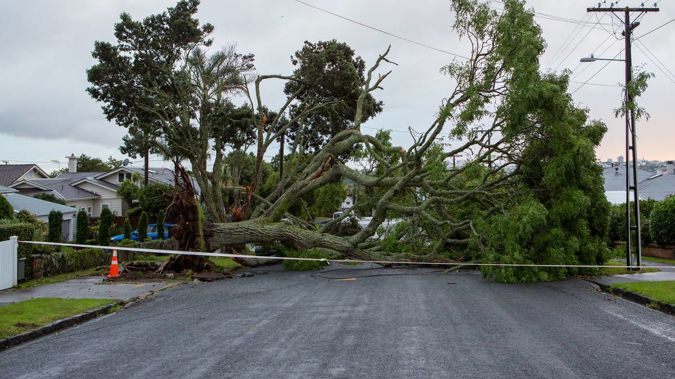 Power Outage: Nerves fraying and answers demanded
Author

Publish Date

Sat, 14 Apr 2018, 11:45AM
Patience is wearing thin among thousands of people still without power in the wake of Tuesday's storm.
The Herald has received dozens of emails and calls to the newsroom from residents demanding answers from Vector, which they say has misled them about when they can expect power to return.
Customers have complained about long wait times on Vector's emergency line, a lack of response and misleading information about when they could expect restoration.
The number of customers without power on Saturday morning numbered 5000.
Families, particularly those in rural west Auckland and further afield, say they're left unable to plan as they have no idea when power will be restored, with Vector repeatedly assuring them during the week that power would be on by now.
A Waitoki, north Auckland, woman this morning sobbed as she told the Herald she had not been seen by Auckland Council, Civil Defense or Vector and had spent hours on the phone to Vector trying to get information.
They had reassured her various times that power would be restored by a certain date and time but as those days slipped by she had become increasingly concerned that it could be several weeks before repairs were made.
"We just want to know the truth, please," she said. "I just need to have somebody tell us what's happening. We just want to know, to plan for our families. Do I need to get a portaloo in for me and my son?"
She had been showering at her gym but all the food in her home had spoiled and her electric gate was firmly shut, blocking access to her driveway.
When she came home after work she had to climb over it to reach her home, she said. She had no relatives to stay with, and couldn't afford a motel.
"People are becoming a little bit frazzled," she said. "I'm sick and tired of getting updates, 'It will be at this time, it will be at that time'. This has been ongoing. Yesterday it was supposed to be (restored) by 11pm. Now it's the middle of next week. When is that?
"We need to plan for our families. Just be honest."
In the neighbouring area of Kaukapakapa, Suzanne Bedford had similar worries.
"Vector was saying (to media) we wouldn't get power until next week. Well that's the first we had heard of it.
"Every time we ring them they say 6pm tonight, but they only say that to get you off the phone. We just want honest information."
She said Vector call centre workers had hung up on her.
A woman was trapped in a car after it was hit by a fallen tree in New North Rd, Kingsland, Auckland. Photo / Dean Purcell
"We're not exactly the wop wops. What the CEO has been saying was rubbish - making out like we're in the sticks somewhere. We live in a first world country, it's unacceptable."
The main issue, she said, was that Kaukapakapa, about 46km north of Auckland, repeatedly had power cuts and Bedford said the infrastructure was archaic and ill maintained.
Swanson resident Tracey Richmond said after four days without power "the humour is wearing off".
She and her partner lived in a motor home so were able to shower and cook, and had offered their home to neighbours.
"The value of spoiled food is sinking in and the washing is piling up. But hey let's be realistic...for us we still have a roof over our head and a flushing toilet. We're also lucky enough to have a wood fire so we're keeping warm too.
"It is starting to get a bit depressing but look at the folks that have lived through the destruction of earthquakes in the South Island, flooding in Edgecumbe and the Coromandel not to mention the tornado in National Park...we're doing alright I would say."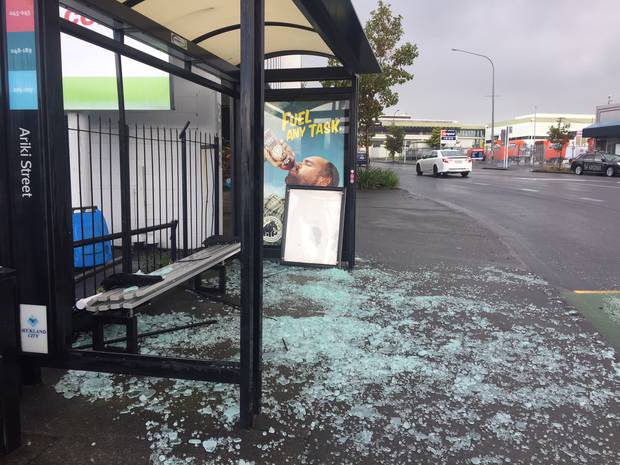 Bus shelter damaged on Great North Rd, Grey Lynn, Auckland, during the storm.
One father told the Herald the Vector app had told him restoration would be five days away: "If we can trust the app. It's been wrong the entire time.
"More pressure needs to be applied to Vector. Am tired of hearing about what a wonderful job they're doing. It's 2018 and five days without power, 12km from the CBD is unacceptable....with two babies things are starting to get hard."
Vector today took a full page advertisement in the Weekend Herald thanking customers for their understanding and patience, and directed people to Facebook, Twitter, and their website vector.co.nz.
"Please understand that in an event of this scale, for many faults it is almost impossible to give accurate restoration times, due to the location and extent of the damage, particularly in rural areas or areas with high tree density," the ad said.
"The enormous scale of the storm is no comfort but we do want you to know we're working 24/7 to reconnect all of you as soon as we safely can."
In its most recent advisory Vector said poor weather on Friday night had hampered restoration efforts, and had created further outages.
"The affected areas from the new outages overnight are largely restored now, but it shows that the impact of Tuesday's storm is ongoing, as weakened trees give way.
"Numbers without power are still extremely fluid, due to the new outages and restorations mentioned above. We hope to have a firm figure by early afternoon.
"Overall, progress is still expected to continue as outlined yesterday, with the backbone of the network nearly fully restored, and individual pockets of homes, and those without hot water, being progressively restored into the middle of next week."
In the meantime MetService is promising more gnarly weather today, with a front expected to bring thunderstorms and heavy downpours to Auckland, Coromandel Peninsula, Waikato and Western Bay of Plenty.