Police dog Rush becomes youngest to take top award
Author

Publish Date

Wed, 21 Sep 2016, 5:47pm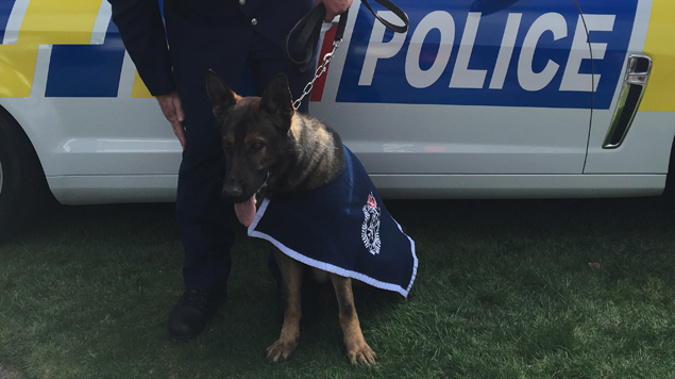 Police dog Rush becomes youngest to take top award
Author

Publish Date

Wed, 21 Sep 2016, 5:47pm
The Hamilton Senior Constable who took out the title of New Zealand's top patrol dog team with his dog Rush is thrilled.
Blair Spalding and Rush were crowned at the patrol dog national awards in Trentham this afternoon.
Rush is the youngest dog to ever win the award.
Senior Constable Spalding said he can't believe it.
"It means everything to me. I wanted to win this one day but I didn't think it would be so early. He's only a young dog. He turned two on the sixth of September so to achieve it with such a young dog was awesome."
Senior Constable Spalding and Rush graduated as an operational team from the Police Dog Training College just three months ago.
The dynamic duo beat 10 other police patrol teams drawn from regional trials around the country to win the Frank Riley Cup for the top police patrol team.
The late Inspector Riley was the first chief trainer for the New Zealand Police dog section.
Senior Constable Spalding and Rush also won the Commissioner's Challenge Cup for highest marks in obedience and the Monaghan Trophy for highest marks in heelwork.
"It's a total shock... I'm over the moon," said Senior Constable Spalding.
"Rush did an outstanding job."
Second place went to Constable Andrew Douglas and Ox from Wellington, while Senior Constable Owen Davies and Quid from Auckland came third.
The top three all scored more than 1,000 points out of a possible 1350.
A score of over 1000 is an outstanding achievement.
Inspector Todd Southall said: "To have three patrol dog teams scoring more of 1000 points, and the winner being a junior dog, is truly outstanding.
"These teams are on the operational frontline. They're tracking and catching often violent offenders, finding stolen property and giving resolution to victims, and preventing crime by detecting drugs, firearms or explosives on our streets, in buildings, vehicles, ships or aircraft."