Poi researcher wins global thesis competition
Author

Publish Date

Fri, 11 Nov 2016, 5:03AM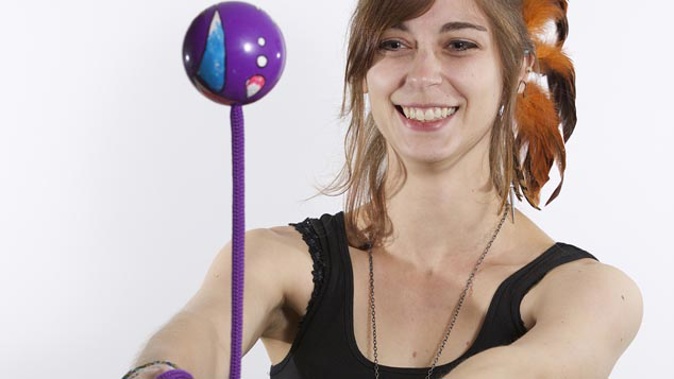 Poi researcher wins global thesis competition
Author

Publish Date

Fri, 11 Nov 2016, 5:03AM
A researcher who is looking into the health benefits of twirling a poi is in a spin after winning a hard-fought global thesis competition.
Kate Riegle van West came all the way from the US to study at Auckland University, where she is looking at the positives of using a poi for people aged over 60.
The project has helped her win a competition run by Universitas 21, a consortium of international universities, which challenges PhD students to explain their thesis in just three minutes.
"It was amazing," she said of the win.
"You know, I'm on a bit of an unconventional path and so I do question myself sometimes. And it's really validating to have a panel of really venerable and respected judges say 'yes I like what you're talking about, and I like the way you're talking about it'. It felt really great."
The Illinois native fell in love with the poi as a circus performer, and found herself wondering why spinning a ball on a string felt so wonderful.
"I was just really enamoured with it, right from the point that I started .. I was always curious about why it felt so good to just spin this thing in a circle," she said.
"Eventually I thought I need to find out, I need to do research. Because I wanted to bring poi more places, like hospitals and nursing homes.
"There's just no one that's ever studied it before. And I thought wouldn't it be great to do some rigorous research and actually find out why it does feel so good."
Ms Riegle van West's study is the first to measure the effects of international poi, or poi practised outside of Māoridom, on physical and cognitive function in healthy older adults.
After only one month of training, participants so far have showed trends in improvement in their upper limb range of motion, grip strength and manual dexterity.
They also reported improved focus, concentration and a clearer mind after poi practice.
The researcher is now looking for people over 60 to take part in a second round of the study.
Anyone interested can get in touch at spinpoi.com
Take your Radio, Podcasts and Music with you