Piles of recyclables mount in wake of China's waste ban
Author

Publish Date

Sat, 14 Apr 2018, 7:51am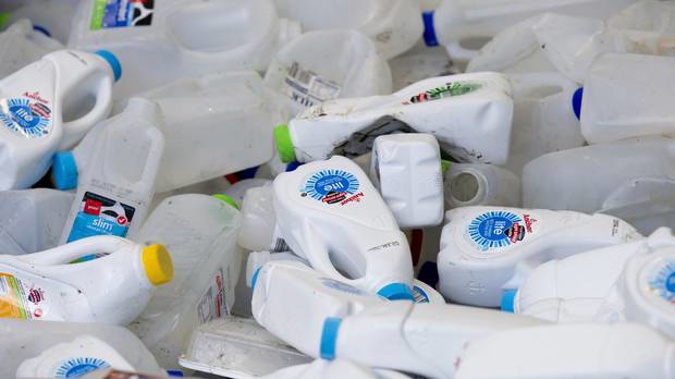 Piles of recyclables mount in wake of China's waste ban
Author

Publish Date

Sat, 14 Apr 2018, 7:51am
Piles of plastic are mounting around New Zealand as companies look for other destinations for the millions of tonnes of waste that China no longer wants.
New Zealand previously shipped 15 million tonnes of waste plastic alone to Chinese processing plants each year.
But the nation's health-driven ban on 24 types of foreign waste, which kicked in last month, has forced recyclers to look for buyers elsewhere - mainly South East Asia.
The latest Customs figures showed the 2.7m kg of plastic waste material sent to China in the first quarter of 2017 had dropped to just 125,904kg over the same time this year, with the associated value falling from $1.7m to little more than $100,000.
Exports to Indonesia, Thailand and Malaysia, which received a combined 7.2m kg of plastic waste between January and March, have meanwhile surged.
The Ministry for the Environment was monitoring stockpiles of some plastic materials that had begun to appear around the country as certain types of products became harder to sell.
"Some have seen a dramatic decrease in price, so even if there are buyers for the product, recyclers won't be making as much money as they were before China's ban came into effect," Zero Waste Network executive officer Dorte Wray said.
"For example, film plastics were worth half as much as they were two months earlier."
Paul Evans, chief executive of industry group WasteMINZ, said China's ban had been well signalled, allowing recyclers time to find other markets, but had still created a big challenge.
"If you're a council, you're probably okay for now because you will have agreed on pricing in contracts with your contractor.
"But when councils come to the end of their contracts, there will likely be a difference, and recycling may become more expensive, or the revenue they get back from that will be less - it's placing a challenge on the economics of recycling."
Some grades of plastic waste collected by Wellington City Council had been temporarily stored while markets improved, but these products were now being sold overseas, although at a lower price, a spokesperson said.
In Auckland, where 70,000 tonnes of recycling picked up at kerbside had been previously shipped to China, contractor Visy was also looking for other markets.
Auckland Council waste planning manager Parul Sood said these had come with depressed prices in many instances, and the company was utilising mixed paper in its own manufacturing facilities.
In the longer term, Sood said the need for New Zealand to create its own circular economies for this material had been recognised, and the council had launched a national working group that met in November.
Evans expected New Zealand's small size would mean it would always have to ship some of its waste offshore.
But dealing with much more of it here was better for the environment and our economy, he added.
There were also calls for a renewed waste strategy, and fresh goals and targets that the industry and councils could be measured against.
Wray said New Zealand still had no nationwide data-collection system, making it hard to compare with other nations, nor did it have any strong environmental policies like those in countries much closer to achieving zero-waste goals.
"For example, our waste levy is just $10 a tonne. In other countries such as Denmark, the UK and various Australian states it is as high as NZ$140."
"We do not have product stewardship schemes in place for things like ewaste, tyres or packaging, and we do not have bans or levies in place for waste streams like single-use plastic bags, that we know cause significant environmental damage."
Associate Environment Minister Eugenie Sage acknowledged New Zealand needed more recycling and processing plants here, and these needed to be commercially viable.
There were several here already that had been supported by the Government's Waste Minimisation Fund and she hoped to see more projects come out of the latest funding round.
"New Zealanders and local businesses can help by increasing their own recycling, and supporting the use of recycled materials in products that we make and buy," Sage said.
New Zealand was among the most wasteful countries in the developed world, with each of us producing an average of 734kg waste every year, and rates steadily on the rise.
"We need to shift away from using nature to make stuff, using it briefly then disposing of it, either by sending it to landfill or exporting overseas."